A timeline of the David Camm accusations, trial and acquittal:
-Kim Camm, 35, Bradley, 7, and Jill, 5 , were found with gunshot wounds in the garage of their Georgetown, Ind. Home.
October 1, 2000
-David Camm made a plea for the killer to come forward after a church service that honored Kim, Jill and Bradley.
-David Camm was arrested sometime after that plea to the killer.
-David Camm's first trial started in Floyd County.
-The jury found David Camm guilty of murder.
-The Indiana Court of Appeals overturned the conviction. The court overturned the conviction citing grounds that testimony from multiple women claiming Camm had affairs with them or propositioned by him had biased the jury.
March 2005
-Charles Boney was arrested and charged with murder and conspiracy to commit murder. Boney was tried and found guilty of murdering the Camm family and conspiracy to commit murder in January 2006. Boney was sentenced to 225 years in February 2006.
-David Camm's second trial started in Warrick County, Ind. Prosecutor Keith Henderson argued Kim had discovered David was molesting Jill and he killed his family to cover that up.
-David Camm was found guilty for the second time of murder. He was sentenced to life in prison without parole on March 29.
-The Indiana Court of Appeals reversed David's second conviction due to the allowance of speculative evidence and argument that David Camm molested Jill.
December 2009
-Floyd County Prosecutor Keith Henderson filed charges for the third time against David Camm making him face a third trial.
-The Indiana Court of Appeals on Tuesday ordered a special prosecutor to be appointed for the third trial of David Camm, saying Keith Henderson's plan to write a book about the case created an 'irreversible' conflict of interest.
-A special prosecutor, former Vanderburgh County prosecutor Stan Levco, was appointed to the third David Camm trial.
-David Camm's third trial was moved to Boone County, Ind.
May 2013
- The judge gave permission for the defense team to do its own DNA testing on a shirt worn by David Camm the day his wife and children were killed.
- New Camm DNA evidence will be allowed at third trial. His defense and Camm's family says it clears his name.
October 24, 2013:David Camm found not guilty in all counts against him in his third murder trial.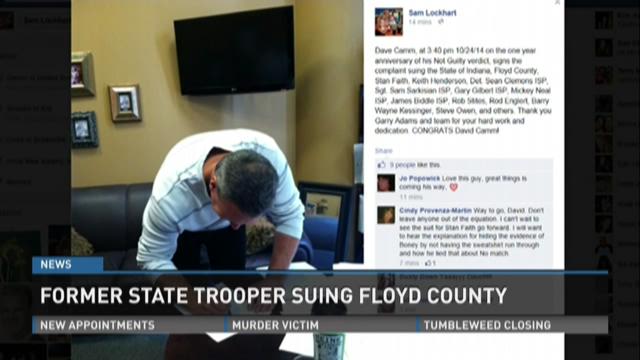 - Henderson faces ethics hearing in Floyd Co. based on his seeking of a book deal during his prosecution of Camm during his second trial. The trial would eventually find Camm guilty until it was overturned in October of 2013.