Indiana's abortion ban takes effect with few exceptions
Indiana was the first state to approve new restrictions following the Supreme Court's ruling overturning Roe v. Wade in June.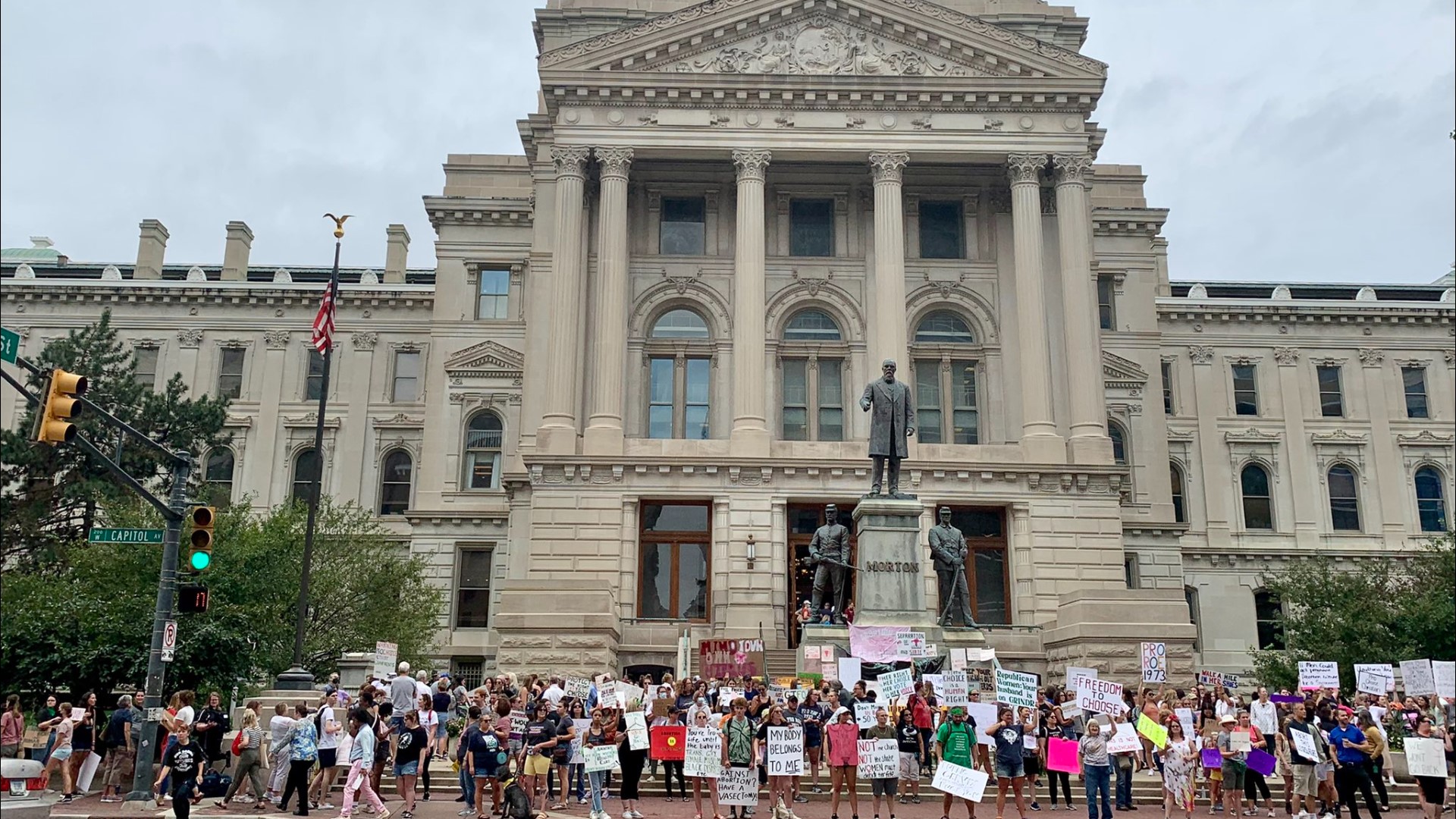 Indiana's new abortion ban law takes effect Thursday, Sept. 15 even as two lawsuits challenge its legality and request an injunction.
The ban includes some limited exceptions.
Gov. Eric Holcomb signed the measure in early August after the state's legislature held a special session after the U.S. Supreme Court overturned Roe v. Wade. Indiana was the first state to approve new restrictions following the Supreme Court's ruling overturning Roe v. Wade in June.
EXCEPTIONS TO ABORTION BAN
:
Despite intense disapproval from both sides of the issue, Republican lawmakers passed the bill with exceptions.
Abortions would be permitted in cases of rape and incest, before 10 weeks post-fertilization; to protect the life and physical health of the mother; and if a fetus is diagnosed with a lethal anomaly.
Victims of rape and incest would not be required to sign a notarized affidavit attesting to an attack, as had once been proposed.
LEGAL CHALLENGES
:
The new abortion ban law in Indiana is facing at least two legal challenges.
Planned Parenthood Great Northwest, Hawai'i, Alaska, Indiana, Kentucky, Whole Woman's Health Alliance, Women's Med Group Professional Corporation, All-Options, Inc., and Dr. Amy Caldwell are arguing against the new law.
The lawsuit argues the new Indiana law violates both the Indiana Constitution's right to privacy and equal privileges protections.
The American Civil Liberties Union of Indiana also filed a class-action lawsuit against the new abortion restrictions. The lawsuit claims SB1 violates the state's Religious Freedom Restoration Act.
The lawsuit was filed on behalf of Hoosier Jews for Choice and five women, who claim their religious beliefs mean they must be allowed to obtain an abortion under circumstances prohibited by the new state restrictions.
The 2015 Religious Freedom Restoration Act prohibits government action that interferes with a person's religious exercise, unless the government can prove it has a compelling reason for doing so that is the least restrictive alternative available.
The ACLU lawsuit claims that while some religions believe life begins at conception, not all religions agree. Those represented in the lawsuit encompass Judaism, Islam, and independent spiritual belief systems.
INDIANA ATTORNEY GENERAL ON PROTECTING NEW LAW
:
Attorney General Todd Rokita issued the following statement about the lawsuits to 13News:
The Indiana Constitution says nothing about securing the right to abortion, which the state outlawed before, during, and after the time of constitutional adoption. The text, history, and structure of our Constitution excludes any serious argument that abortion is a fundamental right in our state. Our legislators voted to stop these inhumane practices, and it's why my office is dedicated to defending this life-saving law. Defending validly passed laws, including those intended to protect the unborn is a core mission of the Attorney General.
RESTRICTIONS FOR DOCTORS
:
Under the bill, abortions can be performed only in hospitals or outpatient centers owned by hospitals, meaning all abortion clinics would lose their licenses.
A doctor who performs an "illegal abortion" or fails to file required reports must also lose their medical license — wording that tightens current Indiana law that says a doctor "may" lose their license.
The ban has some medical professionals and Hoosiers talking about leaving the state.
Dr. Gabriel Bosslet encountered it after sending a text message to a doctor asking for "trauma surgery coverage" in October and December.
"This person responded, 'No, and don't send me any more offers. I'm not going to a place that doesn't respect physicians and women,'" said Bosslet. "It struck me as a real-time look at the concerns that we have."
Bosslet said those concerns surround Indiana's abortion law.
"We didn't have to make this decision. The Statehouse didn't have to make this decision and put people in these situations," said Bosslet.
Bosslet tweeted that message from a friend. He began receiving more, including one from a person who said they know someone who wants to leave Indiana to start a family. 
"The MD she's been working with specializes in high risk pregnancies and couldn't in good faith recommend her being pregnant in Indiana."      
"MD said her job is basically now telling patients they should move to another state. So frustrating and depressing."
MANAGING MEDICAL ABORTION
:
There are questions about whether women could still have medical abortions in the state.
As of last year, medical abortions accounted for more than half of the abortion procedures in Indiana. Local law experts tell our partners at The Herald Bulletin in Anderson women likely could still manage a medical abortion for two reasons.
First, the medication to induce abortion, mifepristone, will still be legal in Indiana after the ban takes effect. Second, the new law doesn't create penalties for women who get an illegal abortion.
The restrictions do, however, make it illegal for physicians to prescribe the medicine, outside of exceptions for rape, incest and if the mother's life is at risk. The law also bans the use of telehealth services to provide medical abortion drugs.
TEACHING SEX ED
:
Around 480,000 Hoosiers are in need of publicly-funded contraception, according to the latest data from the Indiana Family Health Council. The president and CEO acknowledged that her team won't be able to help all these men and women. She said that's why more education early on would help in preventing unwanted pregnancy.
The Indiana Family Health Council uses federal funding to provide family planning services and education for families and school systems. Their services focus on those at or below the poverty level.
Following Indiana's abortion ban, CEO and president Dr. Kristin Adams said they're already starting to see more people wanting long-acting, reversible contraceptives.
However, Adams said education will be even more crucial following Sept. 15, when most abortions won't be allowed in the state. She said schools should be teaching sexual education longer than a semester and beyond what is required by Indiana law. However, to her knowledge, schools aren't considering changing their rubric.
"The only thing that must be taught is HIV education and basic embryology. So, there is nothing that says sex ed must be taught and if it is, then it must be done at the abstinence focus," Adams said. "While the legislature did put a lot of language in there about rape and incest, at the end of the day, sometimes kids don't know what those words mean, and they don't know what happened to them. So, with a time limit, it may be too late."
THE DOBBS DECISION
:
The Supreme Court on June 24 stripped away the nation's constitutional protections for abortion that had stood for nearly a half-century. The decision by the court's conservative majority overturned the landmark Roe v. Wade ruling and is expected to lead to abortion bans in roughly half the states.
The ruling, unthinkable just a few years ago, was the culmination of decades of efforts by abortion opponents, made possible by an emboldened right side of the court fortified by three appointees of former President Donald Trump.
Both sides predicted the fight over abortion would continue in state capitals, in Washington and at the ballot box. Justice Clarence Thomas, part of the majority, urged colleagues to overturn other high court rulings protecting same-sex marriage, gay sex and the use of contraceptives.
Pregnant women considering an abortion already were dealing with a near-complete ban in Oklahoma and a prohibition after roughly six weeks in Texas. Clinics in at least two other states, Wisconsin and West Virginia, stopped performing abortions after the court's decision.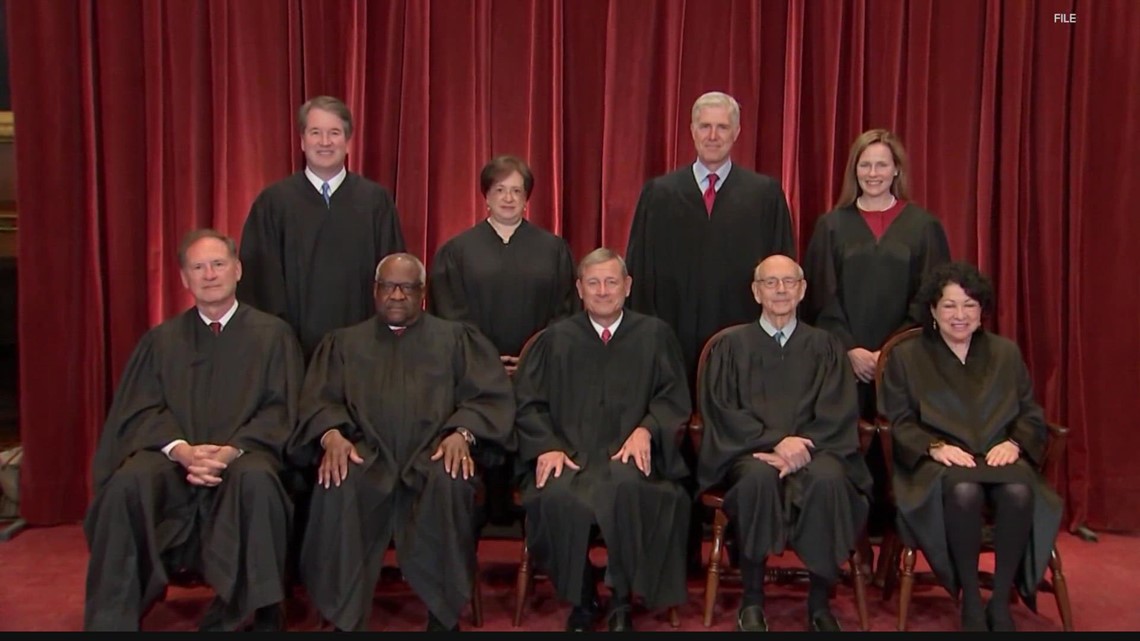 Abortion foes cheered the ruling, but abortion-rights supporters, including President Joe Biden, expressed dismay and pledged to fight to restore the rights.
Alito, in the final opinion, wrote that Roe v. Wade and Planned Parenthood v. Casey, the 1992 decision that reaffirmed the right to abortion, were wrong had to be be overturned.
"We therefore hold that the Constitution does not confer a right to abortion. Roe and Casey must be overruled, and the authority to regulate abortion must be returned to the people and their elected representatives," Alito wrote, in an opinion that was very similar to the leaked draft.
Joining Alito were Thomas and Justices Neil Gorsuch, Brett Kavanaugh and Amy Coney Barrett. The latter three justices are Trump appointees. Thomas first voted to overrule Roe 30 years ago.
Four justices would have left Roe and Casey in place. Justices Stephen Breyer, Sonia Sotomayor and Elena Kagan — the diminished liberal wing of the court — were in dissent, along with Chief Justice John Roberts.