LOUISVILLE, Ky. (WHAS11) – Calling a statue of Confederate President Jefferson Davis an "abomination" in the Kentucky State Capitol Rotunda, former State Treasurer Jonathan Miller has started a petition to replace it with a tribute to Louisville native boxing legend Muhammad Ali.
The rotunda is the crossroads of the Bluegrass, where marble and granite echo Kentucky's voices and where statues honor a select group of only five Kentuckians:
President Abraham Lincoln, legislator Henry Clay, pioneering surgeon Ephraim McDowell, Vice President Alben Barkley and Confederate President Jefferson Davis.
Miller, now a political commentator and columnist, said Davis, who led the South during the Civil War, symbolizes the worst of U.S. history – slavery.
"Jefferson Davis' presence in the Capitol Rotunda is, I think, an abomination," he said.
Miller said he believes Davis should be replaced by a man called "The Greatest of All Time," Muhammad Ali.
"For the work [Ali] did in the Civil Rights movement – empowering and inspiring young people all over the world to fight for injustice," Miller said.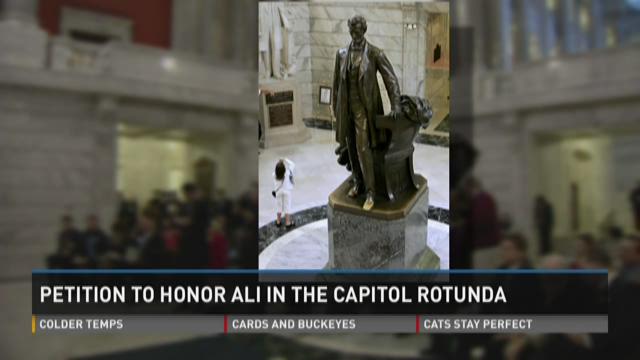 Neither Ali or his family requested the honor and Bob Gunnell, a spokesperson for Ali, released a statement explaining that Ali's Muslim faith prohibits any statue honoring him.
"The Ali family appreciates and is humbled by the petition to honor Muhammad Ali's legacy in the Kentucky State Capitol," Gunnell said. "Muhammad Ali is a practicing Muslim. As a Muslim, Muhammad honors his teachings and the religion of Islam does not allow for large depictions or representations that honor individuals."
The overwhelming majority of more than 1,300 comments posted on WHAS11's Facebook page voiced opposition to removing the Davis statue from the rotunda.
"Worst era or not, we must not erase our history. We could add a statue of Muhammad Ali, but taking down Jefferson Davis' statue won't change our past," viewer Joan said.
A host of comments brought up Ali's refusal to serve in the Armed Forces during the Vietnam War.
"Leave it alone – Ali was a draft dodger," viewer Shirley said.
"Certainly Jefferson Davis is a part of our history and the Civil War is a part of our history and he served honorably for the South during that time," Governor Steve Beshear (D-Kentucky) said.
Yet Beshear embraced the idea that other notable Kentuckians should be honored.
"And certainly Ali is one that should be considered," Beshear told WHAS11.