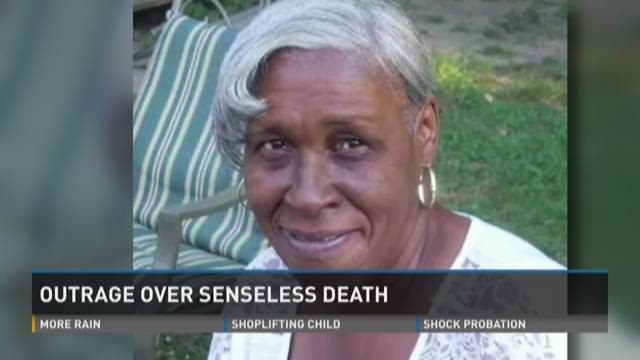 LOUISVILLE, Ky. (WHAS11) -- On Dec. 23rd, an afternoon where many Americans are getting their last minute shopping done, Damon Duvall had to run a very different kind of family errand.
He took a break from planning his mother's funeral to go to her office and pick up her personal items.
"She was here 38 years," Damon said looking up at the Stry-Lenkoff building on Broadway, between 12th and 11th streets. "She started when I was 6-months-old and all I knew is she worked at the big building on 12th and Broadway."
It was just down the street, at that 12th and Broadway intersection, where on Dec. 11 Damon's mother, Anita Duvall, was hit by an Advance Ready Mix cement truck, pinned underneath the wheel, and then a week and a half later died in the hospital.
"They just went out to lunch and she didn't come back," Anita Duvall's boss, Rick Herndon, said. "I mean, it's a tragedy. We are all torn up about it."
Herndon said he doesn't know Stry-Lenkoff without her. He says Anita Duvall was kind of a jack-of-all trades, and while the company must move forward, the employees of Stry-Lenkoff is having a hard time.
"We're seeing her empty desk every day," Herndon said. "When we got the news [about the accident] I ran out along with some others -- a bunch of us. Most of us ran out there and could see what happened and she was pinned under the wheel…We were helpless."
What's even more shocking–this is not the first accident like this in 2014.
It's only been six months since Charlie Tewell's daughter, Ryann, was hit and killed by an Advance Ready Mix cement truck on Second Street. Now, just a few days before Christmas, he is reliving it all over again after hearing about Anita's death.
"Hearing this news is sad and sickening. It shouldn't have happened the first time, and it certainly shouldn't have happened again," Charlie Tewell said. "It was just so eerily similar and it just, um, yeah, not that this pain has gone away, in any way, but it certainly brought it all up again."
Anita Duvall's son, Damon, is still trying to put the pieces together. He said when he goes by the 12th Street and Broadway intersection, he can't help but stop and stare.
"Any time I actually see it I look at the ground and try to figure out what happened," he said. "I'm still trying to figure out what happened. How my mother got hit by a truck."
Anita Duvall underwent six surgeries and had to even have her leg amputated after the accident, but even then doctors couldn't fix all the problems. Damon Duvall said she started having breathing problems and eventually he just had to let her go.
Now, two families are forever bonded trying to find answers for their loved ones' deaths.
"I mean I'll always remember it," Damon Duvall said looking down Broadway to 12th Street. "That's where my mother was actually changed forever."
"We're not going to get our loved ones back," Charlie Tewell said through a ragged breath. "Our streets need to be safe, and it's crazy that it would happen twice. It's crazy that it happened once but to happen twice! Something needs to happen."
The Tewells have already filed a wrongful death lawsuit against Advance Ready Mix Concrete claiming negligence.
Damon Duvall is still trying to gather all the information as to his mother's accident, but feels someone needs to take the blame especially since this has now happened twice in six months.
"The fact that somebody is losing their life, somebody is losing a daughter, somebody is losing a family member, somebody is losing a mother -- it's neglect," he said. "Somebody's not doing something correctly. I do not blame the person who drove the truck. I blame who's not training the people. Who's not actually making the equipment efficient enough so you can see where you're going."
Duvall's attorney is looking for anyone with more information about the incident. You can contact him by phone at 502-583-5782, or by email at martin@martinpohllaw.com.