LOUISVILLE, Ky. — Following a two-year investigation, the Department of Justice has released its findings into the Louisville Metro Police Department.
Just a day after the findings were made available to the public, Mayor Craig Greenberg and Interim Police Chief Jacquelyn Gwinn-Villaroel sat down with WHAS11 News.
Greenberg said they are not making excuses and they have made progress.
"We've already begun doing this work. We will continue to do this work, this work doesn't end," he said.
Gwinn-Villaroel said police will still answer the call "and I am truly, truly blessed to be able to say that they're going to answer the call and they're going to answer it the right way."
"And this is a new day and a new direction. My force is standing up and saying, even through this, we still have a mission and we still have a drive with us to keep this community safe. The community needs it, deserves it, and I expect it and I'm requiring it," she said.
The investigation stemmed into recent events in Louisville including the fatal police shooting of Breonna Taylor.
In the 86-page report released Wednesday, the DOJ said it has "reasonable cause" to believe that the city and LMPD engages in patterns and practice of conduct depriving people their rights under the Constitution and federal law.
Here's what the discovered:
LMPD uses excessive force, including unjustified neck restraints and the unreasonable use of police dogs and tasers.
LMPD conducts searches based on invalid warrants.
LMPD unlawfully executes search warrants without knocking and announcing.
LMPD unlawfully stops, searches, detains, and arrests people during street enforcement activities, including traffic and pedestrian stops.
LMPD unlawfully discriminates against Black people in its enforcement activities.
LMPD violates the rights of people engaged in protected speech critical of policing.
Louisville Metro and LMPD discriminated against people with behavioral health disabilities when responding to them in crisis.
On page 15 of the report, the feds highlighted an LMPD officer who ordered his dog to bite a Black 14-year-old boy who was not resisting arrest. The dog had allegedly been let off its leash and bit the teen several times.
The next page cited what they called "unreasonable and unsafe use of tasers." One example describes a situation where a Black man was under the influence in his home reportedly "acting strange and dancing around." The report noted when he later ignored officers' commands, an officer tased him.
On page 13, the report details how a white man was pulled over for speeding and driving under the influence. The report said when the driver didn't "immediately" agree to a breathalyzer test, the officer grabbed him and pushed him down onto the grass, and later grabbed and squeezed his throat.
U.S. Attorney General Merrick Garland called the department's conduct "unacceptable and heartbreaking."
They describe the department made improper, warrantless arrests during the social justice protests of 2020 and several times, LMPD made arrests without probable cause. Oftentimes, law-abiding journalists were caught up in the response and subjected to retaliatory force.
"For years, LMPD has practiced an aggressive style of policing that it deploys selectively, especially against Black people, but also against vulnerable people throughout the city. LMPD cites people for minor offenses, like wide turns and broken taillights, while serious crimes like sexual assault and homicide go unsolved," the report reads.
Garland did applaud LMPD for not waiting for their findings to make changes in the department. They cite the settlement with the family of Breonna Taylor's family in addition to other measures including the banning of no-knock warrants.
The DOJ is recommending 36 remedial measures to make improvements and said they must do more to address legal violations and root causes of the violations.
"LMPD's ability to serve and protect the people of Louisville has been compromised and the findings are deeply troubling and sobering," Assistant Attorney General Vanita Gupta said. "We are committed to working with Louisville on a path forward to constitutional policing and stronger police-community trust."
Some of the measures include enhance use of force policies, reporting and review procedures; improve polices and trainings related to search warrant requests, street enforcement policies and training; requiring documentation of all stops; improving civilian oversight; improve training for internal affairs investigations and units.
After the findings were released, Greenberg said the city's wounds have not healed following events of the last few years.
"The DOJ has provided descriptions of police misconduct and abuse and of too many people involved looking the other way. All of that is completely unacceptable. It's inexcusable. It's a betrayal of the public's trust. And it's a betrayal of the integrity and professionalism that the overwhelming majority of our officers bring to the job every day and night," he said.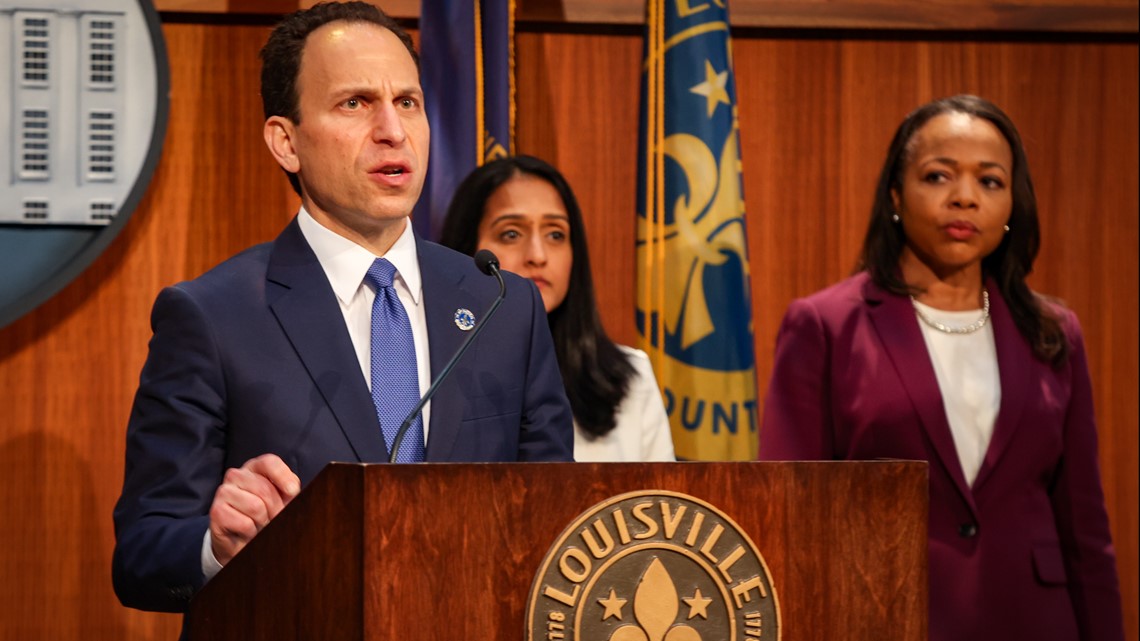 He said his office and Gwinn-Villaroel would be taking action to reform and improve how the department operates.
"Our goal is to make LMPD the most trained, trusted and transparent police department in America. We have a lot of hard work ahead. It's good and important work and we will make our city safer, stronger and healthier."
The mayor's office and the DOJ will be working together to implement the next steps.
The DOJ wants the Louisville community to join a virtual session on Zoom to learn more about its investigation into LMPD. The session begins Wednesday at 7 p.m. and click here for more information.
Department of Justice gives Louisville police recommended remedial measures following investigations
►Make it easy to keep up-to-date with more stories like this. Download the WHAS11 News app now. For Apple or Android users.