LOUISVILLE, Ky. —
The Supreme Court ruled Monday federal employment law bans discrimination against LGBTQ workers. While many in the community call it an historic and life-changing decision, they argue it's one of many steps needed toward equality.
One of those asking for more to be done is Melissa Smith, owner of Lady Luck Tattoo and Body Piercing in Owensboro. She said her tattoo shop is one of the rare places in her hometown where she feels accepted, because outside her shop's doors, she said people make her feel like she doesn't belong.
When she came out as a lesbian in her early 20s, she said she lost friends.
"They just ditched me," she said.
She lost her job in social work.
"I was the only one who got random drug testing," said Smith.
When she became an entrepreneur, needing a bigger place for her tattoo shop, she said a landlord told her something that stings seven years later.
"He took one look at me and said, 'We don't rent to people like you,'" she said.
But as of Monday, one of those barriers has been lifted. The Supreme Court ruled a section of the 1964 Civil Rights Act — which bans workplace discrimination based on sex, race, and religion — also applies to sexual orientation and gender identity.
"But the work is not done," said State Rep. Patti Minter.
Minter said there is still little protection against discrimination for those who are lesbian, gay, bisexual, transgender, and queer, or LGBTQ in nearly three-quarters of the Commonwealth. She said discrimination in housing and public accommodations still exists.
"People who identify as LGBTQ can be asked to get off public transit, denied service in hospitals," Minter said.
Lawmakers said they'll file a statewide Fairness Bill in January, adding LGBTQ discrimination protection that's still needed. Others call such efforts a threat to religious freedom.
Bruce Hausknecht is a policy analyst at Focus on the Family, a conservative Christian ministry based in Colorado.
"We also do not want to see religious people losing their livelihood because they refuse to do something that violates their faith," Hausknecht said.
In November, a wedding photographer filed a lawsuit against the city of Louisville, which passed a Fairness Ordinance 21 years ago. The photographer claimed the city's law that would force her to photograph same-sex weddings went against her religious beliefs.
About three months later, the U.S. Department of Justice agreed, saying in a statement that "forcing a photographer, against her conscience, to express her support for a wedding that her faith opposes violates the Constitution." That photographer couldn't talk about her pending case, so we spoke with her attorney.
"Anytime the government can tell someone to promote a message they disagree with, that should concern all of us," said Jonathan Scruggs, a senior counsel at Alliance Defending Freedom.
Right now, Kentucky is one of 27 states that exclude sexual orientation and gender identity in their non-discrimination laws, including housing and public accommodations. Chad Benefield, who lives in Owensboro, said outside of the 20 cities and counties in Kentucky with LGBTQ anti-discrimination ordinances, prejudice is a reality.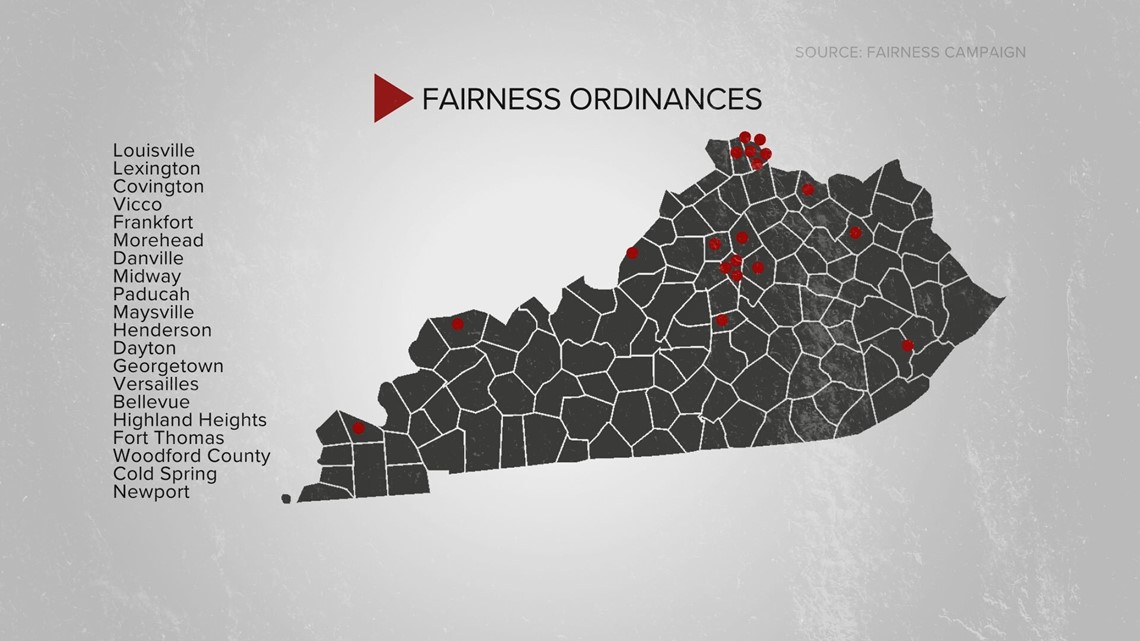 "It's happening and it's happening a lot," said Benefield, a community advocate.
Without more legal protection, he said many are afraid to speak up about complaints, leading to underreporting. While places with Fairness Ordinances track complaints, those numbers are often in the single-digits, according to local human rights commissions.
The Kentucky Commission on Human Rights, the state agency charged with investigating discrimination complaints, said they have no cases of LGBTQ discrimination. Since sexual orientation isn't a protected class according to the Kentucky Civil Rights Act, such cases are outside the scope of their agency. As a result, Smith said she and others like her suffer.
"I think there's a certain level of stress that we just sort of get used to," said Smith.
Despite the Supreme Court's recent decision banning workplace discrimination in the LGBTQ community, there are federal exemptions. Employers with less than 15 people, for example, are excluded. Many argue the law must go much further, mandating an end to all types of discrimination and taking more action when complaints arise.
►Make it easy to keep up-to-date with more stories like this. Download the WHAS11 News app now. For Apple or Android users.