LOUISVILLE, Ky. — For the untrained eye, it's hard to tell the difference between one racehorse and another, outside of what color it is and how fast it runs.
However, the way it runs actually separates one from the other.
"Each individual horse has his own style of running, it's as unique to him as our fingerprint," Dr. David Lambert said.
Lambert is an equine veterinarian, but instead of treating horses, his passion and focus have been on product development.
Owner and CEO of StrideSafe, Lambert and his team continue to fine-tune "an early warning system."
The mission is to detect a problem in a racehorse before it leads to serious injury, often resulting in death.
Changes in movement, too subtle for even the trainer to see and the rider to feel, are early warnings.
StrideSafe uses a specialized sensor, placed near the backside of the saddle, to measure movement; up and down, side to side, front to back.
During workouts and actual races, the sensor is constantly storing information, "2400 data points every second," Lambert said.
Those data points are later converted to lines on a graph for analysis and for comparing with previous graphs generated from the same horse running at different times.
Similar technology was already being used to help judge the quality of racehorses and for handicapping purposes.
Lambert used graphs from one of those horses, a two-year-old colt, to point out a red flag.
Just six weeks after what appeared to be a normal data set, the next data set was "dramatically different."
"Straightaway, the moment he comes out of the gate, you can see he's in trouble," Dr. Lambert said.
He added that the horse's struggles continued for about 70 seconds into the race until the horse broke down and had to be euthanized.
"All these things are just too fast for human perception, you've got to have sensors to pick up this stuff, and then it's that obvious," Lambert said.
He added the vast majority of horse injuries are weeks and months in the making.
So detecting anomalies in a graph is step one.
Step two is having the horse's legs scanned with positron emission tomography or a P.E.T. Machine, which can find a growing problem in the bones at the cellular level.

If a problem exists, the horse can then be rested with the proper treatment plan implemented.
"The two technologies just work hand in glove, and complement one another perfectly," Lambert said. "We've proven it works."
The most recent proof is in Dale Romans' barn.
"That's probably the first horse that he knows he probably saved the life of," the horse trainer said.
A StrideSafe sensor found inconsistencies in one of his horse's data sets, Romans says, and a P.E.T. scan found a problem in the shin bone.
While a horse might not be able to say it's hurting, technology can help do that for the horse.
"It's giving you (2400) communications per second, and that's a lot of talk," Romans said.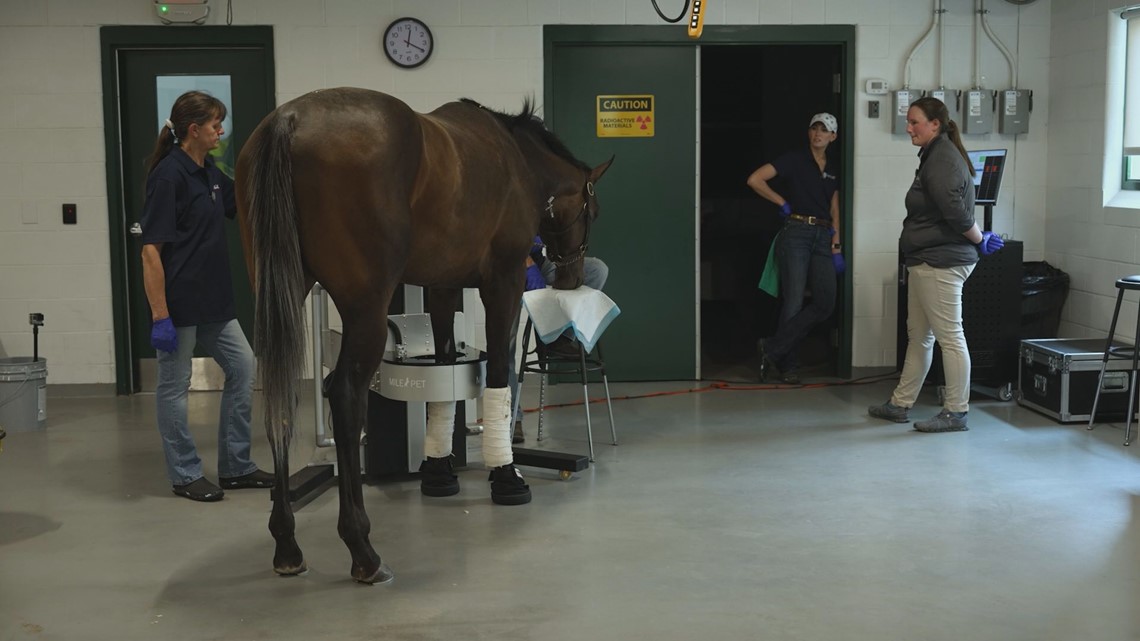 Although currently, data needs to be downloaded after every workout and race, it can be turned around in a matter of minutes, according to Lambert.
Better yet, he says, advancements already exist to relay the data in real-time.
Romans can see that happening eventually.
"Have a little sensor go off to the jockey saying this one's heading toward something bad, pull him up," Romans said. "I'd love to see it get to that point."
A single StrideSafe test costs $35 and the Kentucky Horse Racing Commission (KHRC) provided a grant to help fund the current study with the cooperation of Churchill Downs.
Lambert says furniture chain tycoon, James McIngvale, known as "Mattress Mack," has been a major donor.
The challenge now, Lambert admits, is getting more horse trainers in the saddle with the technology, and getting much more financial backing.
"I'm very, very confident if we can just get everybody on board, we'll save a lot of horses," he said.
Make it easy to keep up-to-date with more stories like this. Download the WHAS11 News app now. For Apple or Android users.