HODGENVILLE, Ky. — In the age of COVID, there has been less for Kentuckians to do and worse the pandemic has put a lot of people out of work.
Low income or no income has forced them to trim the fat on spending, including at the grocery store meat counter.
It's part of the reason the state believes folks are hunting more in the commonwealth.
According to the latest data from the Department of Fish and Wildlife Resources, hunting licenses were up about 4% with 221,357 licenses which is 12,553 more than last year.
Permits specific to deer are also up almost 3.6%, jumping from 291,116 in 2019 to 301,942 in 2020.
That's a 10,826 permit difference.
When asked if that's reflective of some hunters stocking their freezers more out of necessity, Gabe Jenkins, state deer biologist, says it might be.
"Some just trying to offset some cost, and you have this free-range, organic, fantastic meat resource on the landscape," Jenkins said. "It definitely helps the pocketbook within the family."
More hunters usually mean more deer are likely to be targeted and harvested.
Jenkins says it was trending that way.
"We were essentially on record pace" to surpass last year's total of 148,395, but that pace slowed.
As of Monday, the total hit 127,192 which is 21,203 less deer.
Jenkins blames the weather at the beginning of modern gun season.
"Opening weekend we had gale force, 40 mile an hour winds," he pointed out. "The second Sunday we had rain and miserable conditions and when you have bad weather on a weekend that really knocks down our harvest."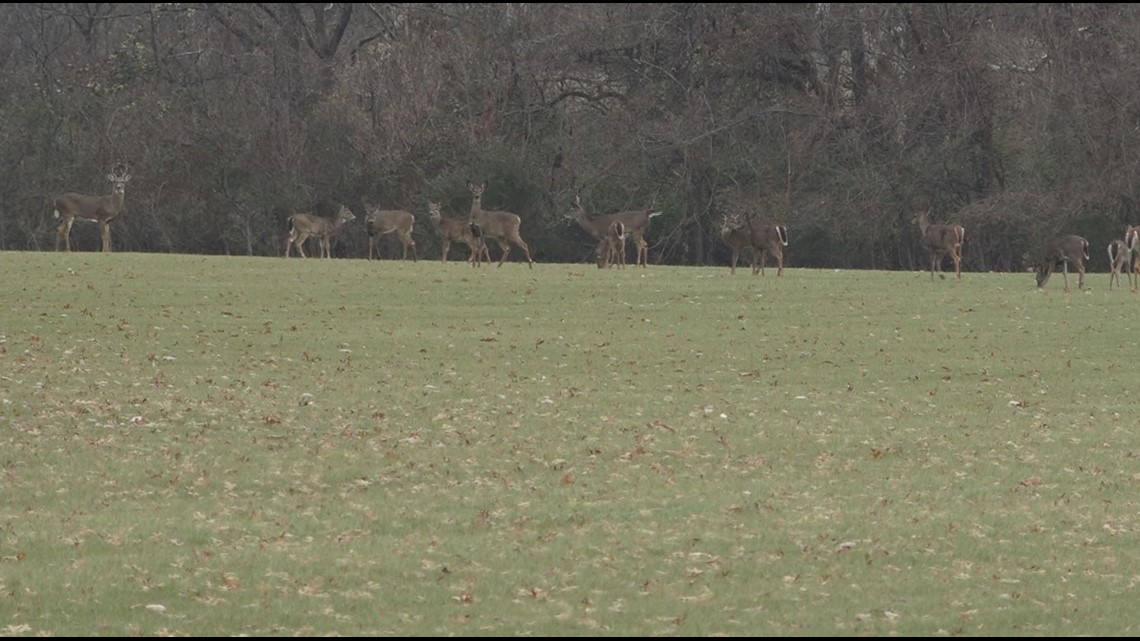 Still, Jenkins is happy with this year's hunt.
"Last year, we shot seven," deer hunter Roger LaPointe, 66, said.
He and his family and friends hunt on his 65 acre soybean farm in LaRue County
LaPointe says he's seen more people on the hunt and part of his theory is people, especially the unemployed, need meat.
"Basically people are off work, they don't have the money to buy it."
LaPointe is also the executive director of Kentucky Hunters for the Hungry, so he knows the demand to put protein on plates is high.
"We're getting more and more individuals calling wanting product as well," he said. "What we do is send them to the food banks."
After donating his first deer of the season, LaPointe hopes to deliver more venison to food banks with bow and crossbow season still going on, and he'll have another week during late muzzleloader season December 12 to 20.
"I think you're going to see a lot more hunting in general," he said.
And that's true according to state numbers.
Turkey permits for Kentucky residents are up 192,509 from 187,707 in 2019.
Fishing licenses have also jumped another 77,345 from year to year for a total of 487,045 in 2020.
►Make it easy to keep up-to-date with more stories like this. Download the WHAS11 News app now. For Apple or Android users.