Indiana's Glock switch law closes gap between state, federal courts
The bill got bipartisan support in both chambers, and Gov. Eric Holcomb signed it into law April 20.

The use of 3D printers and online black markets have led to an increase in dime-sized handgun attachments in both Indiana and Kentucky. The device, most commonly called a "Glock switch", takes a gun that usually fires semiautomatic and allows it to fire about 30 rounds in two seconds.
"That's what's changed. The technology and the availability to put machine guns in everybody's hands," Zachary Myers, U.S. attorney for the Southern District of Indiana, said.
"Unfortunately, we're seeing more and more of these in the hands of children, and teenagers. And we have to do what we can to get these off the streets to make the public safer," he said.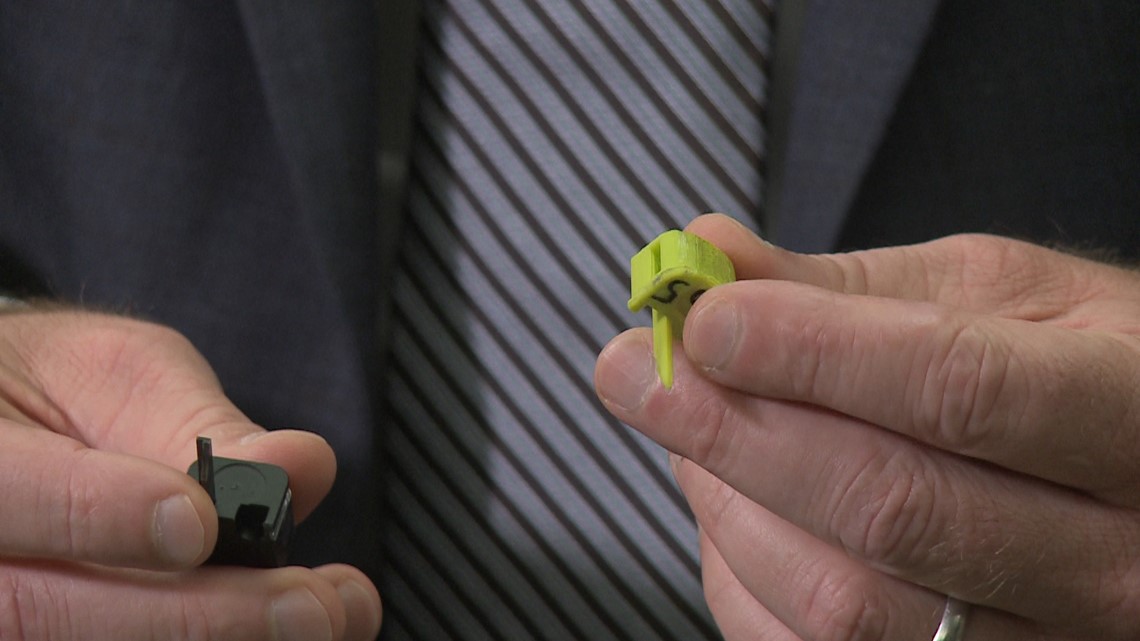 Myers' office has officially charged five adults for possessing, selling or transporting Glock switches in the Southern District of Indiana since August.
He said the actual number of people charged is much higher, but they were charged with an additional firearms, drug trafficking or assault charge, and the Glock switch was not the main thing they were charged for.
Glock switches
:
Why are they illegal?
Glock switches are illegal because they fit under the ATF's definition of "machine gun" in the National Firearms Act of 1934. The definition says a machine gun is a weapon that fires more than one round with a single pull of the trigger and a "part" or "combination of parts" used for "converting a weapon into a machine gun."
The act also states no machine guns made after 1986 can be owned by private citizens, and the ones made before 1986 need to be officially registered with serial numbers.
Glock switches do not have serial numbers and the "Glock" logo on the back is fake.

But it takes a long time to build a federal case, and the prevalence of these devices is not slowing down.
"There are 60 counties in the Southern District of Indiana, each of whom has their own prosecutor that handles that jurisdiction, and...it's just our office," Myers said.
Indiana law
:
'Bring authority back to local municipalities'
Now, county prosecutors will be able to prosecute people with the same authority as the federal system.
"This would really bring authority back to local municipalities to expedite that process," Rep. Victoria Garcia Wilburn (D-Fishers) said. Garcia Wilburn was a co-author of the bill.
Marion County Prosecutor Ryan Mears charges people for state-level crimes in Metro Indianapolis.
"It (the bill) certainly provides prosecutors and law enforcement with an additional tool to address this issue. And I think it's always a good policy decision when you have a piece of equipment such as this," Mears, a Democrat, said.
Mears has charged 87 people since 2020 for possession of a Glock switch under Indiana's former version of the machine gun law. Those charges have almost all come when the switch was attached to a Glock, but Mears admits it was an "aggressive interpretation" of the law.
"We felt like we had to do something," Mears said.
Mears maintains that their interpretation of the law is correct, but he is now facing a lawsuit from one person he charged under the statute, claiming it was an unlawful interpretation. That case is currently with the Indiana Court of Appeals.
"This issue is currently being litigated. You know, is our position correct? Did we go too far?" Mears said.
Mears could not say what this new law would do for his current cases, but he says it would remove the "gray area" for any future cases.
Kentucky law
:
'You cannot legally own one of these accessories as it is'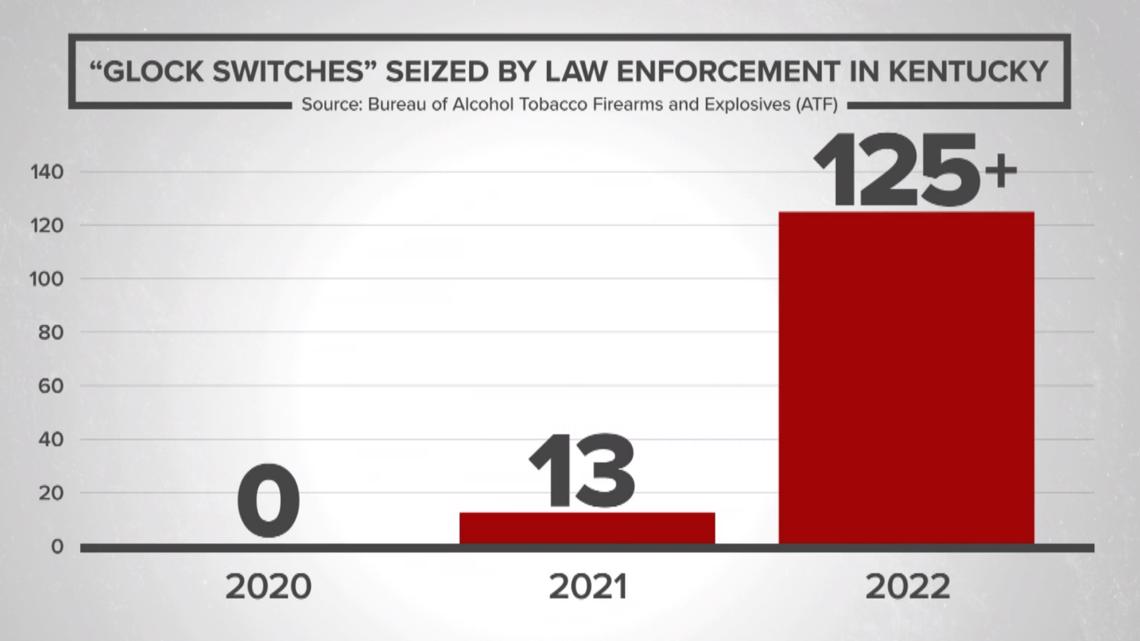 Kentucky does not have a state machine gun law. So, Kentucky lawmakers could not go the same route as Indiana even if they wanted to. Kentucky will have to continue relying on the federal system to prosecute these cases.
LMPD could not charge Billups with any firearms crimes in the district court system. Instead, he was charged with fleeing from police and giving false information to law enforcement.
WHAS11 asked Kentucky House Republicans if they would ever consider passing a machine gun law to crack down on Glock switches; we received this statement in part from Representative Josh Bray (R-Mount Vernon):
Machine guns have been around since the 1880s and Kentucky has managed to survive without additional firearms restrictions on the books. You cannot legally own one of these accessories as it is. The penalty that comes from a federal firearms conviction is enough of a threat to make sure these accessories don't become commonplace in Kentucky. I have full faith that our federal courts can handle these cases as they have had jurisdiction since 1934.
One outstanding issue in both states is the ability to charge juveniles for possessing Glock switches. The Louisville ATF says 75% of Glock switches seized in 2022 were from juveniles.
Jefferson County Commonwealth's Attorney Tom Wine suggested amending Kentucky's current "minor in possession of a handgun" law to account for Glock switches.
"Because the federal system does not usually prosecute minors, this would supplement the current federal statutes," Wine said over email.
Make it easy to keep up-to-date with more stories like this. Download the WHAS11 News app now. For Apple or Android users.