LOUISVILLE, Ky. — The commonwealth attorney's office has requested Kentucky Attorney General Daniel Cameron to appoint a special prosecutor to review the investigation into Breonna Taylor's death.
The prosecutor will review the results of the investigation currently being done by the Louisville Metro Police Department's Public Integrity Unit. Louisville Mayor Greg Fischer said during his Wednesday press conference the investigation should conclude soon.
Commonwealth Attorney Tom Wine is currently prosecuting Kenneth Walker's case, which are charges stemming from the same executed search warrant that resulted in Taylor's death. Fischer had said Wine would recuse himself due to that conflict.
"Because our office is prosecuting Mr. Walker's case, Mr. Wine believes that our office is conflicted from reviewing the LMPD Public Integrity Unit investigation," the office said. "We are requesting that the matter be assigned to a special prosecutor to review the investigation for future action."
Taylor was shot and killed by police in LMPD's narcotics division while they executed a search warrant at her apartment. During the execution, Walker exchanged shots with police, resulting in serious injuries to one officer.
Walker said he shot the officers in self-defense, saying he did not hear police announce themselves. An attorney representing Taylor's family said they have witnesses who also said they did not hear police announce themselves before they heard shots fired.
Gov. Beshear said he was troubled by the public reports about the shooting.
"The commonwealth's attorney, the U.S. attorney and the Kentucky attorney general should carefully review the results of the initial investigation to ensure justice is done at a time when many are concerned that justice is not blind," Beshear tweeted.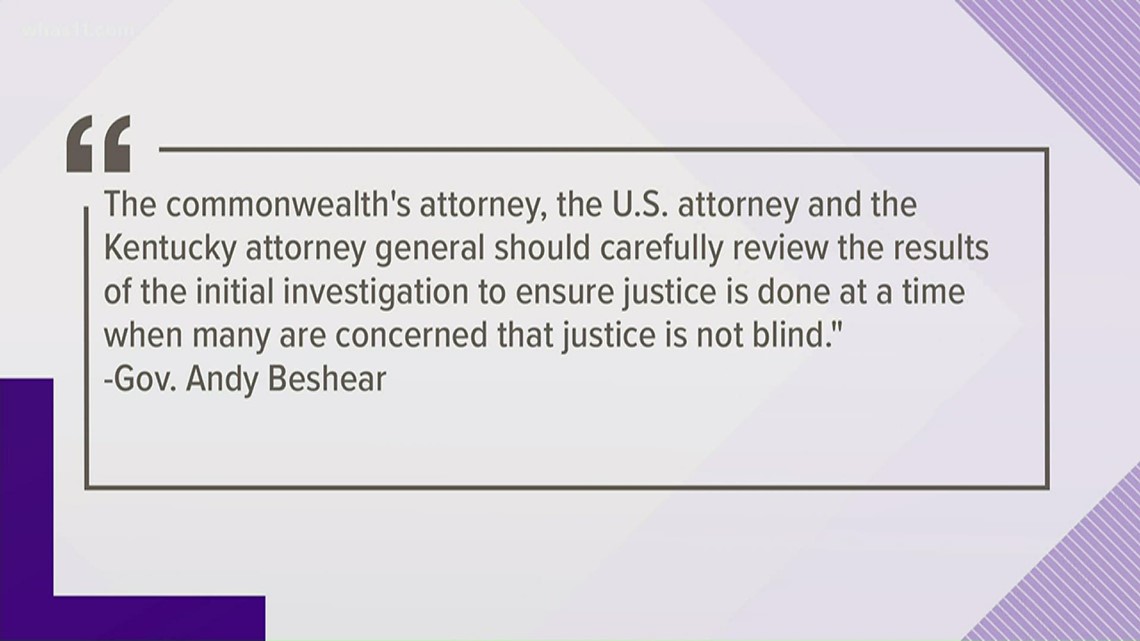 National figures like U.S. Senator Kamala Harris have also spoken about the case, calling for the Department of Justice to investigate Taylor's death.
"There should be an investigation," Harris said. "That is not justice, what happened."
►Make it easy to keep up-to-date with more stories like this. Download the WHAS11 News app now. For Apple or Android users.