LOUISVILLE, Ky. — This blog will be updated daily with the latest information on COVID-19 in Kentucky. You can also see the newest stories in our Coronavirus section.
Wednesday, March 25
Ford confirmed to WHAS11 that an employee at the Kentucky Truck Plant tested positive for coronavirus. A spokesperson for the company sent the following statement:
"One employee at Kentucky Truck Plant tested positive for the COVID-19 coronavirus; the plant is already temporarily closed. We are thoroughly cleaning and disinfecting the building, as promised as part of our coronavirus emergency response protocol. The health and safety of our workforce, dealers, customers, partners and communities is our highest priority. Our thoughts are with our employee and family during this difficult time."
The health department did not release any specific details about the individual other than the person is following guidelines for self-quarantining at home.
"We have anticipated cases as COVID-19 has shown to be a community spread throughout the Commonwealth. For the Bullitt County Community, we want to continue to encourage everyone to be vigilant in following personal and community prevention measures to slow the spread of the disease," Public Health Director Andrea Renfrow said.
Gov. Beshear said there are 198 positive cases in Kentucky. There were 35 new cases on March 25, which is fewer new cases than yesterday.
He also confirmed a 75-year-old man in Jefferson County is the state's fifth death connected to coronavirus.
Beshear said independent contractors, small business owners, substitute teachers, freelance workers and childcare workers employed by nonprofits or religious organizations can now receive unemployment.
Beshear said the state's first drive thru coronavirus testing facility is expected to be set up next week for limited testing. If it works, it may be expanded.
Mayor Greg Fischer said there are 35 positive cases of COVID-19 in Jefferson County. One man, a 75-year-old with underlying health complications, has died.
Fischer also said five additional firefighters are in self-quarantine after a Louisville firefighter tested positive. All facilities and vehicles have been sanitized.
Local law enforcement and the Nation Guard will be outside all Jefferson County hospitals as officials prepare for a surge in patients.
The second case of coronavirus has been confirmed in Oldham County. The resident is a female in her 40's Teresa Gamsky of the Director of Public Health, Oldham County Health Department said.
Tuesday, March 24
All non-life sustaining businesses must close to in-person traffic on Thursday by 8 p.m. Grocery stores, pharmacies, agriculture, gas stations are allowed to stay open. The governor says he will provide more updates Wednesday.
Governor Andy Beshear say among the newest cases of coronavirus, someone attending a coronavirus party tested positive. "This is one that makes me mad," he said during the Tuesday briefing. He further elaborated later in the briefing It was a group of young adults in their 20's flaunting the gatherings.
He says there are now 39 more new cases, bringing the statewide total to 163. For a detailed list by county, click here.
Gov. Beshear, along with the Kentucky Public Protection Cabinet (PPC), took executive action to establish the Team Kentucky Fund, a GoFundMe-style online platform to provide financial help to Kentuckians whose employment is affected by the coronavirus. The Governor challenged those who are able to help to make a tax-deductible donation to the fund.
The North Central District Health Department has confirmed a positive case of COVID-19 in Shelby County. Officials say this case is a "pediatric individual." They say the child and family are in isolation at home. This is the first case in Shelby County.
Senator Mitch McConnell announced Kentucky will receive $1.6 million to help combat the coronavirus. The funding is a result of the Coronavirus Preparedness and Response Supplemental Appropriations Act which was passed by Congress.
"In response to the coronavirus, I was proud to lead bipartisan efforts as Senate Majority Leader to deliver urgent funding for community health centers nationwide, including $1.6 million to Kentucky," said Senator McConnell
Monday, March 23
A new hotline has been created to report circumstances, businesses or situations believed to be dangerous due to lack of social distancing. The COVID-19 Kentucky Safer line is open from 7:30 a.m. to 9 p.m. but residents can also leave a message.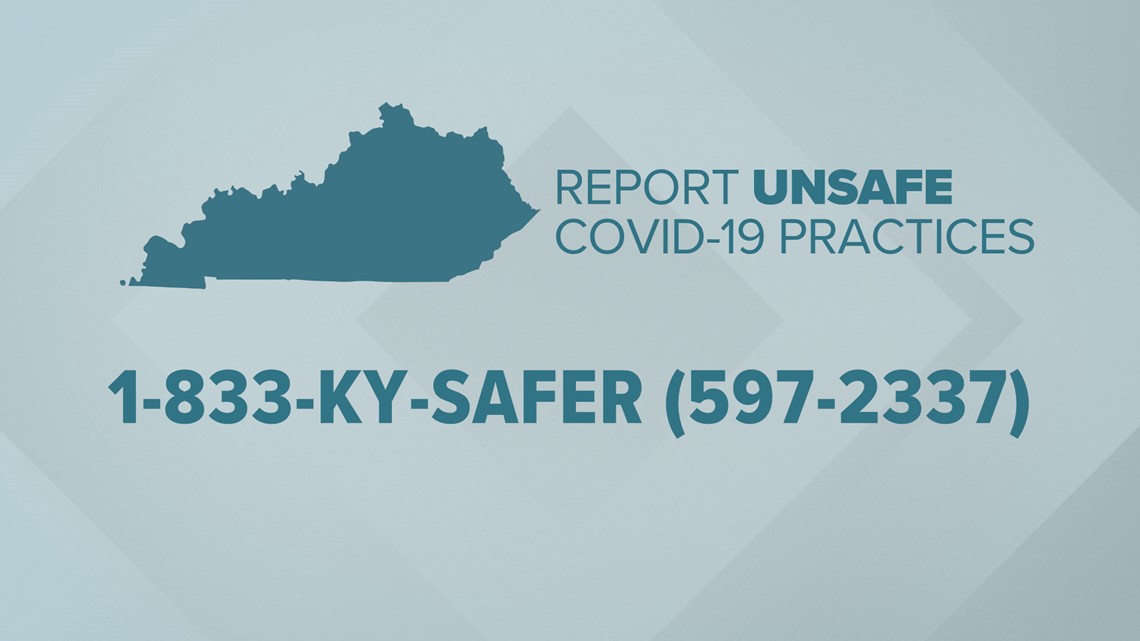 The state has seen a 21-case jump in coronavirus, bringing the overall state total to 124. Of those total cases, 34 are from Louisville.
Governor Andy Beshear: World Health Organization says coronavirus is escalating. Surgeon General says this week will get bad.
Beshear confirms 4th death of COVID-19 in Kentucky. Victim was an 82-year-old Lexington woman with underlying health issues. He said the Governor's Mansion will light up green in her honor.
The U.S. Postal Service confirmed an employee at the Louisville Processing and Distribution Center tested positive for COVID-19.
Officials said they believe the risk is low for fellow employees, but they have reached out to public health officials for guidance.
Sunday, March 22
A list sent from the governor's office shows gives an idea of what retail must close by 8 p.m. Monday.
Governor Andy Beshear says the state is now up to 103 cases statewide.
So far, Beshear says 2,000 tests have been administered and the average age of a coronavirus patient is 53.3.
The Kentucky coronavirus hotline has received more than 22,800 calls; averaging about 2,400 daily.
Monday, the governor says non-essential retail businesses are expected to close at 8 p.m. These businesses include clothing/shoe stores, bookstores, auto dealerships, florists.
Liquor stores can also remain open only with curbside and delivery.
They do not include pharmacies, drug stores, grocery stores, gas stations and auto repair shops.
"It's going to take this type of sacrifice and continuing to take more steps each day or every other day to do what we need to do," he said.
He says "shelter in place" will not be how Kentucky handles the virus, instead preferring to use the term "healthy at home."
In another new update, Gov. Beshear has now mandated starting Monday, March 23, all medical facilities must stop elective procedures.
"The vast majority of providers have done it voluntarily and are truly making plans, are absolutely on Team Kentucky but whether it's a group of chiropractors that have been exceedingly difficult or others that think they are the exception, it's now requiring us to turn it into a mandate," Beshear said.
The governor also said two new labs have begun testing for the virus, including one at the University of Kentucky and a private lab.
Mayor Fischer says 28 of the 99 cases of COVID-19 are in Jefferson County, including the fatality.
The mayor says the Louisville Metro Revenue Commission will extend its annual occupational license tax filing.
The April 15 deadline has now been moved to July 15.
Metro 3-1-1 will take calls beginning Monday about businesses not complying with the governor's orders to close to flatten the curve. Mayor Fischer says if you see large gatherings, they will send proper enforcement and take more restrictive measures to stop the disease.
"Our number one job is to protect life and citizens in this city," Fischer said. "And if necessary we will shut the businesses down. So please do the right thing today so you're not going to have a bigger problem tomorrow when you don't have to get the government involved with enforcing this."
The Big Four Bridge will be lit up Sunday as a sign of compassion.
Fischer is urging Louisvillians to fly the American flag as a way to show this country will get through this.
Kentucky Senator Rand Paul has tested positive for COVID-19. The Senator made the announcement via Twitter.
In the tweet, it says Paul is feeling fine and is in quarantine. He is asymptomatic and was tested out of an abundance of caution due to his extensive travel and events.
Masonic Home Louisville has confirmed that a former patient at the daily living campus has tested positive for coronavirus.
The patient was living at the Sam Swope Care Center in the Crescent Hill neighborhood.
According to Masonic Home Louisville, the patient was in continuous isolation while receiving care and all isolation protocols were applied. They say they were notified by a local hospital about the former patient's diagnosis.
►Make it easy to keep up-to-date with more stories like this. Download the WHAS11 News app now. For Apple or Android users.