LOUISVILLE, Ky. — This blog will be updated daily with the latest information on COVID-19 in Kentucky. You can also see the newest stories in our Coronavirus section.
Gov. Beshear's office says they are moving his press conferences to Tuesdays.
Sunday, June 28
Gov. Andy Beshear has confirmed 67 cases of COVID-19 in Kentucky, bringing the total number of confirmed cases to 15,232 statewide.
"We see states in the South like Florida and Texas with rising cases and know it could happen here in Kentucky," the Governor said. "It wasn't anything magic that lead us to our early success. It was us truly coming together as a people and showing that the lives of other Kentuckians is more important to us than anything."
The governor says four people have died from the virus including a 30-year-old woman from Fayette County.
Other deaths include an 84-year-old woman also from Fayette County, an 81-year-old man from Franklin County and a 93-year-old man from Shelby County.
So far, 558 people have died from the virus.
Saturday, June 27
"This virus is not going away yet. We see numbers spiking in states all across the country. We need to be vigilant so that doesn't happen here in Kentucky,"Governor Andy Beshear warns Kentuckians.
Governor Beshear reports 316 new coronavirus cases bringing statewide total to 15,167. One death was reported on Saturday. Beshear says it was a 78-year-old woman from Fayette County.
As of Saturday, there have been at least 391,765 coronavirus tests performed in Kentucky. At least 3,730 Kentuckians have recovered from the virus.

Friday, June 26
Governor Andy Beshear announced 256 new cases and seven additional deaths Friday.
The state now has 14,858 total cases and 553 COVID-19 related deaths. Three of the newly-reported deaths come from Louisville: 85- and 88-year-old women and an 83-year-old man.
Beshear said there have been at least 383,636 coronavirus tests performed in Kentucky. At least 3,730 Kentuckians have recovered from the virus.
There are more than 200 COVID-19 testing sites in Kentucky. To find one, click here.
Thursday, June 25
Beshear said Kentucky has 280 new cases of COVID-19, bringing the state's total to 14,617.
There were eight additional deaths, including an 86-year-old man and 89-year-old woman from Jefferson County, and 84-, 90- and 93-year-old women from Shelby County.
As of Thursday, there have been at least 375,636 coronavirus tests performed in Kentucky. Additionally, 3,719 Kentuckians have recovered from the virus.
The state also announced a travel advisory to Myrtle Beach after State Health Commissioner Dr. Steven Stack said Wednesday that a cluster of cases came from traveling to the popular vacation destination. Anyone returning is asked to quarantine.
Wednesday, June 24
Beshear said Kentucky is in a plateau. That means the cases will go up from day to day within a range, he said.
The state has confirmed 229 new COVID-19 cases, bringing the total to 14,363. One more death has been confirmed, bringing the total number of deaths to 538. So far, 3,706 people have recovered, and 368,152 tests have been administered.
The governor said about 50% of the state's hospital beds are open, and there are plenty of ICU beds and ventilators.
Dr. Steven Stack warned about COVID-19 outbreaks related to travel, especially in the Myrtle Beach area of South Carolina. According to Stack, 12 Kentuckians traveled to Myrtle Beach on June 11 and returned on June 14. Nine of those people have tested positive for COVID-19. Stack also said they believe there is another cluster in Kentucky related to Myrtle Beach travel.
The state provided and update on guidance related to schools, which they are calling Healthy At School. Kentucky will provide schools with a document on guidance for social distancing, personal protective equipment, screening, sanitation and contact tracing.
The governor discussed plans for providing in-person assistance with unemployment claims. Starting next week, Kentuckians will be able to sign up for appointments in Frankfort Monday-Friday. Additionally, the state will open offices in Ashland and Owensboro June 29-30, as well as Somerset and Hopkinsville July 7-8. Details on how to sign up for appointments will be provided soon.
Tuesday, June 23
Gov. Andy Beshear's office has confirmed 315 new cases of COVID-19 in Kentucky, a significant increase from Monday's totals. This now pushes the state to 14,141 cases to date.
Eleven new deaths were also reported Tuesday, raising the total to 537 who have died from the virus.
52-year-old woman from Allen County
Three women, ages 77, 77 and 91, and a 90-year-old man from Clark County
78-year-old woman from Fayette County
84-year-old woman from Graves County
46-year-old woman from Harlan County
67-year-old man from Jefferson County
106-year-old man from Logan County
77-year-old woman from Shelby County
"These are 11 Kentuckians whose families are hurting and who need all of us to keep them in mind and in our prayers," the Governor said. "Let's remember to light our homes and businesses up green and to ring bells every morning at 10 a.m. to let everyone who has lost someone to the coronavirus know we care."
Kentucky has tested 363,027 people
Nearly 3,591 have recovered from the virus.
Monday, June 22
Kentucky sees high number of requests for absentee voting
Governor Andy Beshear revealed during his press conference Monday that more people have requested absentee ballots in Kentucky than they have voted in any state primary election within the last five years.
An estimated 883,054 absentee ballots have been requested.
"If all our absentee ballots are returned, we'll have the largest number of people voting in our primaries in at least the last decade," Beshear said.
The governor also said no-excuse early voting has been allowed for the first time. Typically, Kentuckians are required to fill out an affidavit to vote early.
Nearly 88,530 Kentuckians have voted early in-person and 452,305 absentee ballots have been returned.
Beshear also addressed concerns with the number of polling places in different locations across the state.
"We should always be concerned if we think more people could vote in a different way," he said. "What I'd ask is that people look at all of the facts including first-ever mail-in voting, first-ever no-excuse early voting and the numbers are already adding up to be the most significant primary in terms of voter interest and in votes that we have seen."
Jefferson County Primary numbers
Absentee ballot requests: 215,939
Early in-person voting: 7,213
Absentee ballots returned: 102,084
Beshear also said the National Guard will be on hand to help out counties needing assistance on Primary Day.
They will help in areas including traffic control, social distancing, sanitizing and overall general assistance.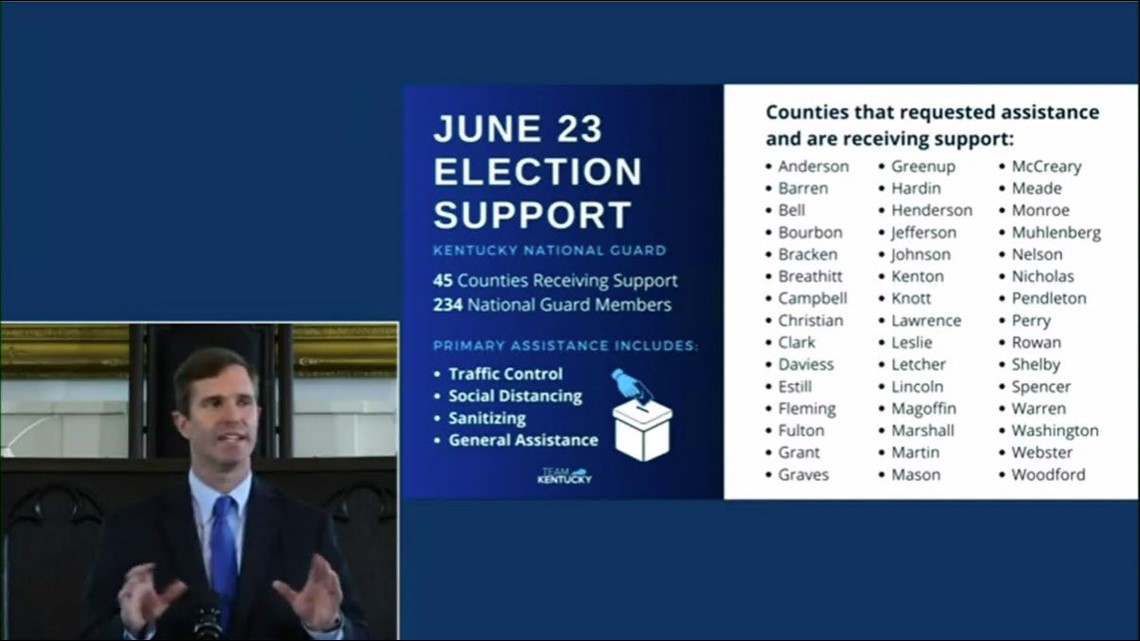 Governor Andy Beshear announced new cases of COVID-19. He made a clarification to Sunday's numbers with three additional cases. That number should now read 120 for that day.
Monday, the governor confirmed 90 new cases and no deaths reported. He says this is the lowest number of cases in a while.
13,839 - total number of cases
526 - total deaths
352,215 have been tested
349 - hospitalized
67 - currently in ICU
So far, 3,534 have recovered from the virus.
The North Central District Health Department which services Shelby, Henry, Spencer and Trimble Counties say a seventh person has died from COVID-19.
Health officials say they have also confirmed 29 new cases which brings their count to 462.
Twenty-five people have been released from isolation.
Kentucky Department of Education releases new foodservice guidance for upcoming school year
Officials said each district in the Commonwealth should be created in consultation with local health officials and guidance from Gov. Andy Beshear.
The schools are required to write food safety plans to fit the new guidelines and said multiple methods should be used to keep students' families and caregivers informed about how food service is handled.
State officials plan to release more information at a future date.
As of Sunday, June 22, Kentucky currently has 13,750 positive COVID-19 cases. Officials say 526 people have been lost to the virus.
Find previous updates here.
►Make it easy to keep up-to-date with more stories like this. Download the WHAS11 News app now. For Apple or Android users.