LOUISVILLE, Ky. — On Wednesday, the Louisville Forum discussion zeroed in on the issues plaguing Jefferson County Public Schools (JCPS), inviting the question: Should the school district be split up?
JCPS Board of Education member Corrie Shull and Kentucky Rep. Jason Nemes shared sharply contrasting views on how to fix the problems with transportation, violence and academic performance.
It was an animated debate between the two outspoken leaders, both agreeing the status quo isn't acceptable -- especially following the first day of school busing debacle.
Shull is of the mindset that splitting up the very large JCPS into smaller districts would simply re-segregate schools and further limit resources available to marginalized areas.
"If you divide the district, you're going to need four or five superintendents, four or five athletic directors. You're going to multiply your administrative load. We are actually better as one united district," Shull said.
But Nemes believes "the size is the problem." He says divvying up responsibilities across multiple smaller districts would help curb transportation problems.
"Marty Pollio couldn't go to every school in one year. You think he knows what's going on in Crosby and Lassiter and Brown and Manual and Valley and Moore and Iroquois -- you think he does? Because he can't. It's not possible. So [as far as] the 'size is our strength' issue -- I don't think so," Nemes said.
The issue of guns found in schools was also met with lively responses.
"We're going to have an incident that's bigger than what we've already had, if we don't take it seriously, which we are not," Nemes said.
Shull responded by asking Nemes, "But why are students bringing weapons?" Nemes argued it's "because they know there's no consequence."
"No, they're bringing weapons because they don't feel safe in community," Shull pushed back.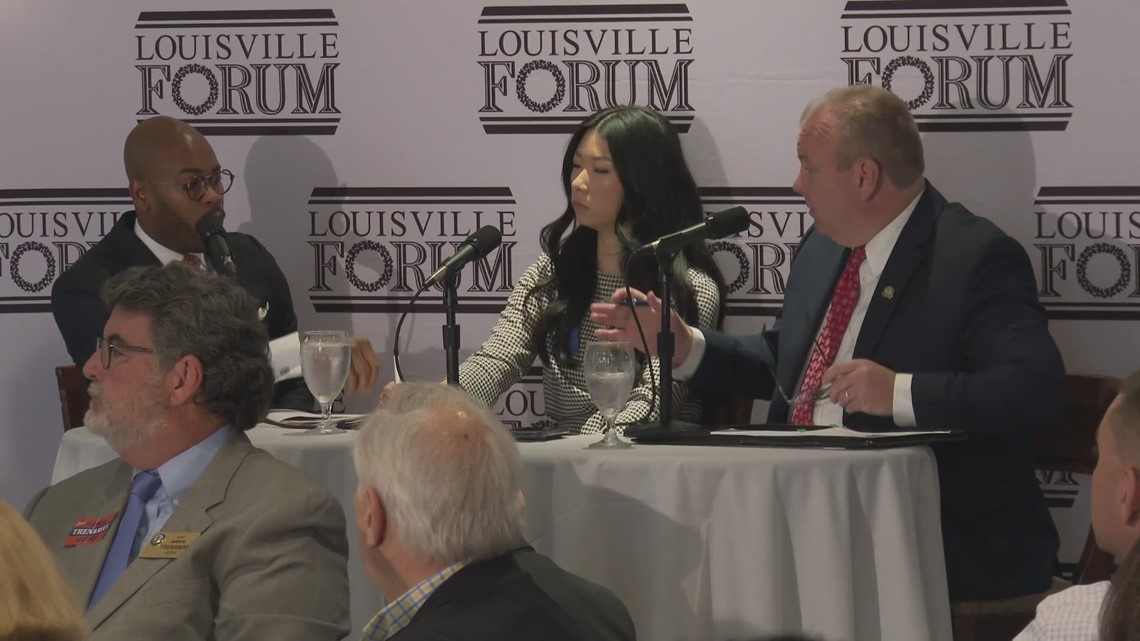 Also top of mind was funding for JCPS, with Shull believing the state legislature isn't doing enough.
"Frankfort could help fix the transportation problem immediately if they had the political will to do so. They don't," Shull said.
But Nemes instead pointed to the school district's increasing budget, with general fund money going from $1.3B in 2018 to $1.7B in 2023.
"We're talking here about the performance of JCPS -- dollars are not the problem," Nemes said.
Shull quickly responded, saying "dollars are the problem."
The two also debated the issue of consequences for students bringing guns to school.
Nemes vehemently said these students should be expelled, or at least suspended from that school for a year.
But Shull expressed concern over where these students will go, with many lacking a stable home environment and adequate resources.
An audience member brought up the question of whether JCPS should continue providing transportation for all kids, given the delays, to which Shull said those conversations are happening and will continue to happen "through the fall."
Make it easy to keep up-to-date with more stories like this. Download the WHAS11 News app now. For Apple or Android users.