LOUISVILLE, Ky. (WHAS11) – As an education reporter, Scott Wade has visited many schools.
Wade says he was always comfortable in the classroom and was often a guest speaker. In 2002, everything changed. The classroom became his home and he took a job that enabled him to change lives.
Halima Ali's home country is Kenya. Ali is a student and budding poet whom Wade says in class, she is a leader.
"If it wasn't' for the help of Mr. Wade, I don't think I would have the confidence and courage to share my poetry with anyone. He has helped me to build my confidence and to go and let my voice be heard," Ali said.
There are voices from many countries in Scott Wade's ESL class. It is a place of refuge for students from war torn countries.
"They've lost family members, some of them have come from genocides. Some have come from gang violence for example, the kids in Central America. Most students from Africa were born in refugee camps," Wade said.
They are survivors who have been toughened by danger and the threat of death. Scott Wade's class is the way to the future.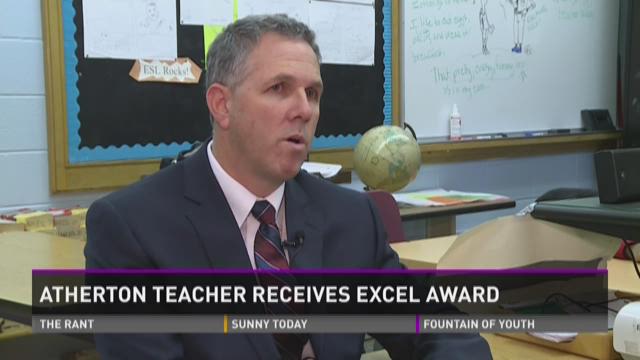 "They are among the most motivated from the moment they get here. Because, if you fall out of the boat, you gotta swim. And that's what happened. They've been for some reason, ejected or escaped from terrible situations and English is their only route to success and they know it," Wade said.
Wade is their guide to the English language and more. He helps them connect to the rest of academics and the school community.
"Mostly I work hard with the language. Like I study and Mr. Wade gives us like a hand. Like he sits by us like a father would with his son and study and just try to get our best education we can," a student said.
For teaching English, for changing attitudes and building a community of students from foreign lands, Scott Wade has won the Excel Award.
The Excel also brings a $1,000 dollar teacher grant. That will help a teacher, who always expects more students will walk thru the door.
"Wherever there's a crisis, whenever refugee camps fill up, boil over, right now it could happen in Syria. The next thing is to come to America and they could end up here," Wade said.
They could end up at Atherton High School, and one ExCel teacher Scott Wade is waiting.