LOUISVILLE, Ky. — There were some very tense and scary moments at an apartment building in downtown Louisville Saturday night.
Police and Fire were dispatched around 7:00 p.m. to the Vue at 3rd building in the 500 block of South 3rd Street.
According to Louisville Metro Police (LMPD), officers with the First Division responded to the area on a trouble call with reports of shots being fired.
When officers arrived on the scene they encountered the alleged shooter and quickly detained him. At that time, they discovered a fire in the building and called the fire department.
Arrest citations obtained by WHAS11 on Sunday revealed more details on the incident. The accused shooter is 29-year-old Levi Poore who lived in the apartment building.
The arrest citation says Poore went to the 14th and 15th floor of the building where he indiscriminately fired his gun into apartments and walls on those floors. Poore was also spraying a fire extinguisher throughout the building. He threw it hitting one person in the head and back, the document revealed.
Poore is facing the following charges:
Assault
Possession of a firearm by a felon
Wanton endangerment
A witness told WHAS11, the man shot his gun inside the building and spraying a fire extinguisher on multiple floors.
Tenant Nicholas Ray McClure said he opened his apartment door and came face-to-face with the man.
"I immediately went outside of the apartment shut it behind me and just went straight at him. He sprayed it in my face and as soon as he was doing that I turned my back and he hit me in the back with the fire extinguisher," McClure said.
This is not LMPD's first time at the building. According to police data, they've responded to this block of 3rd Street over 60 times this year. Crimes ranged from arson in January to drug possession and assault just this month.
PHOTOS | Louisville police, fire on scene after gunshots, active fire call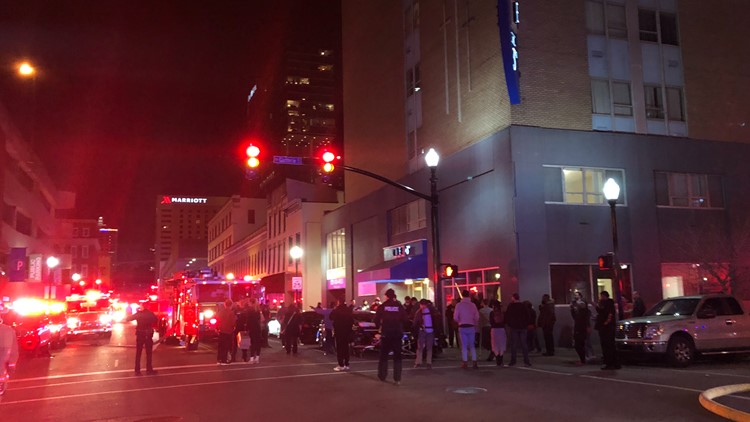 Make it easy to keep up-to-date with more stories like this. Download the WHAS11 News app now. For Apple or Android users.