LOUISVILLE, Ky. — Two Louisville Metro Police officers and bystanders are being credited with preventing a possible mass shooting in the Highlands.
Police said around 2:50 a.m. on Saturday, June 5, Officers John Moore and Kerry Ball were working overtime on Baxter Avenue when they saw a man run past their patrol units with a loaded gun toward O'Shea's Irish Pub.
Officials said the officers with the help of bystanders were able to grab the suspect, 25-year-old Carmon Tussey, and take him into custody. Police released surveillance photos of the incident on Tuesday.
Joshua Williamson and Gage Mertz were two of the citizens that helped stop Tussey, seconds before police arrived to help. They were strangers at the time, but were each at the bar with friends. Williamson said he was celebrating his birthday that night.
The two said they ended up meeting, and their group of friends eventually had a run-in with Tussey.
"I don't know exactly what happened," Williamson said. "But the aggression kind of ramped up between us but it was eventually diffused."
From there, they didn't see Tussey again until he returned to the bar with a gun, just before the bar was closing.
"I saw him swinging around this was with a rifle. I'm prior service so I can understand the silhouette of a rifle," Williamson said. "I felt like no one else saw this. I was like I see this, it's a problem. The way he was holding it, it was pretty much at the ready."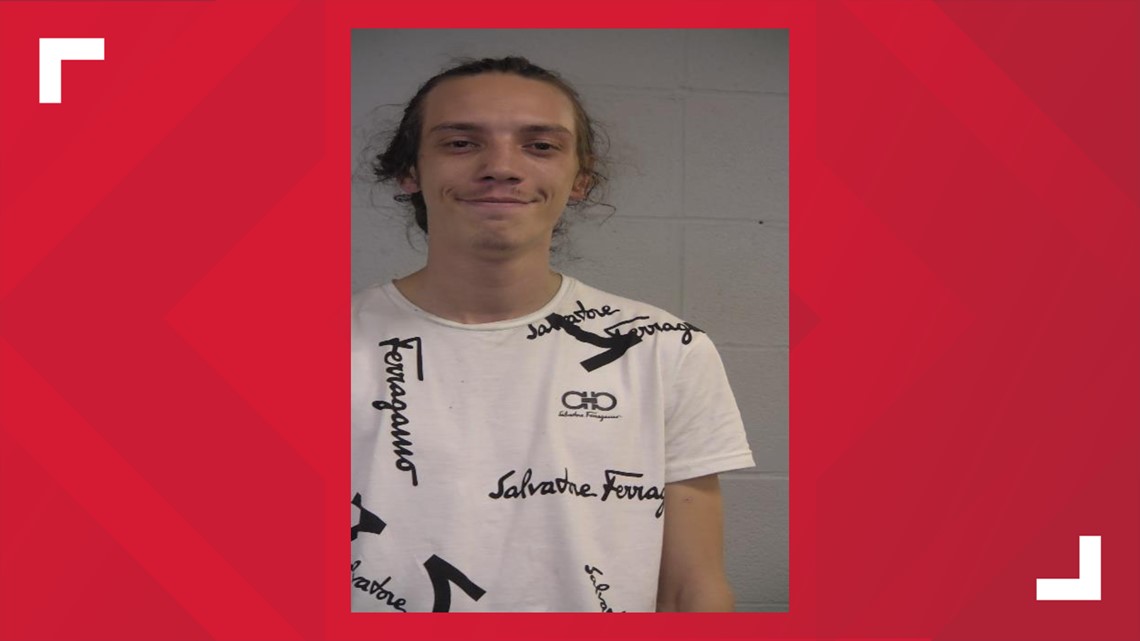 Williamson jumped to action and ran at Tussey, and pulling him into a bear hug position to restrain him and the rifle. That's when Mertz and his friend moved in to help pull the gun out of Tussey's hands.
"It was kind of involuntary, we just saw the gun and he was just sitting there holding him and we had to do something about it," Mertz said. "You don't think every day you're going to have an interaction with a gun out in the street when you're going out to a bar."
Williamson said with several years spent in the Army and National Guard, it was instinct for him to act.
"In the Army, I learned a few things," he said. "Two of them are personal courage and selfless service so it's kind of been instilled in me and just one thing led to another and I just jumped in and got the situation under control."
According to arrest records, Tussey told officers he'd gotten into a fight with people at the bar earlier on Friday night and was returning to shoot them. When he was placed into custody, he allegedly told police that "he should have just shot."
Tussey was found in possession of a fully automatic AR Pistol and a fully loaded magazine when he was arrested. Police said they encountered him earlier in the night while he was in line for O'Sheas, where he asked them "what types of rounds their body armor would and would not stop."
Police said had Tussey not been stopped, "someone would have been seriously injured or killed."
"Thank goodness nobody was hurt, like what could have happened," Mertz said. "It could've definitely been America's next mass shooting on the news."
The two Good Samaritans, now friends, said they aren't afraid to return to the bar and hope others aren't either. But they hope what happened helps shed light on how situations can be "de-escalated with the right people in the right spot."
"There's heroes in disguise, we're out here. It's not just me. If things do go down, the cops don't always have to be there for a situation to be diffused," Williamson said.
Tussey was taken into custody and charged with menacing, disorderly conduct and terroristic threatening. He plead not guilty in court this week.
According to LMPD, the Alcohol, Tobacco, Firearms and Explosives' (ATF) is investigating the incident.
On Friday, body camera video of the incident was released. Watch that footage in the player below.
►Make it easy to keep up-to-date with more stories like this. Download the WHAS11 News app now. For Apple or Android users.