According to LMPD Chief Erika Shields, the two suspects, 28-year-old Jesse Christopher Johnson and 18-year-old Marquis Mitchell, were indicted for murder by a grand jury after the case was presented by the Commonwealth Attorney's Office in conjunction with the LMPD Public Integrity Unit.
Meanwhile, District 13 Metro Councilman Mark Fox, who oversees Fairdale where the Shirley family is from, talked about what he's hearing from his constituents.
"There's a sense of relief that at least family and friends of Deputy Shirley can begin to heal a bit more," Fox said. "While this starts that process, this is a lifelong process."
Little to no information has been released on the motive for Shirley's killing or the specific role either of the men arrested played in it. During Thursday's briefing, Chief Shields said the department will not provide any additional information about the investigation.
"Right now, our priority is a conviction," she said.
Fox, a former police officer himself, said law enforcement typically holds key information like that close to them in high profile cases like this one to make sure they get a conviction at the first opportunity.

"You basically get one shot, and if you miss that shot, you don't get to do it again," Fox said. "You have to keep information close, and you have to build a case that's convictable beyond a reasonable doubt to a jury of 12 -- so that takes an intense amount of time."
What we know about the suspects
Meanwhile, we learned more about the criminal histories of both men charged.
In Johnson's case, charges date back to 2011, but the most recent ones are from 2021. They include an assault in November, illegal possession of a handgun and complicity to robbery. Some of them are still active and came after the death of Deputy Shirley.
Mitchell has no prior criminal history in Kentucky or Indiana. Chief Todd Bailey with the New Albany Police Department (NAPD) confirmed that Mitchell was arrested without incident by members of the U.S. Marshal's task force, NAPD and LMPD on Wednesday.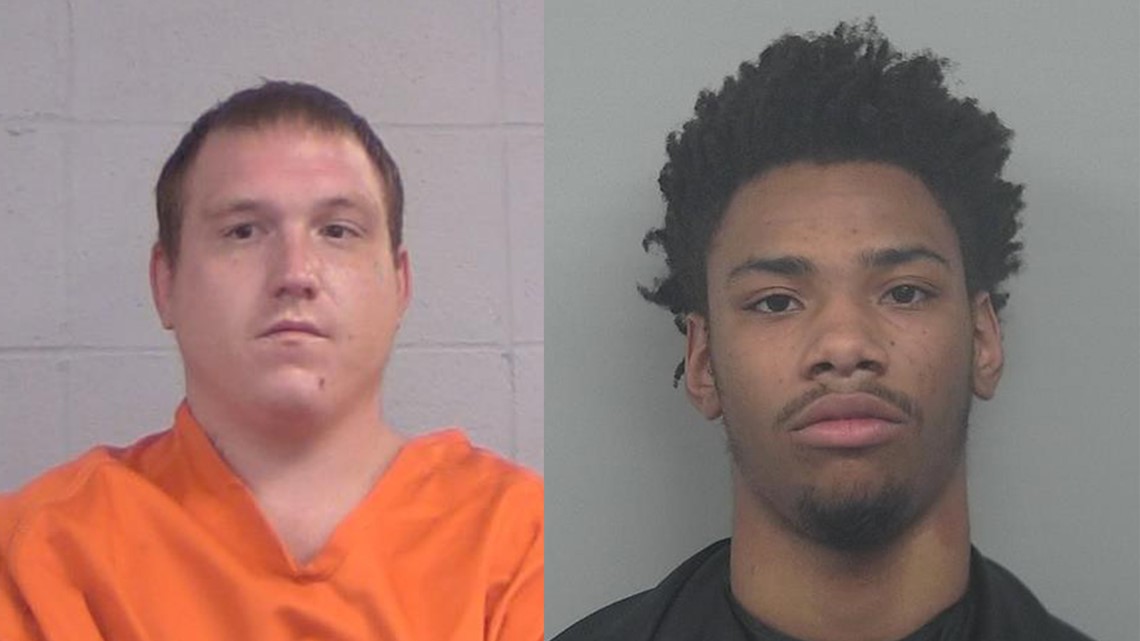 At his extradition hearing in Floyd County Friday afternoon, Mitchell voluntarily agreed to be transferred to Jefferson County since that's where he is facing charges.
A Floyd County Superior Court Judge said the extradition would be processed today and would likely only take a few days to be carried out.
Both men charged have arraignment hearings on Tuesday, Jan. 18.
We also spoke with Mitchell's mother Friday morning. She didn't want to reveal her name or be on camera, but she told WHAS11 she hasn't been able to even talk with her son since he was booked in Floyd County jail, despite numerous attempts. She said her son is "not a murderer," and that she doesn't know the other man, Johnson, in the mugshots on file.
Friends, family react to arrests
Austin Reising, Shirley's long-time partner, said he appreciated the efforts of all of the law enforcement agencies involved in the investigation when the indictment was announced Thursday.
"I'm very glad that justice is being served for Brandon and that we can finally start the healing process from this," Reising said.
Shirley's family released the following statement Thursday:
Our son, Brandon, dedicated his career to public service and the pursuit of justice for all. Today's indictments mark a significant step forward in obtaining justice for Brandon. Thank you to the local, state, and federal law enforcement officers and this community for your work on this case.
We have many unanswered questions, including why our son was murdered.
We continue to pray for answers, sooner rather than later, and give thanks for the hope, love, and support that we've received.
Case Background
"We're not going to stop trying. We're not going to give up. Our son deserves justice," Brian Shirley, Brandon's father, said in a November interview.
A $90,000 reward had been offered for information that leads to an arrest.
'He wanted to help people'
"He was goofy. He was funny. He was very eager to help anybody he thought needed help," Alex Shearer said.
Shirley received a medal of valor for his work during protests in 2020, specifically his work responding to the shooting of photographer Tyler Gerth and helping arrest the person who shot him, Sheriff John Aubrey said.
Make it easy to keep up-to-date with more stories like this. Download the WHAS11 News app now. For Apple or Android users.