LOUISVILLE, Ky. — It's beginning to look a lot like Christmas everywhere you go. Thanksgiving has had its day and now it's time for those who love to shop. Whether you're buying gifts for friends and family or treating yourself, there's no time like the present.
Small Business Saturday is on November 28. It's an opportunity for shoppers to spend money at small businesses in their community. This day is crucial for locally-owned businesses, especially now. The pandemic restrictions have hit small businesses and restaurants especially hard this year and every dollar counts.
Here are some events happening in Louisville and southern Indiana on Saturday:
NuLu Small Business Saturday and Scavenger Hunt
This event in the NuLu Business District will run from 10 a.m. to 8 p.m. along East Main and East Market Streets in downtown Louisville.
Participating businesses will have discounts and deals all day long and you can have a little fun with the Small Business Saturday Scavenger Hunt.
Participating businesses include: White Mercantile, Six Sisters Boutique, Peace of the Earth, Clayton & Crume, Mamili, Red Tree, Buff City Soap, Louabull, Revelry, Scout, RoxyNell, Pregame Coffee, Dollface, Hazel & Hunt, and Muth's Candies.
From 11 a.m. to 3 p.m., the LIBA South Work Group is teaming up with American Express and many other organizations to support Small Business Saturday in South Lousiville. According to a post on Facebook, there will be outdoor and indoor shopping in the South End.
Shoppers have a chance to win door prizes. The groups plan to have giveaways and specials. Masks and social distancing will be required, the post states. Click here for more information.
The group is also sponsoring a similar event in West Louisville. The event runs from 11 a.m. to 3 p.m. It will also feature outdoor and indoor shopping with door prizes, giveaways and specials. Masks and social distancing are required. Click on West Louisville for more information.
Lights on Main - Shop Small Saturday
Lights on Main is highlighting several businesses Saturday evening. The event will be held at the Kentucky Center for the Arts from 5 p.m. to 8 p.m. on Nov. 28.
The Kentucky Center for the Arts is located at 501 W. Main Street.
In New Albany, Ind, a small business owner is counting on shoppers to turn out for his expansion opening of Dada Boutique. The boutique sells clothing, accessories and items for children.
For more information on Byrne's store, you can go to Dada Boutique's Facebook page.
If you're looking for a business in Kentuckiana to support, check out our LOVE LOCAL section. Business owners can also add theirs.
Get the information sent to your phone by texting the word LOCAL
to 502-582-7290.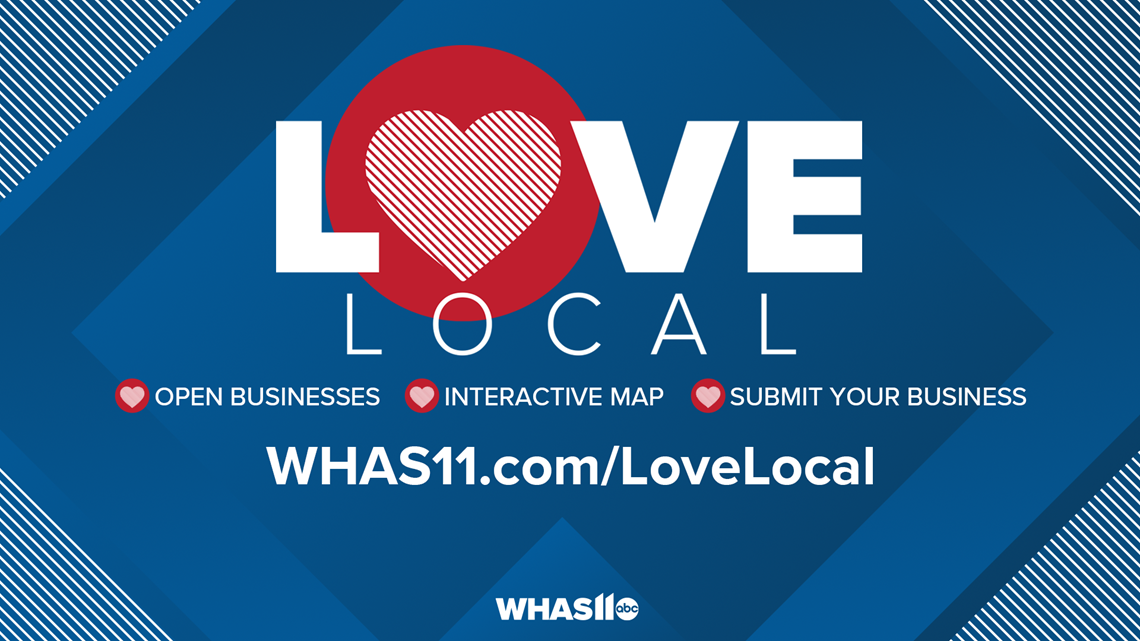 According to the U.S. Small Business Administration, in 2019, American consumers spent 19.6 billion at independent retailers and restaurants on Small Business Saturday, compared to 17.8 billion in 2018.