LOUISVILLE, Ky. — Members of the Portland Museum staff and board will soon make a trip to Chicago in hopes of bringing a vintage carousel back to its original home — Louisville.
According to a news release, the museum is trying to acquire the former Fontaine Ferry Carousel and bring it back in time to celebrate its centennial year of existence.
The museum conducted a search of the carousel's whereabouts and discovered that it's in a cargo container storage at Great America, which is now operated by Six Flags.
A meeting between Six Flags executives, members of the Portland Museum team, Louisville community advocate Hunter Graham and carousel restoration expert Bradford Perron is scheduled for July 20.
The museum said if the Menagerie is deemed structurally sound enough to pursue, they'll move into the next phase of acquisition with Six Flags. This will include an educational deep dive into the history of the machine itself, as well as a fundraising plan to help with the cost of the restoration process. An all-inclusive plan for the reintegration of the carousel into Louisville with a diverse coalition of community members and leaders is also part of the plan.
The carousel is a 1922 William Dentzel Co. Deluxe Menagerie Three-Row Carousel. It has 48 animals: 43 horses, 5 menagerie creatures and 2 chariots. The menagerie figures are a lion and tiger, as well as a deer, giraffe, and a rare mule.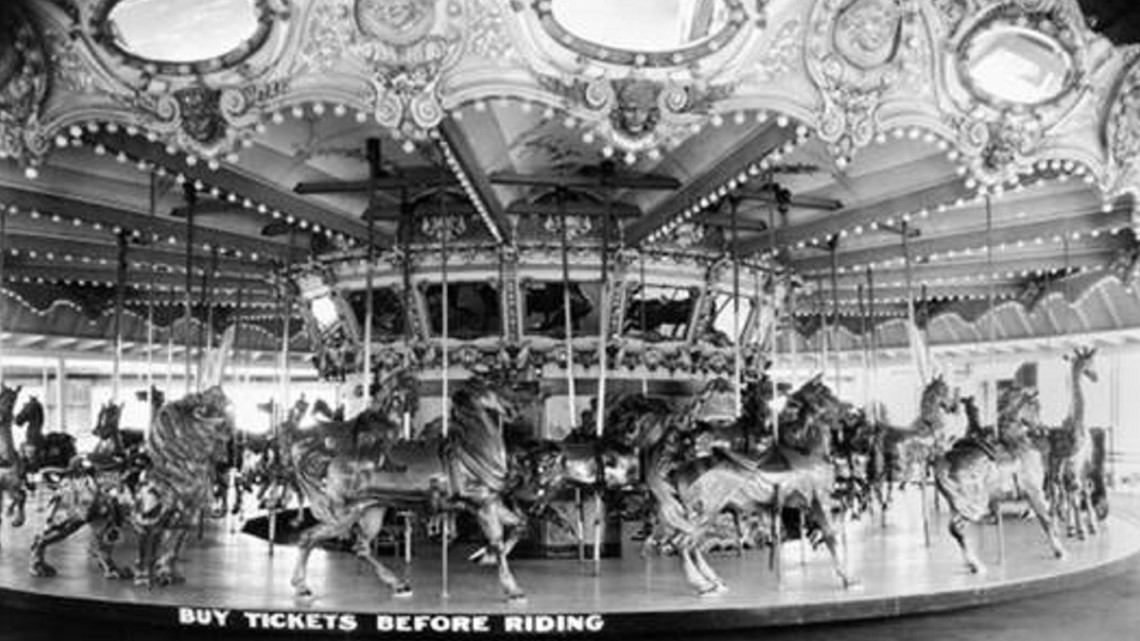 History of the Fontaine Ferry Carousel
From 1905 to 1969 Fontaine "Fountain" Ferry Park was a popular amusement park on 64 acres in Louisville's West End. It was located between two public parks, one was designated for white people (Shawnee Park) and the other for Black people (Chickasaw Park). Until 1964, Fountain Ferry was off-limits to Louisville's Black population.
In 1964, the park began to admit non-whites to the grounds. According to a 2009 interview with the park's management, integration came with few problems. On May 4, 1969, however, Fountain Ferry was vandalized heavily during racial unrest.
The park was sold in 1969, renamed Ghost Town on the River in 1972, then River Glen Park in 1975, its last season. After a string of failed attempts to maintain an amusement park on the property, the City of Louisville took over the land and incorporated it into Shawnee Park.
In 1976, the Menagerie carousel was relocated from Louisville's West End to Marriott's Great America in Chicago and reopened as the Ameri-Go-Round, before being replaced with a modern "drop tower" ride in 2003, as public interest in carousels waned.
►Make it easy to keep up-to-date with more stories like this. Download the WHAS11 News app now. For Apple or Android users.