LEAVENWORTH, Ind. — It's a favorite in Southern Indiana. People from Indiana, Kentucky and Ohio have come to The Overlook Restaurant for decades asking, what's on the menu? Today, it's what's for sale.
It sits on a bluff overlooking what's known as the 'Horseshoe Bend' of the Ohio River. At one time, it served as a gas station and then a bus stop. But for the last 70 years, the Overlook Restaurant has served up mealtime favorites and a view you just don't get in the city.
"They love the view. They love the fried chicken and the coconut cream pie," owner Karen Haverstock said.
For her husband, and co-owner, Roger Haverstock, it's sitting on the deck having a beer, watching barges going down the river.
It's a meeting place for people from Evansville, Indianapolis, Cincinnati and Louisville, with big names (and locals) like David Letterman and Denny Crum making appearances from time to time.
Then, there's Bill Tucker from Georgetown who's been a regular for the last 30 years.
"It's in the middle of nowhere, but I've always said, if the food's good, people will find you," Tucker said.
"You'll mention The Overlook and they've been here," Roger Haverstock said.
Tracy Pierson been here longer than anyone, serving tables since day one.
"My daughter turned 5, went to Kindergarten and I thought I'd get a part time job. And she's now 41," Pierson laughed.
Over time, she's seen a number of changes from the menus to the owners and it's about to happen again.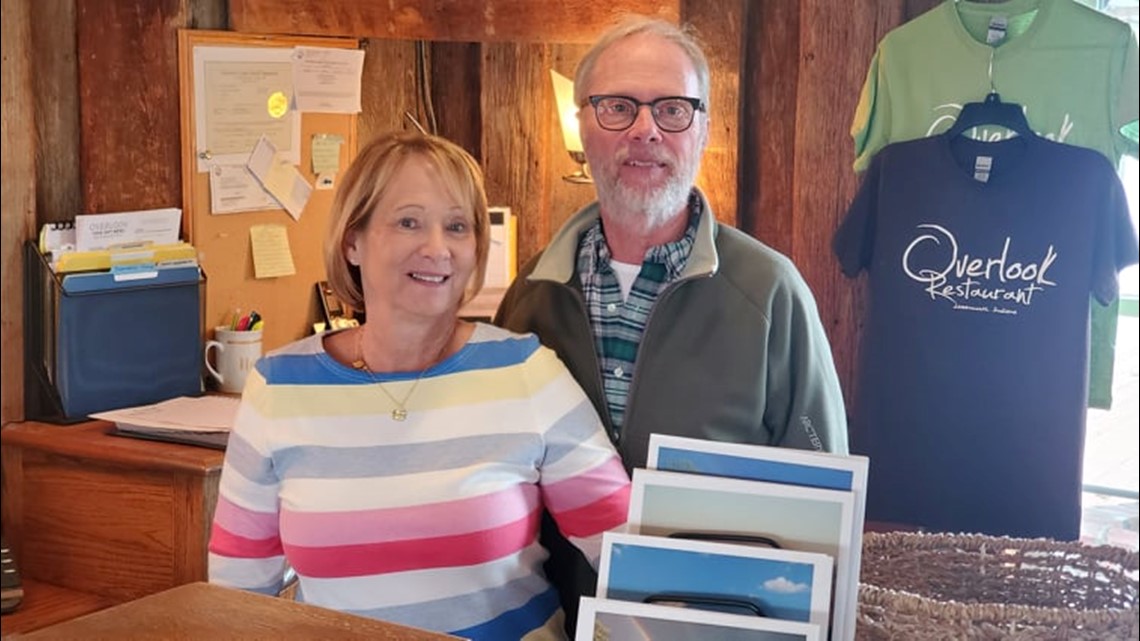 "It's been fun but after 12 years, I'm not young. I'd like to be able to just pick up and go," Karen Haverstock said.
The Haverstocks want to spend more time with their grandkids and travel.
They've put the restaurant up for sale but make no mistake, "We're open. We're not going to close," Karen Haverstock said.
When the time comes, she says she'll be sure to give her two cents about the employees and the food that have kept people coming back.
"I hope they don't change it," she said.
Other stories to check out
Make it easy to keep up-to-date with more stories like this. Download the WHAS11 News app now. For Apple or Android users.