LOUISVILLE, Ky. — Graduating from medical school is no easy task. Then, add two kids into the mix and it may seem impossible for some. But that's exactly what Aleisha Thompson just did, in the middle of a pandemic.
"If you'd told me when I started in 2011 at JCTC, I'd end up here, I'd say you're crazy," Thompson said.
Growing up, she always knew she wanted to go into medicine. She just didn't know how she'd do it. She was a Certified Nursing Assistant in high school and became an EMT after graduation, later working for a dialysis center.
"That sort of opened up the world of the medical field to me," Thompson said.
It wasn't long after, she found out she was pregnant with her daughter, Trinity.
"That was the push for me to go after something higher than what I was doing," Thompson said.
So, she went back to school to become a nurse.
"My teachers said, 'you're getting 100 percents on all your exams. Are you sure you don't want to go for something further?' So, they challenged me," she said.
Thompson transferred to UofL and changed her major from nursing to biology.
"I knew from the very beginning I was going to have a different route than my peers. Instead of letting that hinder me from doing it, I just had to find a creative way to still press through and do what needed to be done," Thompson said.
"I'm definitely a great supporter of my daughter, and whatever she wanted to do, I knew she could do it," her mother, Jacqueline Cheatem, said.
Nine years and two kids later, Thompson's a graduate of UofL's school of medicine, with her sights set on becoming an OBGYN. The celebration amid a global pandemic wasn't what she pictured: Graduation ceremonies canceled. Match Days online.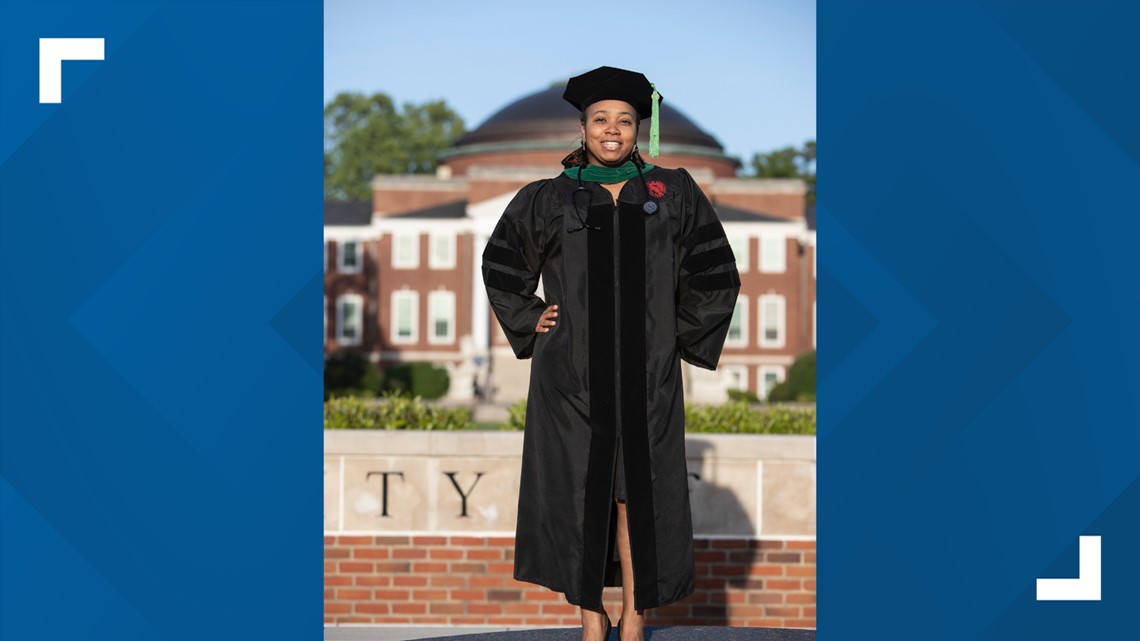 She's headed to Kansas at the beginning of June to start her internship.
"I was a little sad I wasn't able to celebrate with my family and let them see this huge accomplishment, and not just for me. I felt my whole family helped me accomplish this degree," Thompson said.
Of course, they weren't going to let her go without a proper goodbye, one that came as a big surprise to the new doctor.
"We really surprised her," said her stepdad, Felton Cheatem. "She never saw it coming. We just tried to make her day, because she's special. We are proud of her and she deserves all of it."
"I ended up in a place I never planned on, but I feel like this is exactly where I'm supposed to be," Thompson said.
►Make it easy to keep up-to-date with more stories like this. Download the WHAS11 News app now. For Apple or Android users.