Easy recipes for first-timers cooking Thanksgiving dinner
Chef Jeff Conley, the Senior Managing Chef at Publix Aprons Cooking School, shares some foolproof recipes that are sure to wow your guests.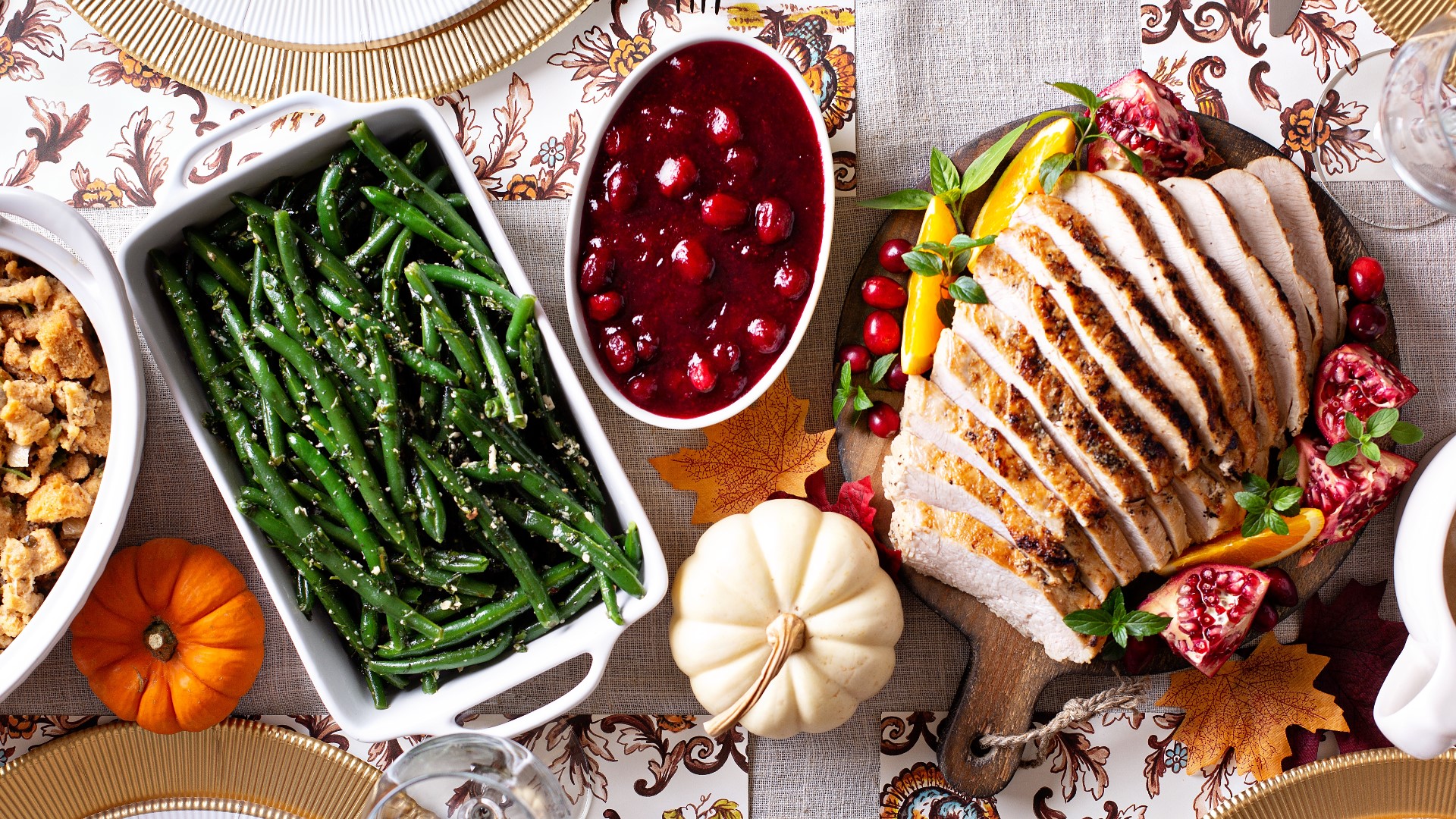 Cooking Thanksgiving dinner can be overwhelming for anyone — especially with the soaring food prices we've seen in recent months.
Egg prices rose to an average price of $3.42 per dozen in October compared to $1.82 per dozen this time last year. The average price for a pound of butter rose to $4.85 in October — a more than 24% increase from 2021.
Staples like turkey, ham and potatoes are seeing significant price hikes, too.
But, the good news is there are ways to simplify Thanksgiving dinner and save some money along the way.
Whether you're cooking Thanksgiving dinner for the first time, or you're an experienced host looking for some Turkey Day tips, here are some easy recipes from Chef Jeff Conley, the Senior Managing Chef at Publix Aprons Cooking School.
Cranberry relish
:
This sweet sauce recipe is foolproof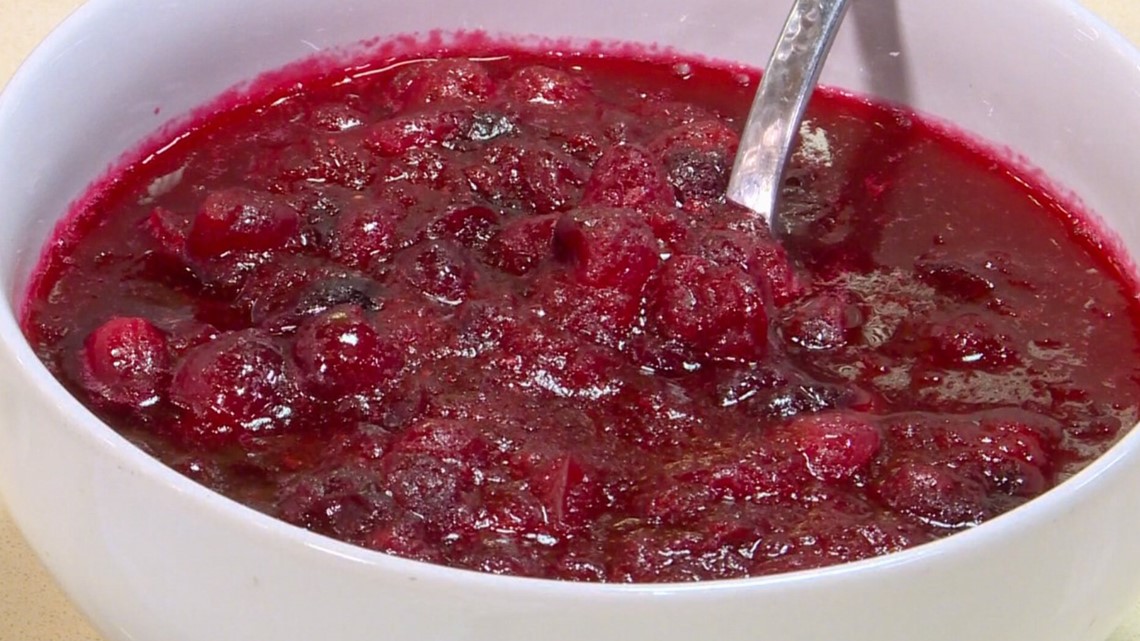 Ingredients (makes 8 servings)
12 oz fresh cranberries
1 navel orange (for peel)
3/4 cup granulated sugar
1/2 cup orange juice
1/2 cup water
Pinch salt
1 cinnamon stick
Slice one long piece of orange peel (no white part) and combine in a medium saucepan with rinsed cranberries, sugar, orange juice, water, salt and a cinnamon stick.
Bring to a simmer, stirring frequently for 10 minutes or until most of the cranberries have popped.
Remove pot from heat and set aside for 30 minutes to cool. Cover and chill until ready to serve.
Gruyere potato gratin
:
Wow your guests with this rich and cheesy dish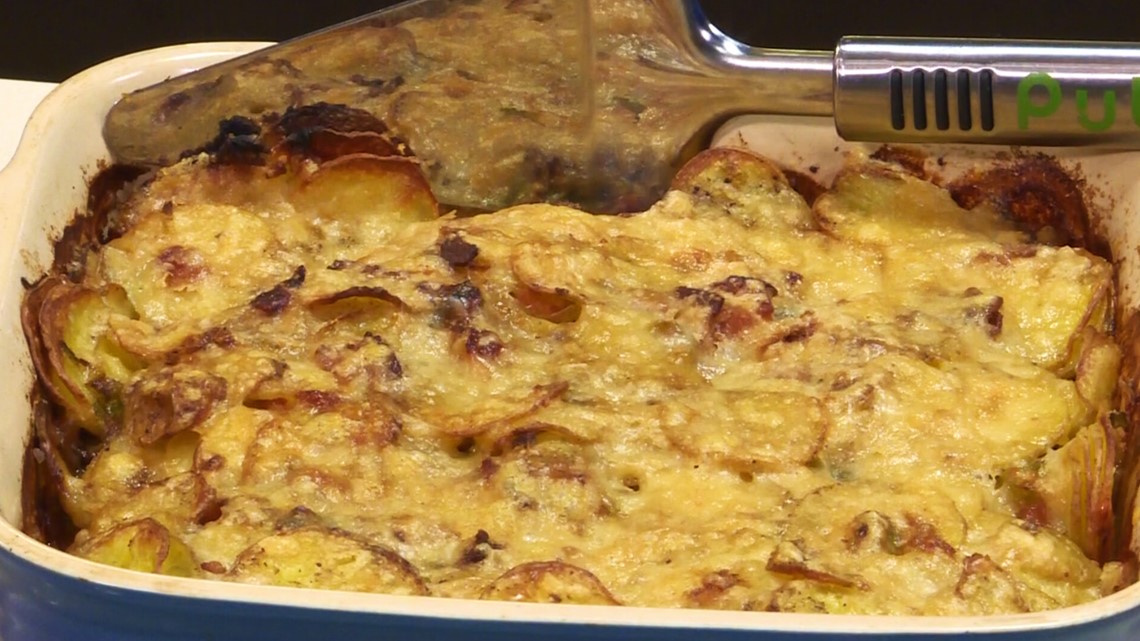 Total time: 1 hour 45 minutes
Ingredients (makes 9 servings)
6 slices thick-cut bacon
1 sweet onion
3 cloves garlic
1 1/2 lb baby gold potatoes
3 green onions
1 tablespoon fresh rosemary
5.3 ounces Gruyere cheese
2 tablespoons unsalted butter, divided
1 teaspoon kosher salt
1/4 teaspoon pepper
1/4 cup heavy whipping cream
Nonstick aluminum foil
Finely chop bacon and sauté in a nonstick pan on medium for 8-10 minutes, stirring occasionally until crisp.
Remove bacon from the pan, but leave the fat. Add in coarsely chopped onion and cook for 3-4 minutes. Stir in chopped garlic and cook for 1 minute, until fragrant. Remove pan from heat.
Preheat your oven to 400 F then thinly slice your potatoes, green onions and rosemary. Grate your cheese and set 1 cup aside for later.
Combine bacon, onion, garlic, potatoes, green onions, rosemary, salt, pepper and cheese (except the 1 cup you set aside) into a greased 8-by-8 baking dish. Pour heavy cream over top and dot with 1 tablespoon of butter. Wrap the dish tightly in foil and bake for 45 minutes.
Remove the foil and sprinkle with the remaining 1 cup of cheese. Bake for another 45 minutes until the cheese is browned. Set aside to cool for 15 minutes and serve.
Candied sweet potatoes
:
"This is the easiest sweet potato side I've ever seen"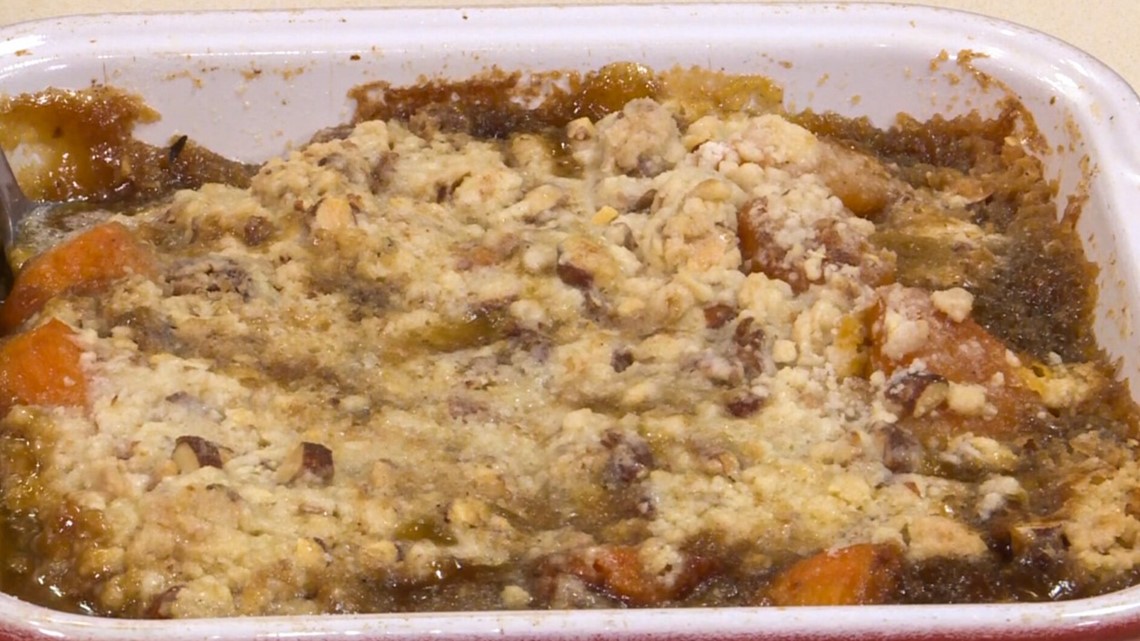 Ingredients (makes 6 servings)
1 (8-ounce) can of cut sweet potatoes in syrup
3/4 cup unsalted butter, divided
1/4 cup maple syrup
1/4 cup dark brown sugar
1/2 cup granulated sugar, divided
1/4 teaspoon ground cinnamon
1/4 teaspoon ground nutmeg
1/4 teaspoon ground ginger
1 teaspoon kosher salt
1/2 teaspoon pepper
1 cup praline pecans
1 cup flour
Preheat oven to 350 F. Drain sweet potatoes and place them in an 8-by-8 baking dish.
In a 3-quart saucepan, combine 1/2 cup of butter, maple syrup, brown sugar, 1/4 cup granulated sugar, cinnamon, nutmeg, ginger, salt and pepper. Bring to a boil over medium-high heat then simmer on medium-low heat for 2-3 minutes, until the sugars have dissolved.
Pour the syrup over the sweet potatoes and bake uncovered for 20 minutes.
Meanwhile, chop the pecans and melt the remaining 1/4 cup of butter. In a medium bowl, combine pecans, flour, and remaining 1/4 cup sugar. Stir in melted butter.
Top sweet potatoes with pecan mixture and bake for 10 minutes, until browned. Serve.
Oven-roasted turkey breast
:
If you have a small group, skip the full bird for a split breast to save money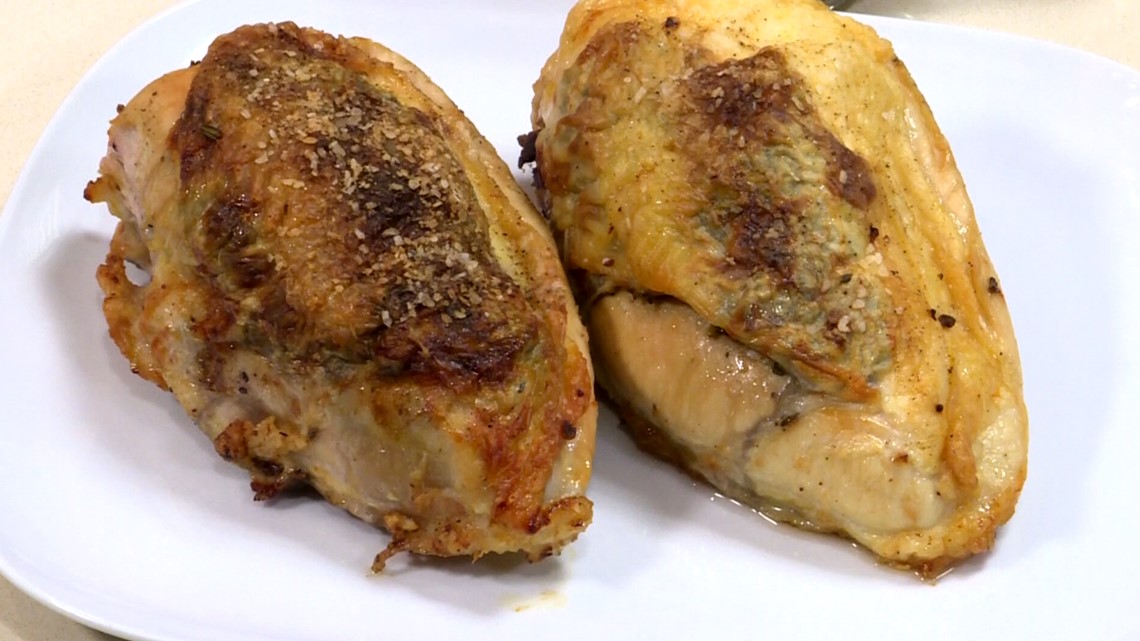 Total time: 1 hour 20 minutes (15 minutes active)
Ingredients (makes 8 servings)
1 cup unsalted butter (2 sticks)
2 shallots
2 tablespoons thyme leaves
8 medium sage leaves
1 tablespoon rosemary leaves
2 split turkey breasts, skin on (about 5 pounds)
8 cloves garlic
1 tablespoon kosher salt
2 teaspoons pepper
Preheat oven to 325 F. Set butter out to soften at room temperature. Peel and cut shallots in half. Remove leaves from stems for thyme, sage, and rosemary. Arrange turkey breasts on a rack-lined roasting pan.
In a food processor, combine butter, thyme, sage, rosemary, shallots and garlic; pulse until blended. Rub the herb butter under the skin and bottom sides of the turkey breasts. Season turkey with salt and pepper.
Bake for 50–60 minutes and until the turkey reaches 165 F. Let turkey breast rest for 20 minutes before slicing and serving.
*If the turkey begins to brown too quickly, place an aluminum foil tent over the breast to prevent further browning.
Gingersnap gravy
:
This savory gravy has a unique holiday twist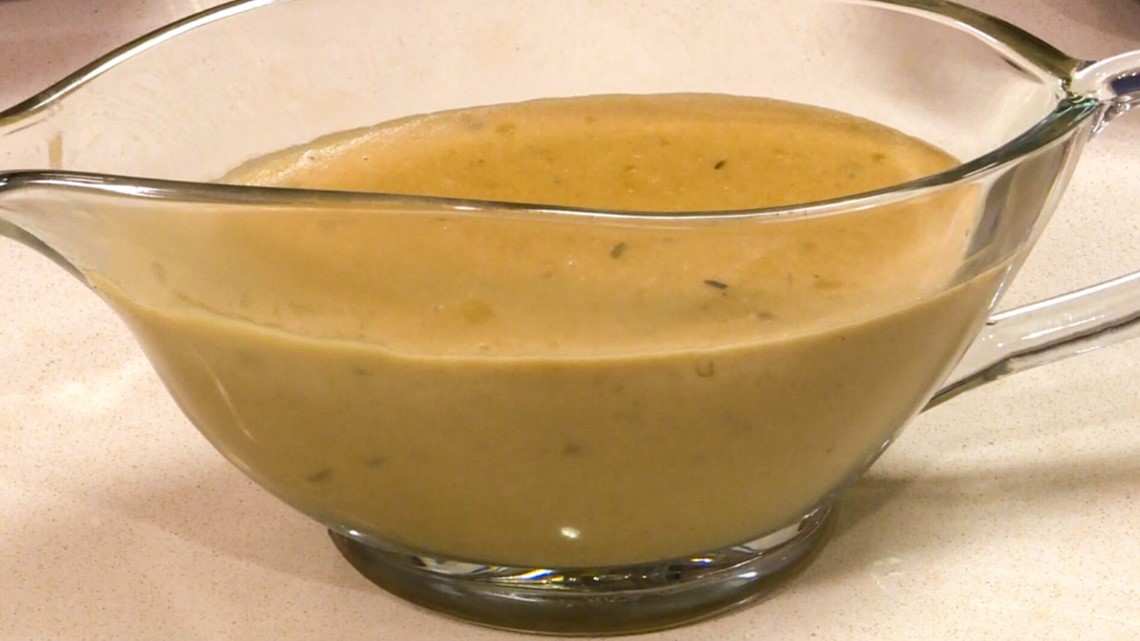 Ingredients (makes 8 to 10 servings)
1/2 cup yellow onion
1 teaspoon fresh thyme
2 tablespoons unsalted butter
6 cups unsalted chicken stock
26 gingersnap cookies
3 tablespoons apple cider vinegar
1 teaspoon Worcestershire sauce
1/2 cup heavy cream
1 1/2 teaspoons kosher salt
3/4 teaspoon white pepper
Halve, peel and finely dice the onion. Remove stems from thyme leaves and chop. Melt butter in a medium saucepan over medium-high heat. Add in the onion and thyme and sauté for 2–3 minutes.
Stir in the stock, gingersnap cookies, apple cider vinegar and Worcestershire sauce. Bring to a boil, whisking constantly until the cookies dissolve. Reduce the heat to medium-low and simmer for 6–7 minutes, stirring occasionally, until the gravy thickens.
Stir in the cream, salt, and pepper and serve.
Mason jar pumpkin pie
:
These individual desserts don't even require an oven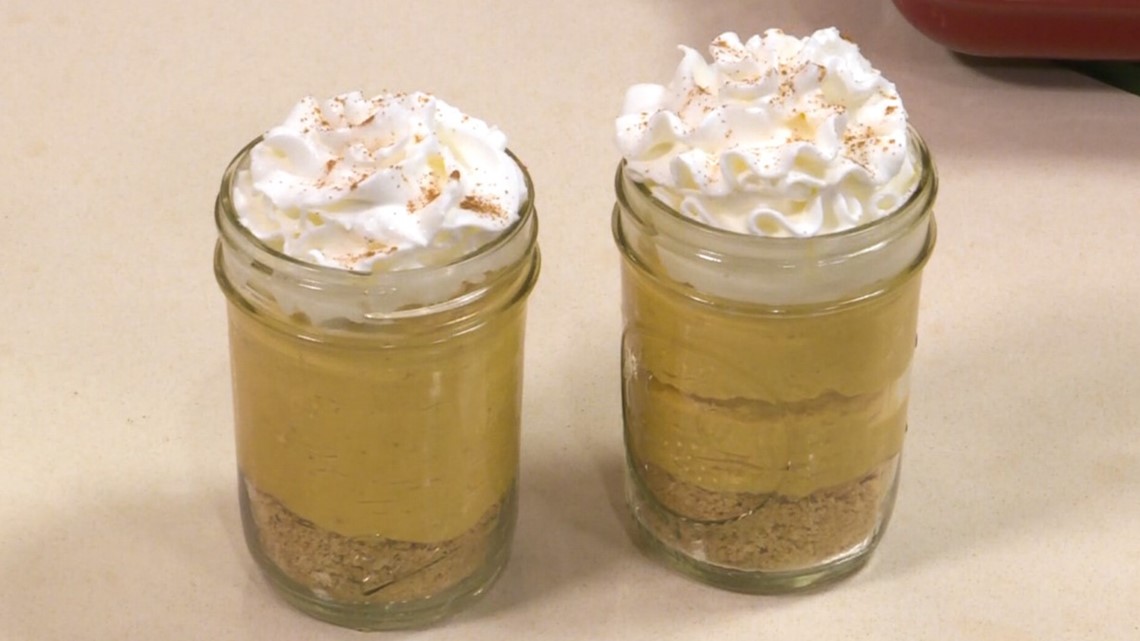 Total time: 2 hours 40 minutes (40 minutes active)
Ingredients (makes 6 servings)
6 ounces mascarpone cheese
6 ounces cream cheese
2 tablespoons unsalted butter
1/4 cup graham cracker crumbs
4 tablespoons sugar, divided
6 (4-ounce) mason jars
2 tablespoons dark brown sugar
3/4 cup pumpkin puree
1/2 teaspoon pumpkin pie spice
1 teaspoon vanilla extract, divided
1/2 cup heavy cream
Set mascarpone and cream cheeses out to soften at room temperature. Melt butter. In a medium bowl, combine graham cracker crumbs, 1 tablespoon of sugar and melted butter until blended.
Divide the crust evenly between 6 jars, pressing the mixture down until it's packed.
In the bowl of a stand mixer, add dark brown sugar, mascarpone cheese, cream cheese, pumpkin puree, pumpkin pie spice and 1/2 teaspoon of vanilla. Beat with the paddle attachment until smooth.
Divide the mixture evenly between the jars and chill for at least two hours.
In a medium bowl, combine heavy cream, the remaining 3 tablespoons of sugar and the remaining 1/2 teaspoon of vanilla. Beat with a hand whisk to stiff peaks. Top the chilled jars and serve.