LOUISVILLE, Ky. — After months of recovery, this Pleasure Ridge Park High School athlete is back on the soccer field and proving the doctors' prognosis wrong.
On the night of Dec. 21, 2021, Justin Caudell planned on going to a PRP basketball game. Afterward, Caudell and a friend caught a TARC bus ride to the corner of Cecil and Greenwood Avenue. The then 16-year-old Caudell tried to go into a liquor store to get change for another bus ride home but was denied due to being underage.
So, the friends stepped back outside into the street. That's when a car drove by, and someone started shooting.
"I got up and I started running," Justin recalled. "And then I went back behind this house and sat out there thinking, 'Man, I really just got shot, that was crazy.' My body felt a bunch of sensations, like my leg. So I'm thinking my leg is gone."
As he sat in an alley between two houses and tried to process the pain, he called his mother, Terra Caudell, to let her know what happened. She couldn't believe it and initially thought he was joking.
"I was hysterical," Terra said. "Like, what's going on? I couldn't interpret that my son had been shot."
Terra then called the police and made her way to the alley where Justin was.
"They wheeled him around in the ambulance," Terra Caudell said, fighting back tears. "He was on a gurney. He was face down. He wasn't replying to me."
Emergency responders on the scene tried to assure her he was alert, but Terra said they didn't let her on the ambulance, instructing her to immediately go to the hospital. They were later informed that nine shots had been fired and one hit Justin in his buttocks, traveling throughout his abdomen and intestines.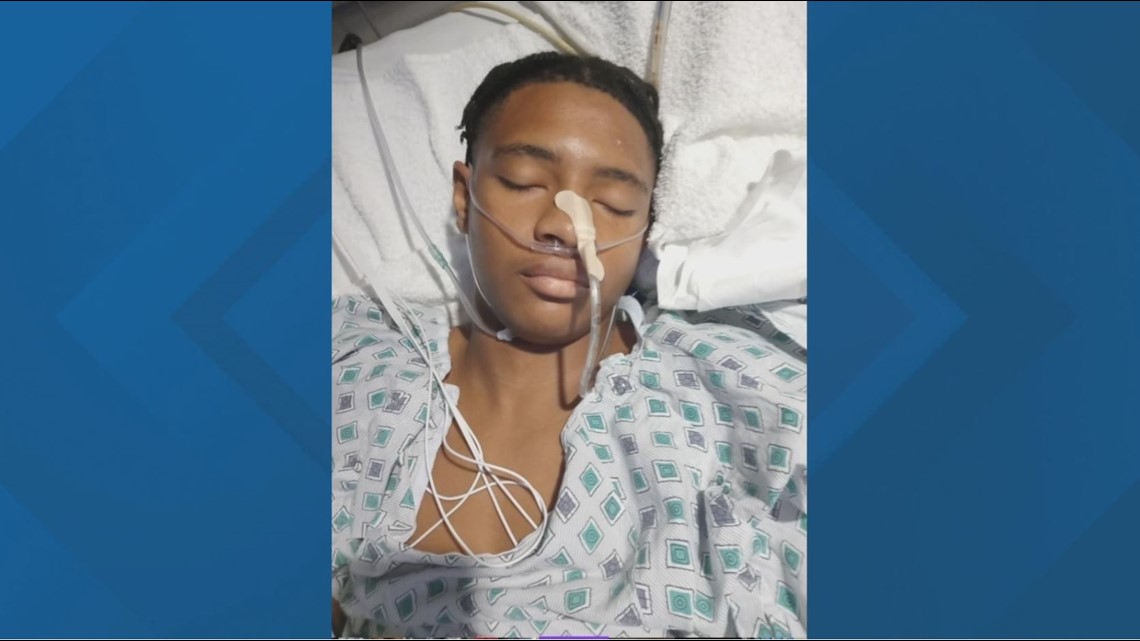 "My child got hit one time by one bullet," she said. "It ricocheted through his whole body. He has half of his intestines and his colon."
Caudell immediately had to have surgery. In the hours that followed, Terra was left unclear on his condition and did not even get the chance to tell him she loved him.
Initially, she wasn't convinced her son would make it. But after he did, they got a glimpse of the long road to recovery.
"They put this tube through my nose, all the way down through my back and my stomach," Caudell said. "I couldn't drink none. I had to get this little sponge and drink water off of it."
Terra said it hurt looking at her child with tubes all over the place, "because you can't imagine what's going to happen."
"I felt like I was useless, like my life was ruined," Caudell said. "I lost a part of me."
He searched for it again during the many months of a painful recovery process. Caudell had to wear a colostomy bag and occasionally use a walker to move around. Surgeons couldn't retrieve all of the bullet fragments in his body, so he was dealing with ongoing nerve damage in his foot.
Terra remembers one of the few places he was somewhat comfortable was sitting on the floor of her own shower for hours. And doctors eventually delivered some grim news.
"So when they told me I might never walk again, I was like, 'No, I'm going to beat the odds,'" Caudell said.
So, the basketball and soccer player exercised to the best of his ability and fed off of the encouragement of his PRP teammates and fellow church members from West Chestnut Baptist Street Church. Both helped by fundraising to try and cover Justin's medical expenses as well as support Terra while she stayed home from work as a chef to take care of him.
"You would see a determination in him wanting to get up and walk," Terra said. "He wanted to get up and play again."
He was making progress. Once the point was reached where he needed an operation to remove the colostomy bag, his mother remembered how he broke down.
"'Momma, I can't do it,'" Terra remembers her son crying. "And I said, 'Yes you can. You've already made it this far.'"
Months after the shooting, Caudell returned to school. PRP soccer head coach Tom Wampler never expected him to play soccer again. Really, no one did.
But then he talked to Justin on the phone.
"He goes, 'No, coach, I'm going to do it,'" Wampler said. "'I'm getting back. Don't count me out.'"
And in the late stages of his senior season, he returned. Caudell even worked his way back into being a starter and experienced his Senior Night. His mother still can't believe he has a senior poster hanging with the rest of his classmates on the gates at the field.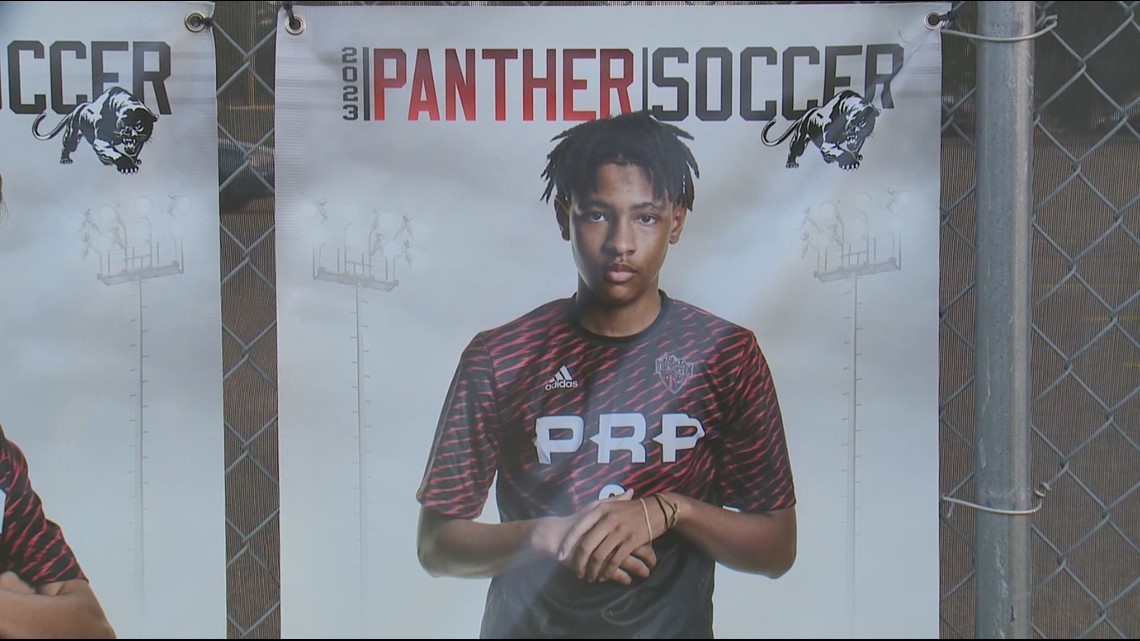 "He always has this drive," Wampler said. "He makes everyone around him better."
Terra said she never thought he was going to make it this far.
"I did not know that my son was going to be on this field to this day," Terra said. "The only way he was able to get back onto the field was the motivation of his team players and church members."
Caudell said it feels good to run again and be out with his friends.
"We want to out hustle, outwork and out-heart the competition," Wampler said. "And that's what Justin did to get back to where he's at right now."
That's moving from the edge of death to showing perseverance on the pitch in a nine-month span.
"It'll change your whole perspective of life," Caudell said. "It makes you feel like you want to quit, like you were close to being dead. But I always had a mindset of, 'it's not over until it's over.'"
Make it easy to keep up-to-date with more stories like this. Download the WHAS11 News app now. For Apple or Android users.