'The Crime Catalyst': Carjacking criminals are most often Louisville's youth
Many of the criminals in these traumatizing incidents are under the age of 18 and use stolen vehicles as a catalyst for other violent crimes, LMPD data shows.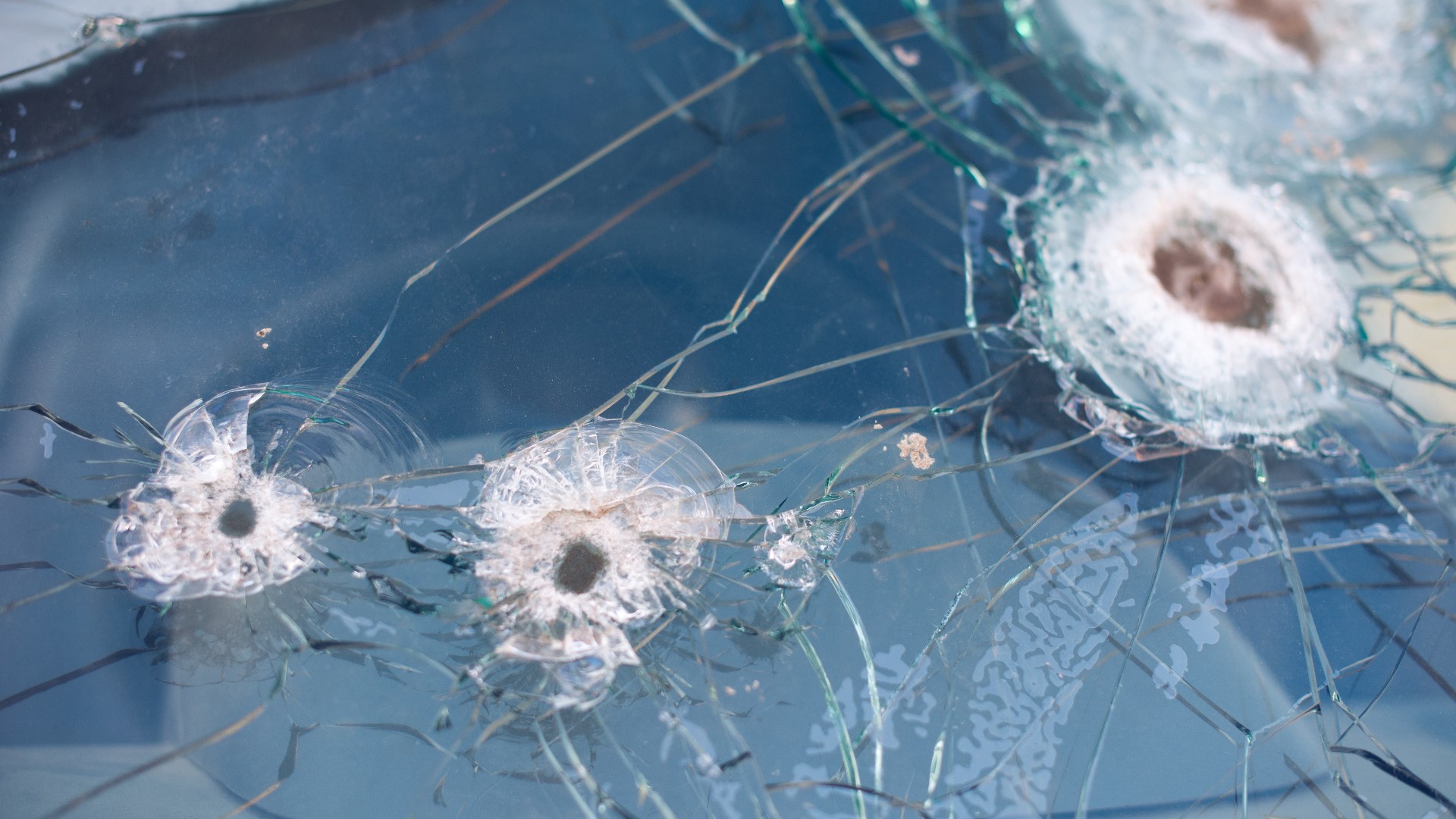 Home of the Louisville Slugger, Kentucky Derby and dubbed "The Gateway to the South," those who live here are proud to call themselves Louisvillians.
But the city of Louisville is facing a crisis.
Over the past several years, violent crime has sharply risen across the city, breaking gruesome records including record homicides and assaults.
Another crime has more than tripled in the past five years: carjacking.
In 2018, carjacking reports in Metro Louisville were on par with the rest of the country. Since then, the numbers have taken a steep climb up, with Louisville averaging more than 200 cases a year.
Carjacking is a violent and traumatic crime, and it's different from a car theft.
Offenders approach you while your car is running in the driveway, or while your stopped at a red light, checking your phone or changing the radio station. Then, you hear the sound of a gun barrel tap on your window.
Sometimes, the criminal will take your phone, wallet and car keys, then leave.
Although, more often than not, carjackings are violent. Victims of carjacking have been hit, kicked, pushed to the ground and even shot.
"He was my son."
:
Victims of carjackings in Louisville
Leo Fitzpatrick described his 26-year-old son Austin as kind, loving and supportive. He was "a free spirit" who loved animals and the outdoors.
"He would come to the lake, take a kayak out, be gone four hours," he said. "If a friend called in need, and the need was in another state over, he would drop everything and go. He was that kind of person. He would drop anything."
He had just returned from a camping trip with his girlfriend at Red River Gorge.
"He had just taken his girlfriend home," Austin's father said. "He decided he was going to go home and check on his cat. That's when he was apparently ambushed."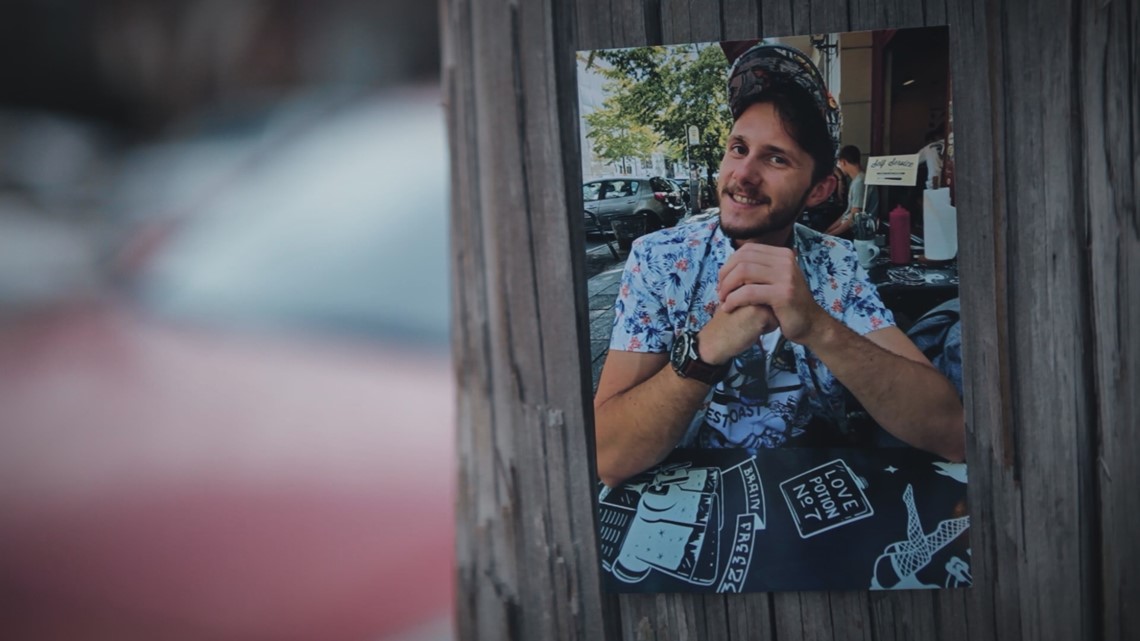 According to police, Austin Fitzpatrick was unloading camping gear from his car after parking in front of his apartment in Old Louisville.
"There was a witness across the street," Leo Fitzpatrick said, adding that the witness said it sounded like Austin fought the carjackers. "They basically just open fire on him in the foyer of his house to get his car keys, then they roll off in his car and wrecked it probably within four or five minutes of stealing it."
The Louisville Metro Police Department began a homicide investigation, but were unable to find or name any suspects in the case.
"It was life-changing," Leo Fitzpatrick said of the phone call when police said his son was dead. "You're in shock. You lost your son to a carjacking. You're still trying to process, you know, it's tough."
A detective took on the case and it remains active, but Leo Fitzpatrick knew he'd have to get involved himself for the best possible outcome.
He asked neighbors on the Nextdoor app to check their surveillance cameras for anything that happened the night his son was killed.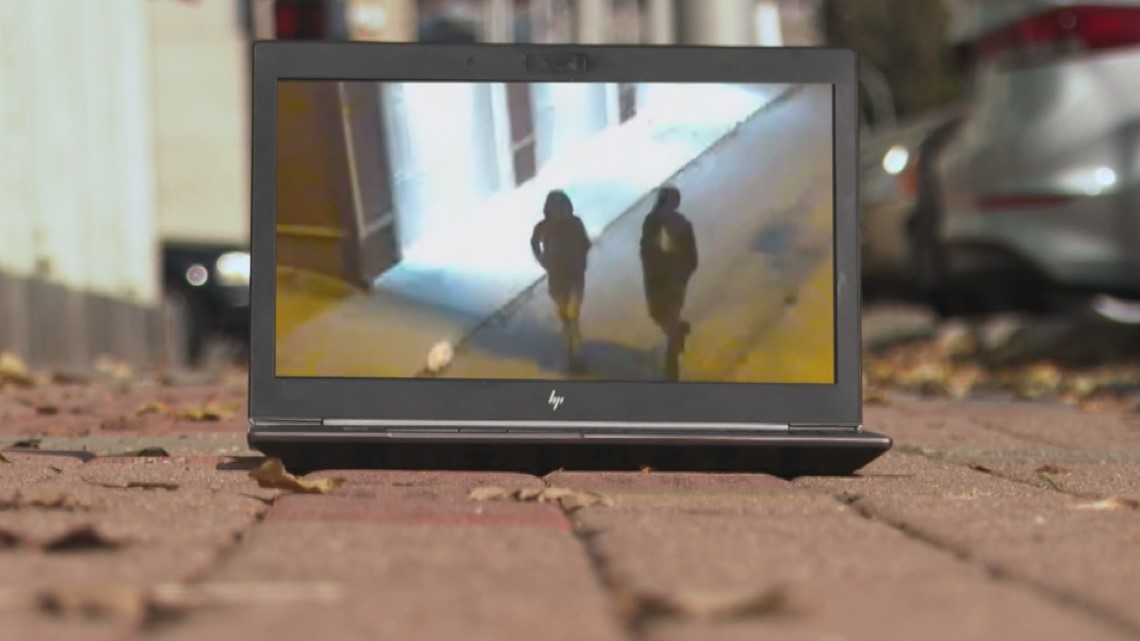 Leo Fitzpatrick said he made the plea because sometimes people don't want to get involved, but wanted to remind neighbors these victims have families.
"They belong to people. You can't just sit there and crawl in your hole when you have information that could lead to the arrest of these people that are committing these horrendous crimes," he said.
One week after Austin Fitzpatrick was killed, another young Louisvillian was killed in a carjacking.
Travis Nagdy was active in the Breonna Taylor protests during the summer of 2020 and became known for the megaphone he carried in his hand.
"He found his purpose, and you couldn't pull him away from it," his mother, Christina Moynagh, said.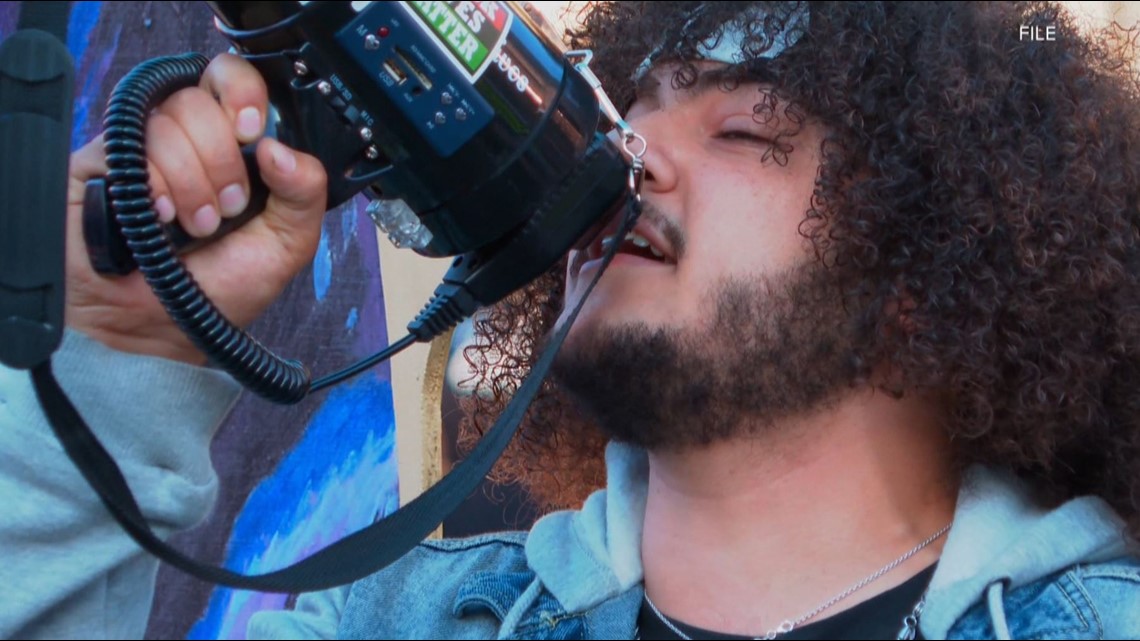 On November 22, 2020, Travis had left the house he shared with his girlfriend, and went to start his car to go to a call for protestors in Louisville.
According to FBI documents, Travis' girlfriend went outside after hearing Travis argue with the suspect. Then, she heard three gunshots.
The carjacker hopped in Travis' car and took off, leaving him lying in the middle of the road with multiple gunshot wounds.
"It was surreal when I got the call," Travis' mother said. "I was trying to remain hopeful, 'maybe he was shot in his arm?' You try to bargain, and say, 'I'm gonna get there, it won't be that bad.'"
Travis died at the hospital on November 23.
"Them telling you the words 'your son is dead' and processing that, not saying goodbye, not going in the hospital room or holding my child's hand," Christina Moynagh said. "It was probably best to protect me from what I would have seen, so I can remember him as his beautiful soul and person that he was."
LMPD obtained a surveillance video showing the entire carjacking.
Police later recovered Travis' white sedan, wrecked into another car, on Lynn Street in Saint Joseph. Inside the sedan was a pair of glasses on the dashboard which didn't belong to Travis.
Now the family is waiting, trying to find out what happens next in the trial.
Christina Moynagh said a trial means justice will be served, but it doesn't heal the pain.
"It's hard to put into words. It's like someone took my heart, because my heart hurts every time I think about him and talk about him right here," she said.
"We're not gonna standby."
:
Minors arrested in many carjackings
In 2018 and 2019 combined, there were 182 reported carjackings. Then in 2020 alone, 211 people had their vehicles violently taken in Louisville.
That record was broken in 2021 with a total of 248 reported carjackings.
As of May 24, there have been 72 carjackings reported in 2022 since January.
Through WHAS11's reporting, it was discovered that many of the criminals in these violent, traumatizing incidents were under the age of 18.
Here's a breakdown of the numbers:
In 2020, 74 carjacking cases were closed. 47 arrests are under the age of 18.
In 2021, 79 carjacking cases were closed. In more than half of those cases, 55 teenagers were arrested.
So far in 2022, 19 minors have been arrested out of the 27 closed cases.
LMPD Sgt. Justin Stillwell said this approach is already starting to have an impact as word gets out that police are cracking down on carjacking offenses.
"We're not gonna standby and stand idle," LMPD Detective Matt Crouch said. "Not only are these kids affecting these victims, my kids are now going to school with some of these people who are now also offenders. I don't want my kids growing up in that type of community."
"They think they can get away with it, that's not true."
:
Criminals face federal charges, no matter the age
As the COVID-19 pandemic began, our perspective on life changed. Life slowed down but crime, specifically violent crimes, shot up.
In August of 2020, several law enforcement agencies including the Federal Bureau of Investigation and Louisville Metro Police Department announced their intention to pursue federal charges in carjackings.
"When they said the FBI was going to be more involved and they set up a task force here in Louisville, I was excited," Leo Fitzpatrick said.
FBI Louisville Assistant Special Agent in Chare Brian Jones said he thinks that many of the young people who commit these crimes think they can't get away with it.
"I think that some of the minors that are doing these crimes don't think that they can actually be charged in the federal system," Jones said. "I think that they think it just can't happen and that's not true."
He said the FBI found that many of these carjacking criminals are involved in other serious crimes like drive-by shootings, car theft and business robberies.
"We are seeing some gang involvement and many times the adults that are with them are also fairly young adults, sometimes still teenagers, so we're saying groups of individuals who all know each other," Jones said.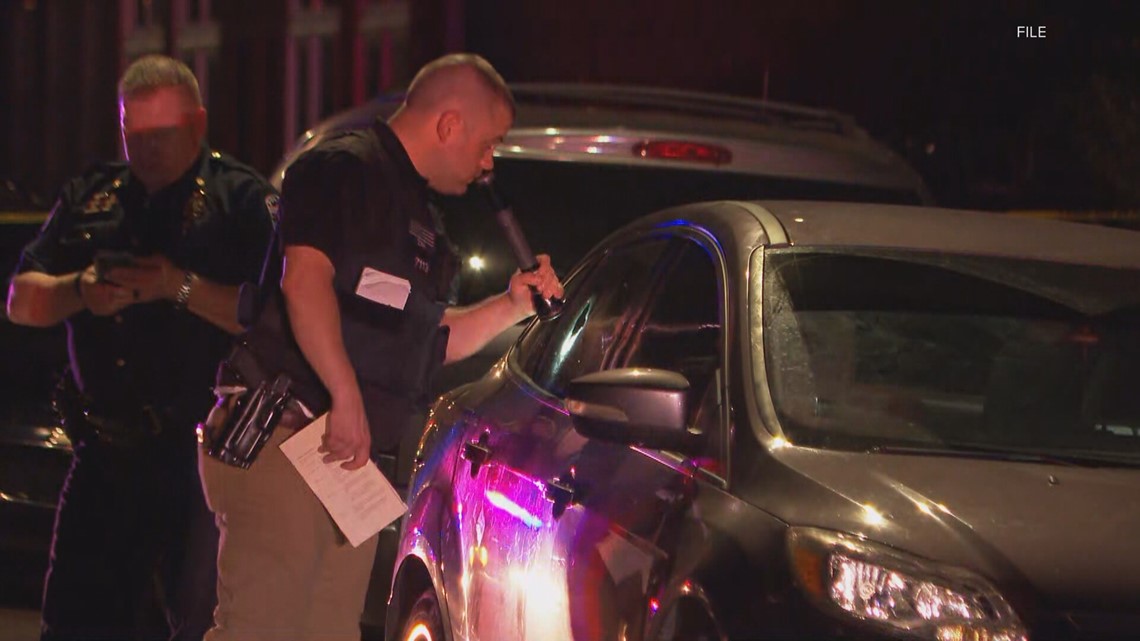 "They will have done multiple carjackings and secondary offenses before getting caught by police and interviewed," Crouch said.
When these criminals steal another person's car and use that stolen vehicle in other crimes, it only adds another hurdle detectives face because the car plates don't give any indication who a suspect could be.
"Obviously, they're not going to use their personal car for these large violent crimes," Stillwell said. "By getting a stolen vehicle they're able to kind of be undetected for a little bit. I think that's the motivation behind it."
Stillwell said that its frustrating that these stolen cars are just the starting point for other crimes committed afterwards, adding an extra layer to the investigation.
"It's frustrating that a carjacking or stolen vehicle is the foundation, or the starting point, to these heinous crimes," he said.
"Know your hard lines."
:
How to protect yourself during a carjacking
While police track down the criminals, one Louisville man is focused on people who might want to be prepared if someone tries to steal their car.
Jesse Walker is the owner of "Rough Hands" inside the Mid City Mall.
Walker is a self defense expert, focusing on stressful situations like mass shootings, attempted assaults and carjackings.
Compliance with the criminal often works in a carjacking, but sometimes you may need to fight back, he said.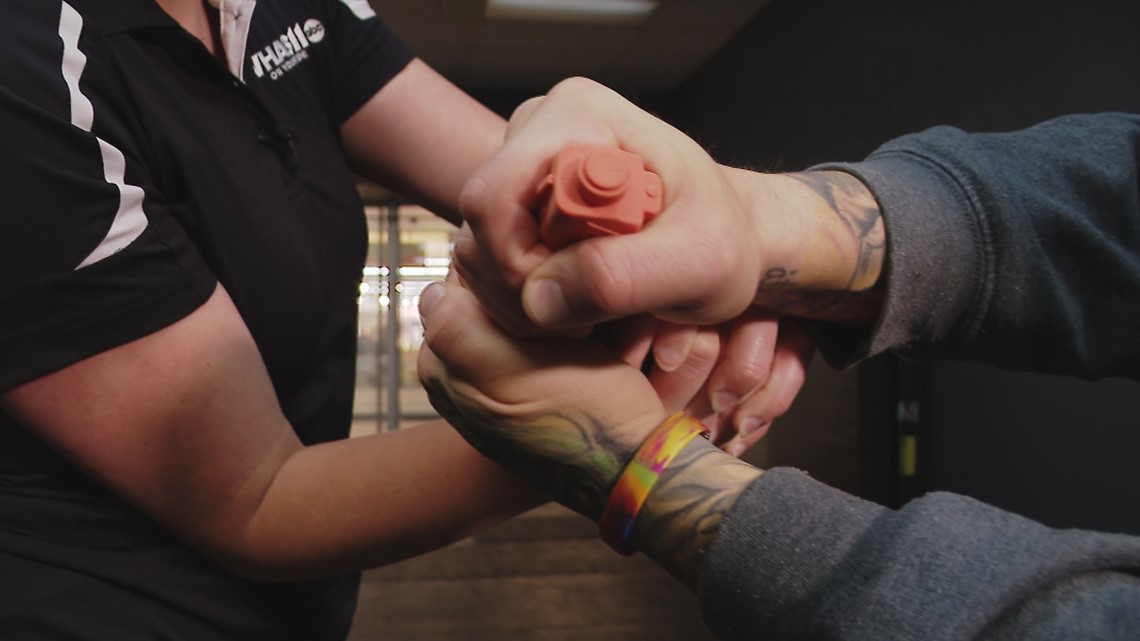 "I'm not letting that person drive away with my kid. That is a very hard line for me," he said. "You need to figure out what you're willing to fight for, and what you aren't willing to fight for."
In his carjacking prevention seminar, Walker creates high stress scenarios, complete with a gun in your face to help create the muscle memory to react and fight, if one of your hard lines is crossed.
Walker explained that there isn't a magic switch to make carjackings stop, "but we do have control over ourselves and our training."
WATCH THE FULL CARJACKING SPECIAL:
Make it easy to keep up-to-date with more stories like this. Download the WHAS11 News app now. For Apple or Android users.