LOUISVILLE, Ky. (WHAS11) – America's most successful telethon continues its tradition with another top year for donations.
The 66th WHAS Crusade for Children received $5,690,000 this year, topping the 2018 total by $15,000.
The 30-hour telethon concluded with a surprise donation from the Sam Swope Family Foundation presented by matriarch Marlys Swope to round up the total.
"Every year I continue to be amazed at the way this community comes together to help children with special needs. The WHAS Crusade for Children continues to be a great demonstration of caring and coming together for the greater purpose of helping children with special needs. A huge thank you to all who gave, the firefighters who worked tirelessly to collect, and the dedicated volunteers that help every year. Every penny really makes a difference, and we are so grateful for the continued generosity of this community," WHAS Crusade for Children President & CEO Dawn Lee said in a statement.
Behind the scenes at the 66th WHAS Crusade for Children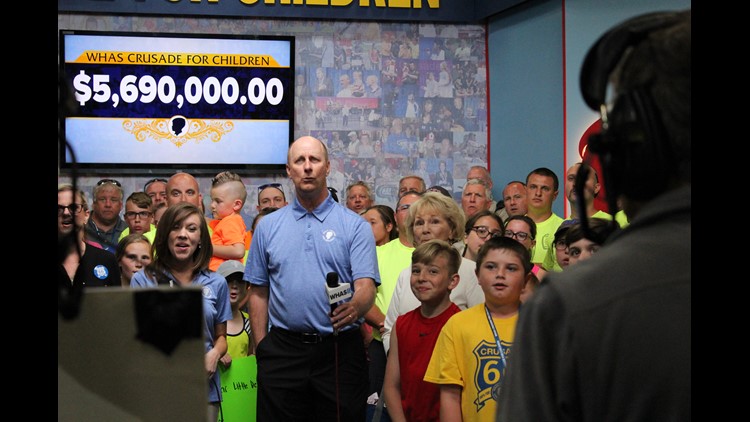 The WHAS Crusade for Children has raised more than $185 million for children with special needs and 100 percent of the donations raised during the weekend are returned in the form of grants to agencies, schools and hospitals that make like better for children in Kentucky and southern Indiana.
Officials say several sponsors also matched the first $6,600 worth of donations that were either called in or made online during sponsored hours.
Sixty percent of the donations were collected by nearly 200 fire departments in Kentucky and Indiana. Fern Creek Fire Department led the charge with $194,176.54 as their Chief Mike Schmidt retires this year.
Topping the fire departments in Indiana was Lafayette Township with $118,161, their highest total to date.
The Archdiocese of Louisville led community organizations with $273,613 in donations.
Top Kentucky Fire Departments
Fern Creek Fire Department $194,176.54
Pleasure Ridge Park Fire Protection District $194,154.54
Jeffersontown Fire Protection District $115,278.12
Highview Fire Protection District $90,273.76
St. Matthews/Lyndon Fire Protection District $80,066.00
Top Indiana Fire Departments
Lafayette Township Fire Department $118,161.00
Charlestown Fire Department $62,320.22
Monroe Township Fire Department $51,500.00
New Albany Fire Department & Harvest Homecoming $46,183.31
Clarksville Fire Department $34,693.00
Top Organizations
Archdiocese of Louisville $273,613.00
LG&E KU PPL Companies $232,290.00
McAlister's Deli $138,332.52
Norton Healthcare $128,538.40
Jefferson County Public Schools $115,620.67
►Make it easy to keep up-to-date with more stories like this. Download the WHAS11 News app now. For Apple or Android users.