With contributions from the Kentuckiana community, the Crusade has raised $5,133,684.69 during the two-day event.
Every penny of donations to the Crusade go toward helping children with special needs and the agencies, hospitals and schools that serve those children.
Fire departments across Kentucky and Indiana collect money for the Crusade and make up about 60% of the donations each year.
Pleasure Ridge Park Fire Protection District led the way for the Kentucky fire departments with $156,175.94.
The top Indiana fire department was Lafayette Township Fire Department with $92,777.31.
LG&E and KU Foundation led the community organizations with $398,104.00 in contributions.
Top Kentucky Fire Departments
Pleasure Ridge Park Fire Protection District $156,175.94
Fern Creek & Buechel Fire Departments $147,750.89
Zoneton Fire Protection District $118,341.77
Jeffersontown Fire District $111,959.80
Highview Fire District $106,235.85
St. Matthews Fire Protection District $91,058.00
Shelby County Fire & Rescue $86,831.88
Anchorage - Middletown Fire Department $72,541.57
Pewee Valley Fire Protection District $64,644.03
Columbia - Adair Fire Department $52,851.76
Top Indiana Fire Departments
Lafayette Township Fire Department $92,777.31
Monroe Township Volunteer Fire Department $72,431.00
Charlestown Volunteer Fire Department $57,017.89
Clarksville Fire Department $55,232.00
Flaherty Fire Department $31,217.89
Ramsey Volunteer Fire & EMS $26,889.29
Elizabeth Vol. Fire Department $25,320.00
Georgetown Township Volunteer Fire Dept $23,227.57
Harrison Township / Corydon Vol. Fire Dept $21,802.43
Lanesville Volunteer Fire Department $17,959.85
LG&E and KU Foundation $398,104.00
Archdiocese of Louisville $211,558.00
Norton Healthcare Employees $115,567.80
Jefferson County Public Schools $69,014.59
Greater Clark County Schools $21,246.00
PHOTOS: A behind the scenes look at the 2022 WHAS Crusade for Children
In its 69th year, the Crusade has raised more than $205 million for special needs children.
You can still donate to the Crusade
Looking to support children with special needs in Kentuckiana? There are several ways you can chip in!
Remember: Every dollar counts, and 100% of your donation goes towards children with special needs and the agencies supporting them.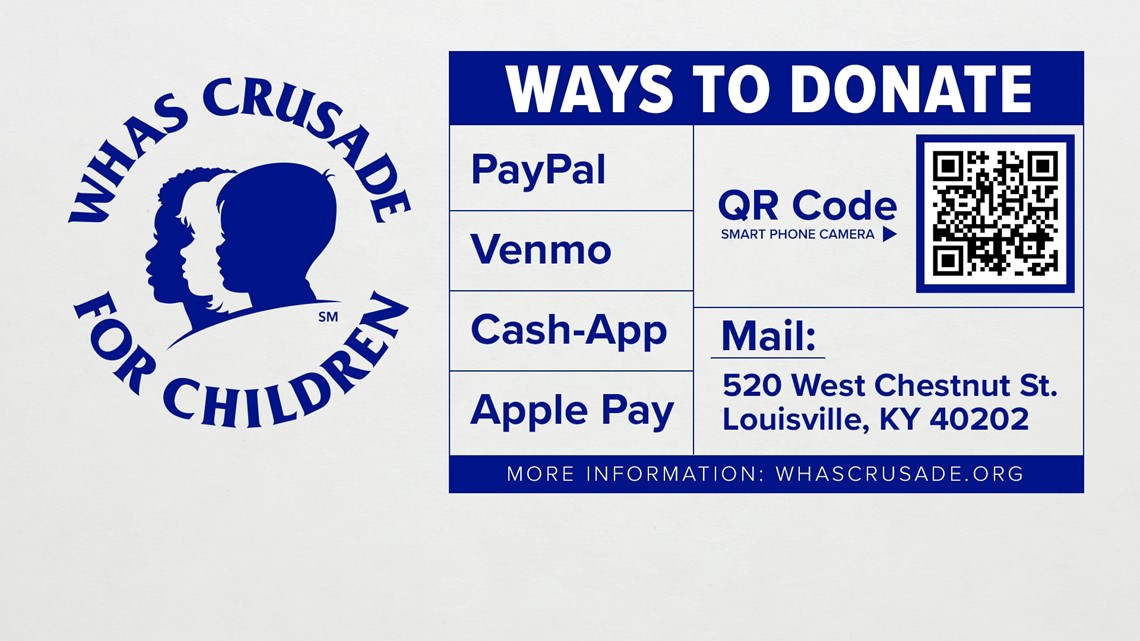 Scan the QR code for a link to donate to the Crusade, or make donations through cash apps like PayPal, Venmo, Apple Pay or Cash-App.
Venmo: @CrusadeForChildren
Cash-App: $CrusadeChildren
PayPal: WHAS Crusade for Children
Want to make a donation over the phone? Call 502-582-7511. You can also text "CRUSADE" to 502-353-1006 and follow the prompts to donate.


Make it easy to keep up-to-date with more stories like this. Download the WHAS11 News app now. For Apple or Android users.