LOUISVILLE, Ky. — With Thunder Over Louisville just around the corner, Louisville officials addressed the safety and traffic plans for the event in a press conference on Wednesday.
Mayor Craig Greenberg spoke about the recent violence in Louisville and said it's been heartbreaking, but he's glad to see the community come together through such tragedy.
He says Thunder will show Louisville's love and hospitality.
"Because right now, what our city needs is to continue to be together with our loved ones, with our friends, and also to meet new people," Greenberg said. "To get to know more people out in our community."
"It is going to be something that I think will touch each and every person that is there and those who are watching at home," Gibson said.
He says they've put a lot of thought into the show, and it will utilize drones.
"It will be a message from the community for the community to honor those not only at the Old National Bank, our first responders and then the tragic events of this past weekend," Gibson said.
He says there has been extensive planning heading into this weekend.
Lieutenant Colonel Aaron Crowell says Louisville Metro Police will utilize technology to a better degree than they have in the past. He also said LMPD will partner with multiple law enforcement agencies.
"We have every confidence. [It] puts us on solid footing to be able to respond to any eventuality," Crowell said. "There are dozens of agencies involved, both uniformed and covert assets."
He and Greenberg are also asking for the public's help to keep the event safe. They say remain vigilant and report any suspicious behavior.
There have been posts on social media from people indicating they won't go to Thunder because of safety concerns.
Greenberg encourages everyone to come down because he said the safety plan is robust.
EMS has set up an alert system for the event; people can text THUNDER to 67283 for updates.
The weather is always the other factor for Thunder each year, and an already record-breaking windy year will continue on Saturday.
"But we've been doing this a long time and our air act partners come prepared with their normal show, a low show, and depending on the ceiling heights of the clouds, a low show," Gibson said.
For safety reasons, officials say the following are not permitted in the event area: drones; tents or canopies of any kind; stakes; tape, rope or pennant lines; glass bottles; alcoholic beverages; bikes, skateboards or skates; and all pets.
Officials say due to increased security, all persons or parcels are subject to search.
Traffic
LMPD Sergeant Ron Fey advises the public to be patient in traffic, lock their car doors and park in the direction that they want to go (because of redirections at the end of the night).
The public is advised to park away from the event and walk to reduce traffic and congestion in the area.
TARC and Humana are teaming up to offer fare-free rides to Thunder. Five post-Thunder boarding stops have been created within downtown Louisville — most being just blocks from the Waterfront -- to help get people home sooner.
See TARC's Thunder Over Louisville Route Plan: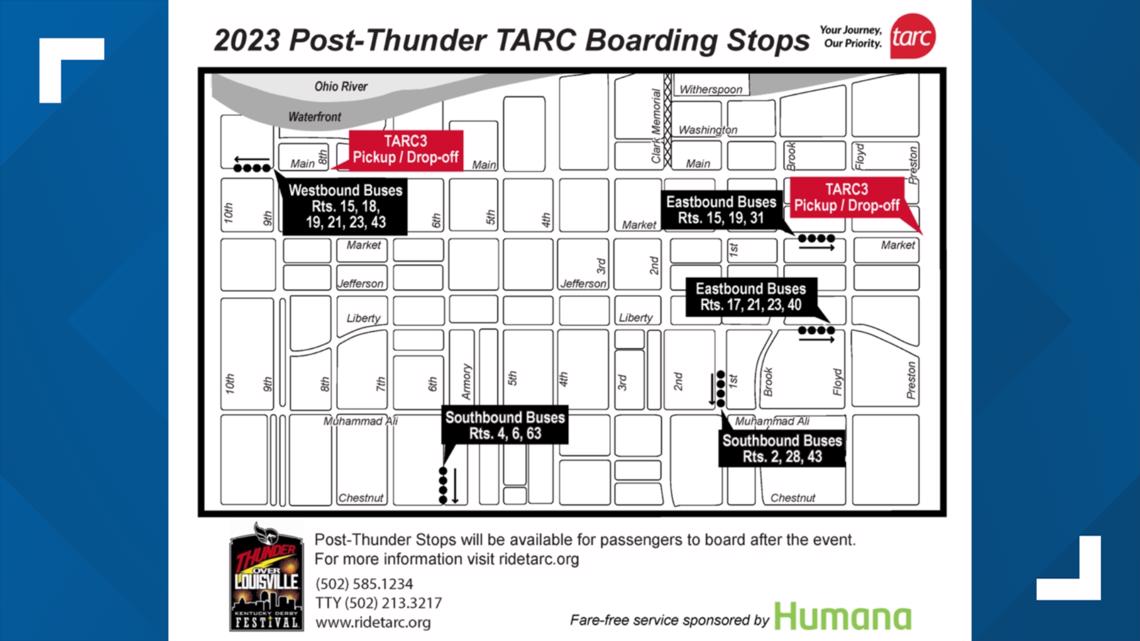 I-65 South at 265 will be closed at 7 p.m. on Saturday night until the fireworks show is over. The Big Four Bridge will close for a period of time on Friday, then again on Saturday morning until after the fireworks show.
The Clark Memorial Bridge will also be closed starting on Thursday.
Make it easy to keep up-to-date with more stories like this. Download the WHAS11 News app now. For Apple or Android users.