Full Guide | Thunder Over Louisville 2023; Everything you need to know
Here's what you need to know about traffic, safety, and the special tribute planned to honor the victims of the mass shootings in Louisville.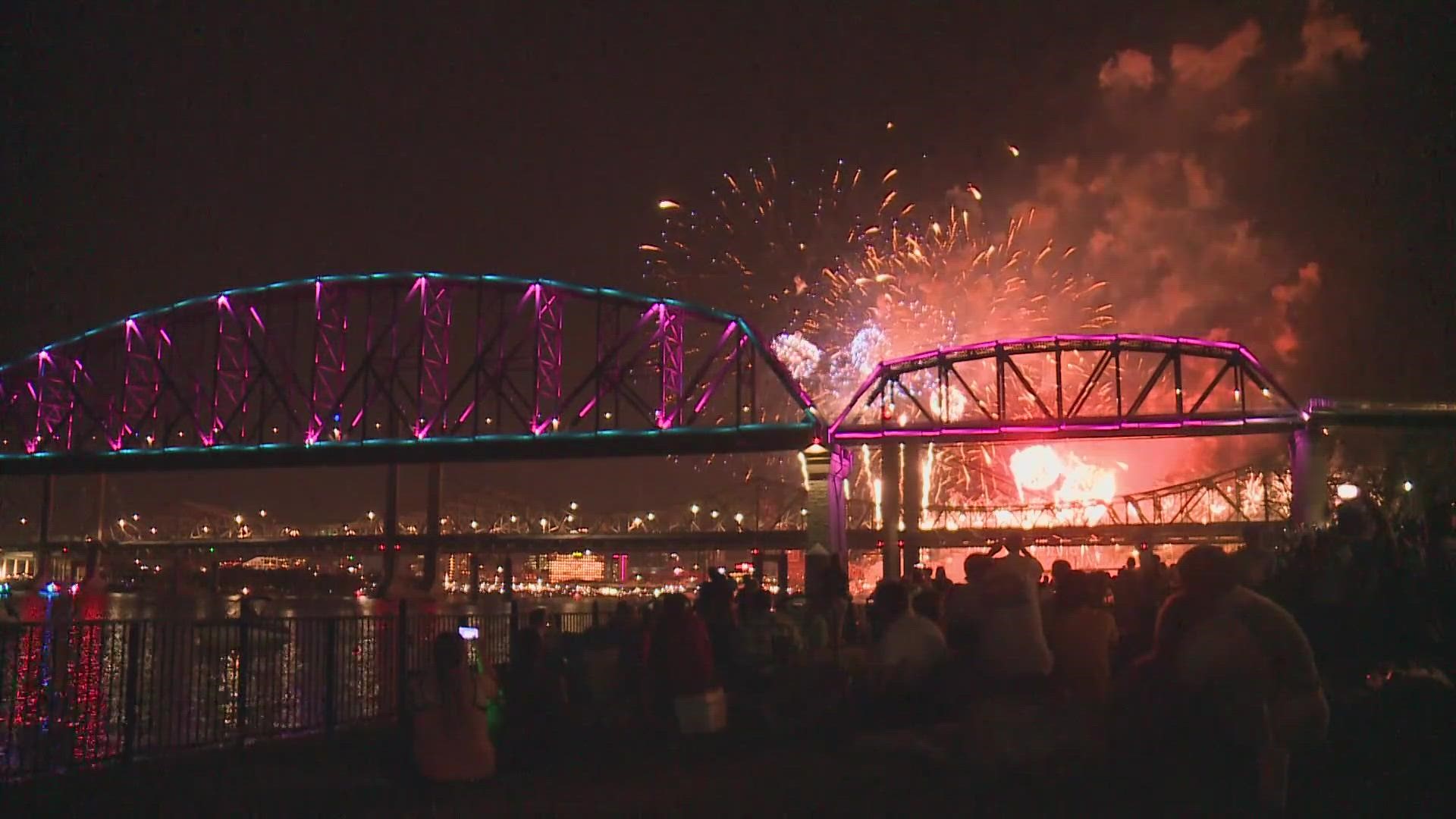 Louisville is just days away from the nation's largest annual fireworks show!
This year's Thunder Over Louisville theme is "Through the Decades."
The show will highlight the event's early years and how it has grown over the past 34 years.
Before you make plans for Thunder festivities this Saturday, April 22, here's what you need to know before you go!
General Questions
:
As in previous years, the best viewing space to catch Thunder Over Louisville will be at Waterfront Park.
There will be public viewing areas stretching from 8th Street to Clay Street north of Main Street in Kentucky, and along Riverside Drive from Ashland Park in Clarksville to Spring Street in Jeffersonville, Indiana.
Do I need tickets?
Thunder is free to the public with the purchase of a Pegasus Pin.
Pins can be purchased from retailers across the Metro, including Kroger, for $6. They can also be purchased at the event gates for $7.
What time does everything start?
The Thunder Air Show typically starts are 3 p.m. The fireworks will begin around 9:30 p.m. and end at 10 p.m.
This year, following the air show there will be a special tribute honoring the victims of last week's mass shootings at Old National Bank and Chickasaw Park in Louisville.
Food service at all vendors begins at 3 p.m.
What's the weather going to be like?
The weather for Thunder has varied wildly. Officials said even if it rains, as long as it's safe to do so, they will still launch the fireworks.
In general, it gets cooler at night, so bring a blanket or a sweater if you'd like to stay warm!
The WHAS11 First Alert StormTeam is keeping a close eye on the weather for Thunder weekend. Be sure to download the free WHAS11 app for the latest.
Traffic, transportation
:
Be sure to make a note of road and bridge closures in the downtown area ahead of Thunder. There will be plenty of closures in Louisville and southern Indiana, so avoid the headache now!
Be prepared for delays as a cluster of streets is expected to be closed or restricted from Thursday, April 20 through Sunday, April 23.
Free TARC rides
TARC and Humana are offering fare-free rides to and from Thunder Over Louisville all day on Saturday. There will be additional buses on routes to help with the number of passengers.
Five post-Thunder boarding stops have also been created within downtown Louisville, many of which are blocks from the Waterfront, to help get people home faster.
Where can I park?
:
If you're looking to park in downtown Louisville to get to Thunder, drivers are urged to start working out their parking strategy now!
Authorities advise parking as far away from the event as you can comfortably walk. Be sure to park in the direction you want to go when you leave as well.
Remember, utilize the free TARC transport if you can.
Parking in downtown Louisville
Officials said there are 52,000 public parking and off-street parking spaces within a ten-block walk to the River.
There is also garage parking, but note space is limited and you will need to pay special event prices.
Parking in southern Indiana
Limited public and private parking is available in southern Indiana, as is RV parking.
KDF advises contacting the Clark/Floyd County Convention and Tourism Bureau for more information at 812-282-6654.
Public Safety
:
Officials say public safety is at top of mind each year for Thunder Over Louisville. It's something many in the community are concerned about as well.
On Wednesday, city officials noted how there have been posts on social media indicating residents may not go because of the recent violence.
Mayor Craig Greenberg said there has been extensive safety planning for this weekend. He called the plan "robust," as Louisville Metro Police have been partnering with other law enforcement agencies.
Jeffersonville Police Department Major Joshua Lynch said it would be "all hands on deck" on the Indiana side of the river as well.
Lynch said hundreds of emergency personnel from different agencies will be on hand doing both ground and river patrols, as well as keeping watch on security cameras, to keep people safe.
Where to find help at Thunder?
There will be eight first aid stations positioned on both sides of the river staffed with Red Cross employees, EMS crews, and ambulances.
KDF officials said nearly 80 first responders will be at these stations beginning at 1 p.m. until the end of the event.
Officials are also pushing a text messaging system for traffic and emergency updates.
If you're viewing Thunder from Indiana, text ThunderIN23 to 226-787 for real-time information. In Louisville, text THUNDER to 67283.
Air Show lineup
:
Prior to the big fireworks show is the annual Thunder Air Show. It features dozens of civilian and military aircraft flying over the Ohio River.
Some aircraft will be doing aerial performances.
The air show typically starts are 3 p.m.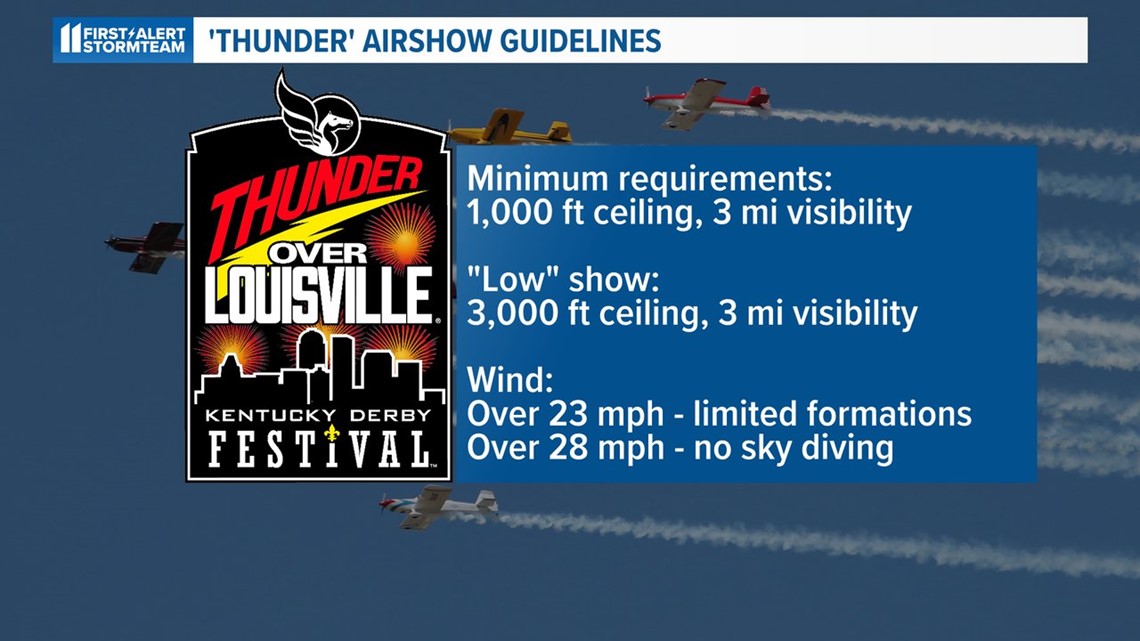 What isn't allowed at Thunder?
:
For safety reasons, here's a list of the items you can and can't bring to Thunder Over Louisville. Study the list carefully so you don't have to throw anything away!
Remember, the event area goes south from the Ohio River to Main Street between Clay Street and 10th Street. It also includes the Chow Wagon and North Great Lawn viewing area.
No drones.
No tents or canopies of any kind.
No stakes.
No tape, rope or pennant lines.
No glass bottles are allowed at the event site.
Picnic blankets (and tarps limited to 10′ x 10′) and lawn chairs are permitted.
Plastic bottles and food are permitted. There is also plenty of food and soft drink stands to take care of any needs you may have. Beer is available at the Chow Wagon at Waterfront Park, North Great Lawn, the West Belvedere Beer Garden and River Road Beer Garden.
No alcoholic beverages.
No bikes, skateboards or skates are allowed in the event venue. You will be asked to walk them in for pedestrian safety.
Please leave any pets at home.
Due to increased security – all persons and parcels are subject to search.
Other helpful tips
:
As you get ready to head along the Ohio River for Thunder Over Louisville, here are some helpful tips Kentucky Derby Festival officials recommend to get you through the day!
First and foremost, be sure to wear comfortable shoes and be prepared to walk.
If you haven't already, go ahead and purchase your Pegasus Pin and keep it close on Thunder Day, you'll need it for the Chow Wagon, Meijer Family Fun Zone on the West Belvedere and North Great Lawn viewing areas.
Check out photos from last year's Thunder Over Lousiville!
PHOTOS: Thunder Over Louisville 2022
Try to arrive as early as you can to find the best spot to watch the show.
Depending on the temperatures, the area near the river is a little cooler so dress accordingly. Bring your glasses and sunscreen.
Other helpful tips:
Make sure you are aware of your surroundings and the Thunder services available including EMS, lost child stations and first aid.
Don't count on cell service to be 100%! As many people gather on the Waterfront, cell service can be spotty.
Plan an area for regrouping if anyone gets lost in your party.
If you have kids, snap a photo of them and what they are wearing. You should also make sure they know a phone number and address to call if they're lost.
Bring lots of patience!
Park as far away from the event area as you can comfortably walk. This will help avoid post-Thunder traffic.
Utilize TARC's free rides! There is expanded service all day for a reason!
P.A.R.C. or Riverside Garages in the area are accessible until full for special event rates.
Call 587-PAK. All handicapped spaces are honored until full.
Follow the LMPD traffic plan -- you'll get home much faster.
Make it easy to keep up-to-date with more stories like this. Download the WHAS11 News app now. For Apple or Android users.