Hurricane Hermine, is picking up speed as it heads toward the Florida coast, according to the latest report from the National Hurricane Center in Miami.
As of 3 pm Thursday, Hermine is moving north-northeast at 14 miles per hour. The NHC forecast has the center of the storm will be near the coast Thursday night or early Friday morning.
The storm presents a life-threatening storm surge and flooding rains to Florida panhandle communities along the Gulf coast from Aripeka to Indian Pass, Fla within the next 12 to 24 hours.
A hurricane warning is in effect for Suwannee River to Mexico Beach on the panhandle. A hurricane watch was issued for the Anclote River north to the Suwannee River and west of Mexico Beach to Destin.
Hermine has strengthened to 75 mph with gusting winds even higher.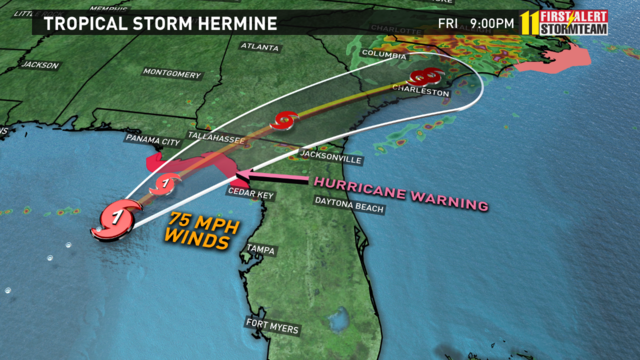 Rainfall amounts of 5 to 10 inches are possible over northwest Florida and southern Georgia through Friday, with isolated maximum amounts of 15 inches possible.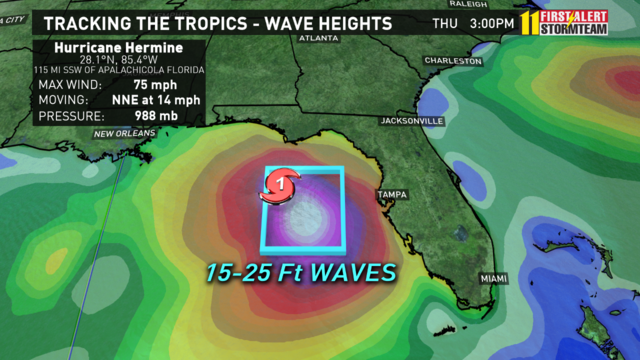 There is a possibility for isolated tornadoes continuing late tonight into Thursday morning. As the storm moves inland, north Florida and southern Georgia could experience tornadoes.
WATCH: Gov. Rick Scott briefs the media on Hermine.
WATCH: City of Tampa press conference on storm preparations.
(© 2016 WHAS)