GREENSBORO, N.C. -- You might have seen it streak across the sky and thought your eyes were playing a trick on you. No trick, it was a fireball! Thursday evening around 6:04 pm a fireball streaked across the North Carolina sky. A fireball is generally a very bright meteor.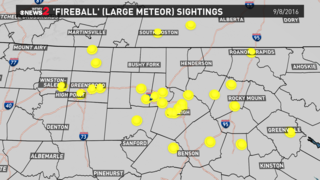 Numerous reports of a fireball in the central NC Piedmont this evening around 6:04 pm. pic.twitter.com/iok3Hyw23l

— Grant Gilmore (@grant_gilmore) September 9, 2016
The fireball was seen as far north as Charlottesville and Fredericksville, VA. Based on the information obtained by the reports the American Meteor Society estimates that the fireball started about 3 miles southwest of Essex, NC the tracked southeast to about three miles northeast of Red Oak, NC. This is all just north-northwest of Rocky Mount, NC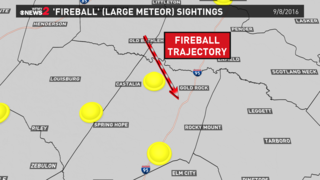 Looks like the #fireball streaked across the sky just to the NNW of Rocky Mount, NC. Could be seen for miles! pic.twitter.com/YRUKDG4cET

— Grant Gilmore (@grant_gilmore) September 9, 2016
If you happened to see or even get a picture of video of the fireball let Chief Meteorologist Grant Gilmore know by contacting him on facebook, twitter or by sending him an email at ggilmore@wfmy.com. As of 10 pm Thursday evening the American Meteor Society had received 56 reported sightings of this fireball.
Copyright 2016 WFMY