LOUISVILLE, Ky. (WHAS11) – Police have made a second arrest in the murder of a Shively man found shot to death last month in his apartment.
Joseph Key, 34, was murdered inside his home on Appleton Lane Aug. 21. Shively police arrested Dion Cummings, 23, and Shane Van Williams, 25, on Saturday for facilitation to murder and facilitation to 1st-degree robbery. Cummings was arrested in Louisville, but police tracked down Van Williams hundreds of miles away in Norfolk, Virginia.
"I do believe he fled the Kentucky area to go to Virginia in an attempt to evade apprehension," Sgt. Josh Myers said.
Long before the slaying of Joseph Key, records show Van Williams was already a fugitive on the run. According to NYPD Crime Stoppers, Van Williams has been wanted for murder in New York City since January 2015.
Shortly after the alleged killing, the New York Times reported that Van Williams walked in on his younger brother, Sean, fighting with Rendell Cassimy, 24, in their apartment building. Police told the Times that Shane Van Williams pulled a gun and fatally shot Cassimy, but in doing so, injured his brother.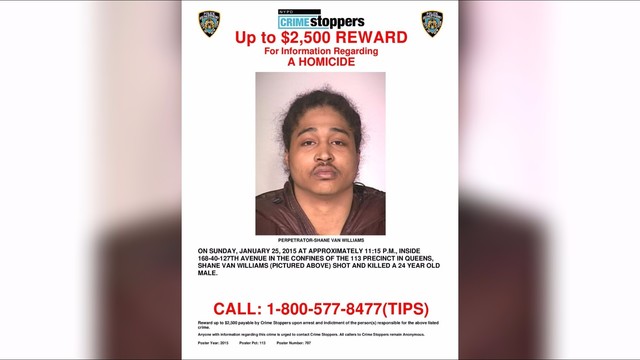 "When the shooting stopped, a second body lay in the lobby. It was Sean, struck in the head by his brother's bullet that had apparently passed through Mr. Cassimy first," the article stated, adding that Sean died five days later.
Shane Van Williams fled the scene and had remained at large until detectives with the Shively Police Department tracked him down in Virginia. The fugitive is now sitting in a Norfolk jail awaiting extradition to Kentucky, but he will likely have to answer to police departments in both Shively and New York City for the two separate murder investigations.
During a news conference Monday morning, Myers said Van Williams and Cummings both went to Key's apartment to steal heroin but detectives believe it was Van Williams who pulled the trigger. They hope the two arrests will help the victim's grieving family find peace.
"You can't bring a family member back but knowing that justice is going to be served, that your family member's killer is behind bars -- you hope that that will bring them a sense of closure," Myers said.