Since we are all rocking out our Christmas playlists, we were curious to see what Christmas song is the most popular this year. To start out with, we went to the Billboard Top 100 and picked 12 songs from the list. Those 12 songs are:
1. All I Want For Christmas Is You (Mariah Carey)
2. Rockin' Around The Christmas Tree (Brenda Lee)
3. It's The Most Wonderful Time Of The Year (Andy Williams)
4. The Christmas Song (Nat King Cole)
5. Jingle Bell Rock (Bobby Helms)
6. Rudolph The Red-Nosed Reindeer (Gene Autry)
7. Let It Snow (Dean Martin)
8. Feliz Navidad (Jose Feliciano)
9. Blue Christmas (Elvis Presley)
10. Silver Bells (Bing Crosby)
11. A Holly Jolly Christmas (Burl Ives)
12. White Christmas (Bing Crosby)
Then, we put them into a single elimination tournament bracket: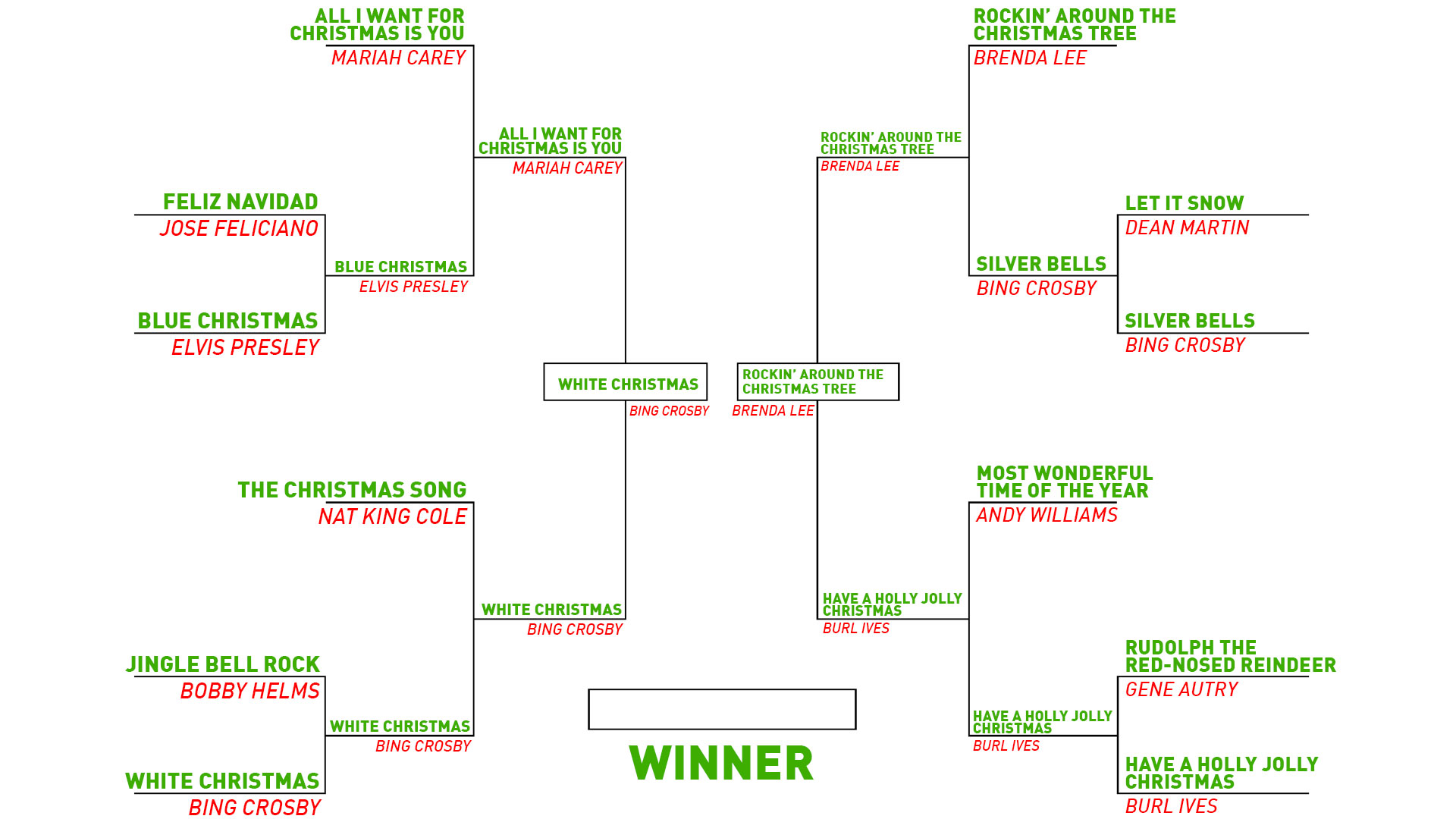 Below, you will find the polls in which these songs will go up against one another. The winner of each poll will then move forward in the bracket all the way until the final showdown. When we get to the final poll, users will then vote LIVE during GMK (5 am - 7 am) on December 22nd. At the end of the show, we will announce the winner.
FINAL ROUND:
Tune in to GMK Friday (12/22) morning for the final LIVE voting of our Christmas Song Battle.
**Note, the poll below may be used throughout the day for other newscasts. The voting will begin during the 5am hour on 12/22.**
Finalists:
White Christmas (Bing Crosby)
Rockin' Around The Christmas Tree (Brenda Lee)
VOTING: (3rd Round)
VOTING: (2nd Round)
VOTING: (1st Round)