Firefighters across Southern California are battling six major wildfires, and brutal Santa Ana winds are expected to continue fanning the flames through Thursday.
California's Department of Forest and Fire Protection tweeted Thursday afternoon that the new fires, the Lilac fire in San Diego County and the Liberty fire in Riverside County, are now being fanned by continued Santa Ana winds and low humidity.
Flames from the Lilac fire are growing at a "dangerous rate" with more than 1,000 structures threatened, the department's San Diego office tweeted. At least five structures have been destroyed and an "unknown" number of structures have been damaged, officials said. More than 2,500 acres have been burned and the fire is 0 percent contained.
California Gov. Jerry Brown declared a state of emergency in San Diego County due to the Lilac fire, his office announced Thursday afternoon.
The weather is not cooperating with the hundreds of officials trying to contain the flames in the region. Red flag warnings have been extended across much of Southern California through Saturday, and high winds warnings are in effect for mountains and valleys in Los Angeles and Ventura counties.
Sustained winds were gusting to 66 mph at Boney Mountain in Ventura County, according to the National Weather Service. Winds could gust to 80 mph in the early hours Thursday, causing embers to spread even more. Much of Southern California is also experiencing humidity levels in the teens or even single digits.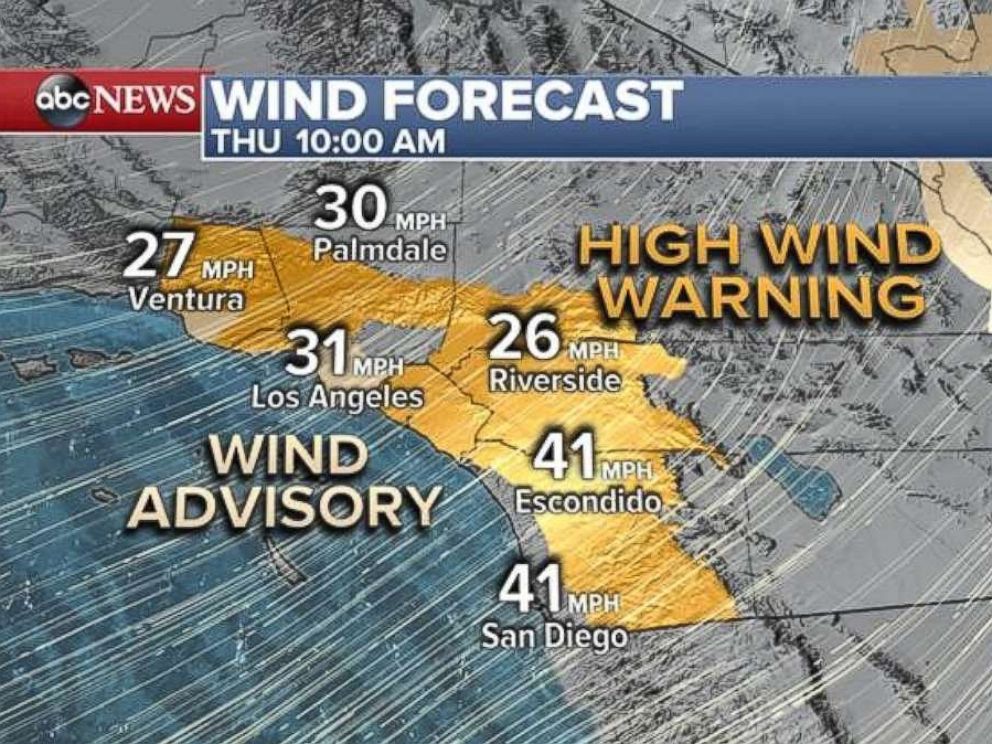 Striking images show California wildfires from space
Fire-stricken Southern California braces for more strong winds
Wildfires threaten several thousand homes in Southern California
More than 5,000 firefighters have been dealing with the first four large wildfires, as well as a smaller one in San Bernardino, which is entirely contained, according to the California Department of Forestry and Fire Protection.
The Thomas fire, which was the first to ignite, has burned about 96,000 acres and is expected to intensify because of the increasing winds. The Skirball fire is the smallest of the wildfires currently, but its threat to heavily populated areas of Los Angeles has drawn widespread attention. The Creek and Rye fires continued to burn Thursday with little containment.
All Los Angeles Unified School District schools in the San Fernando Valley and 17 schools on Los Angeles' west side were shuttered through Friday. At least 265 schools have been closed. UCLA canceled classes Thursday because of the Skirball fire.
Thomas fire
The Thomas fire in Ventura County, the largest of the four blazes, started Monday night as a 50-acre brush fire in foothills east of Santa Paula and grew to 10,000 acres in just four hours, authorities said.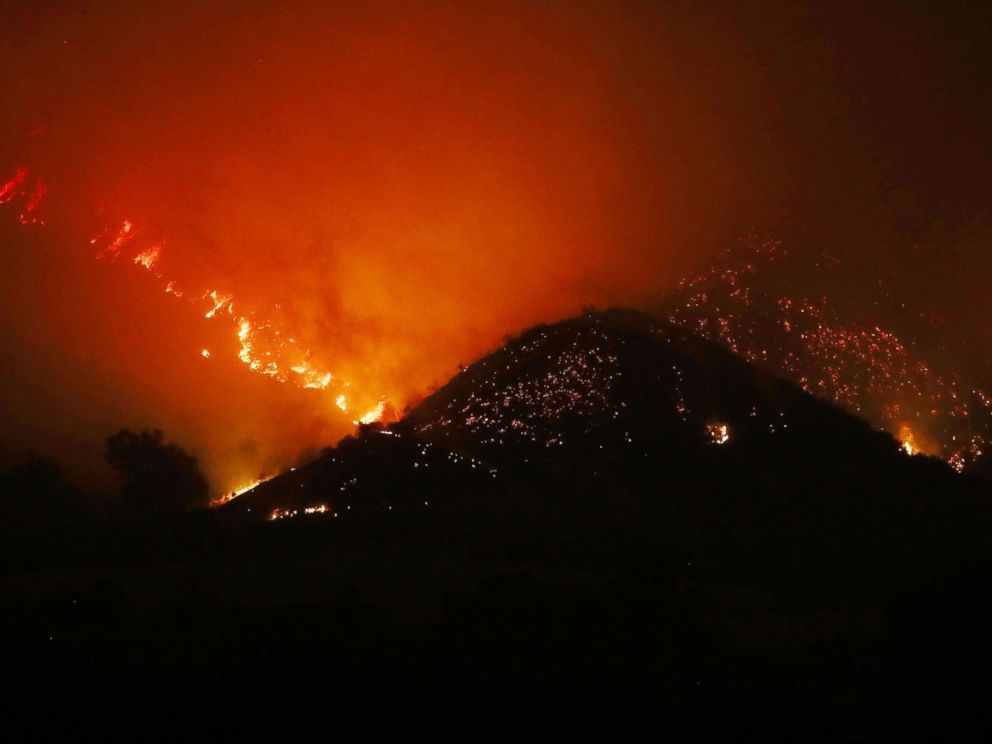 It swelled to over 108,000 acres by early Thursday, according to the National Wildfire Coordinating Group, which consists of nine government agencies, among them the Bureau of Land Management, Forest Service, National Park Service and United States Fire Administration.
The fire was just 5 percent contained as of Thursday morning.
More than 88,000 residents have been evacuated, and 15,000 homes are threatened by the flames, according to the California Department of Forestry and Fire Protection. Officials expected the fire to cross the county line into Santa Barbara overnight as winds continued to strengthen. Authorities on Thursday morning upgraded voluntary evacuation orders to mandatory for parts of Carpinteria in Santa Barbara County.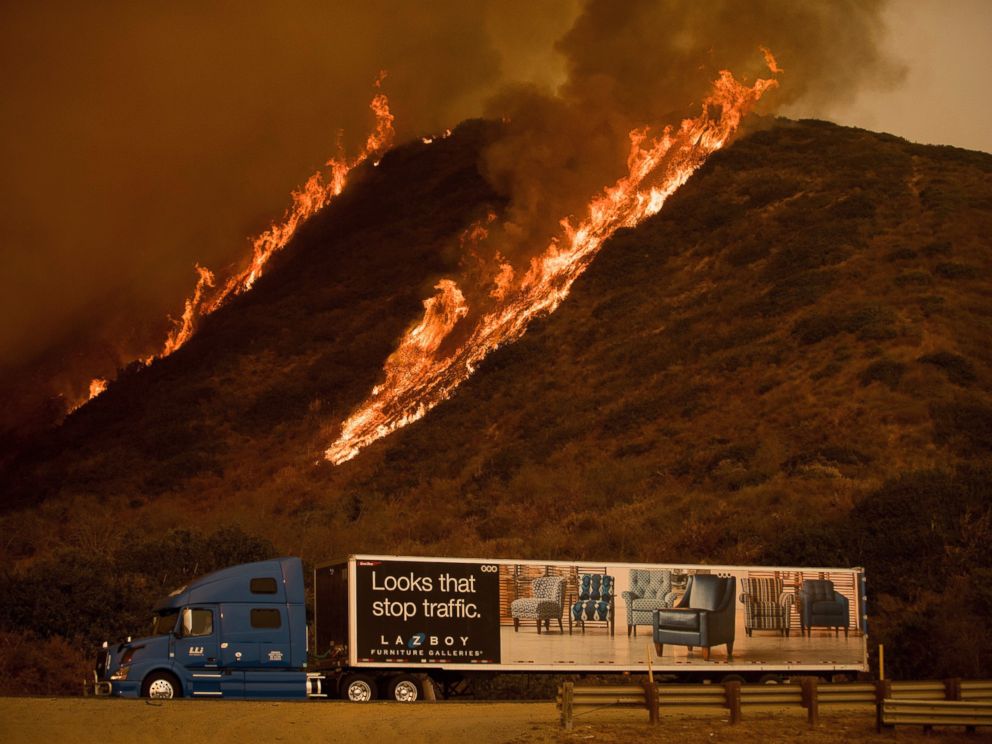 Officials were concerned about part of the Thomas fire heading northeast and threatening a nursing home in Ojai. The 25 residents and staffers were evacuated as a precaution, authorities said.
Creek fire
The Creek fire, in the Kagel Canyon area above Los Angeles' Sylmar neighborhood, has scorched 12,605 acres and destroyed at least 15 buildings and destroyed another 15. Over 150,000 residents have been evacuated, according to the California Department of Forestry and Fire Protection.
The blaze was 10 percent contained as of Thursday morning, and 1,100 personnel are fighting the blaze.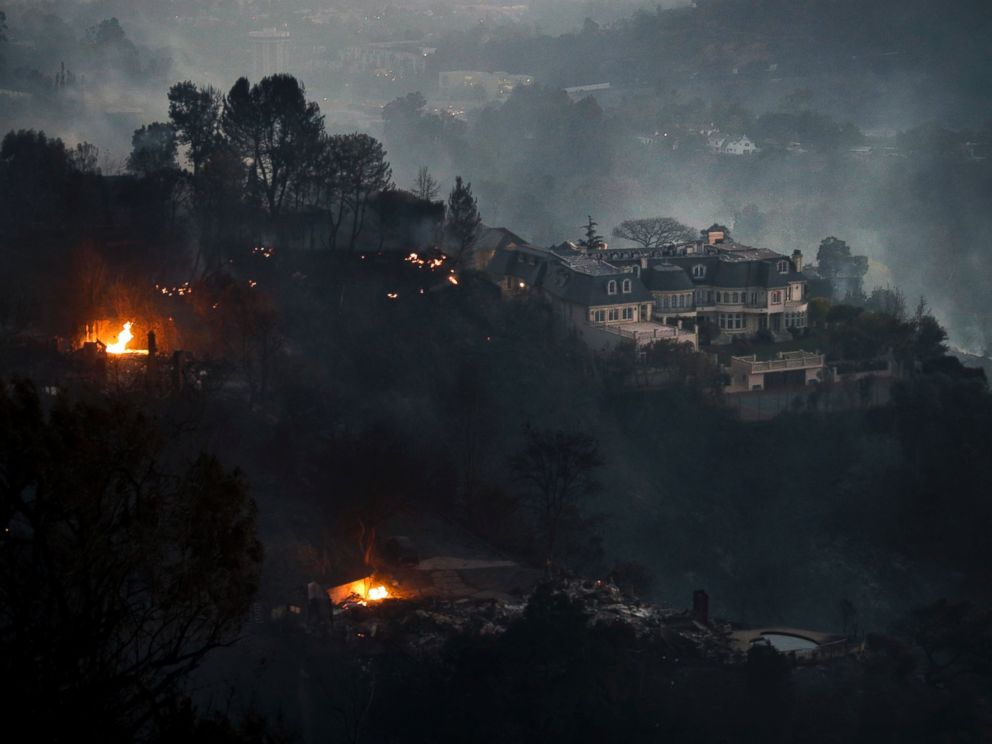 While no people have died in any of the fires, the Creek fire was responsible for the death of almost 40 horses at Rancho Padilla, according to ABC station KABC in Los Angeles. The horses were trapped in a barn that burned to the ground as the owners were evacuated with no warning.
Skirball fire
The Skirball fire has burned just 475 acres so far, but its proximity to Los Angeles and responsibility for briefly shutting down the infamously crowded 405 Freeway has garnered nationwide attention.
The fire is threatening the Getty Center, a museum in western Los Angeles. Officials were focused on keeping the flames from jumping the freeway and heading east. The blaze was 5 percent contained as of Thursday morning, and firefighters had managed to keep it from breaching containment lines.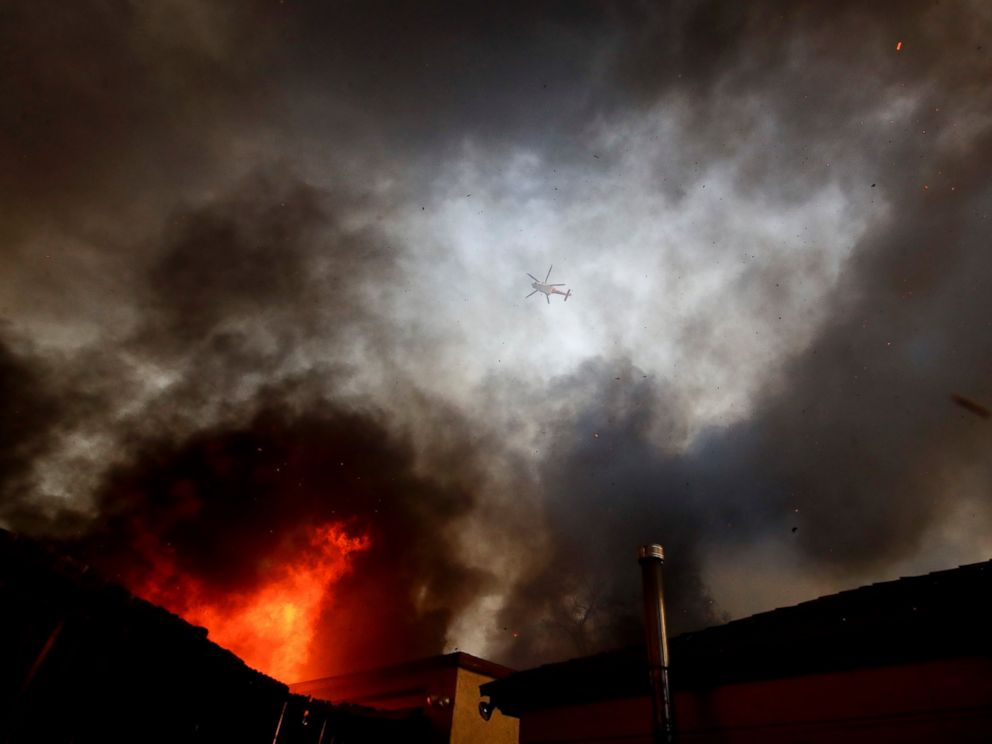 Authorities said six structures have been lost in the blaze.
Los Angeles County declared a state of emergency Wednesday afternoon because of the Skirball fire in the city's Bel-Air neighborhood.
Rye fire
The Rye fire has scorched 7,000 acres in Santa Clarita, west of Valencia. The blaze was 15 percent contained as of Thursday morning, the highest percentage of the four fires, though 5,420 homes are still threatened by flames, according to the California Department of Forestry and Fire Protection.
About 2,000 residents have been evacuated, though mandatory evacuation orders in the area have been lifted.
Some 775 firefighters were on the scene battling the Rye fire Wednesday afternoon.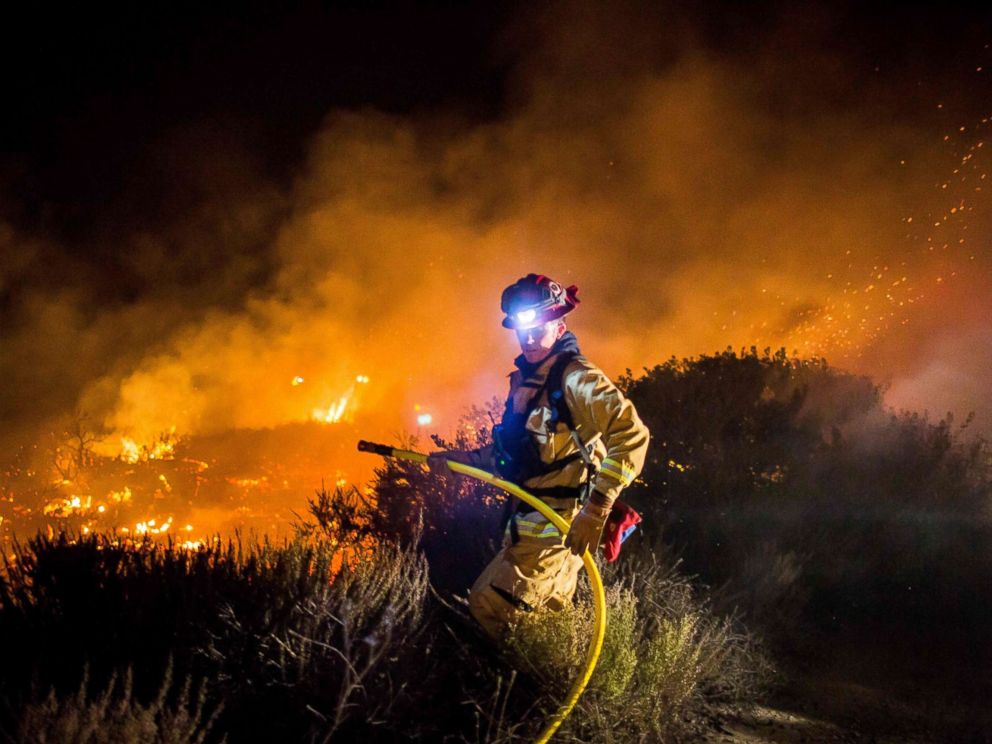 ABC News' Matthew Fuhrman, Michael Kreisel and Jonah Lustig contributed to this report.